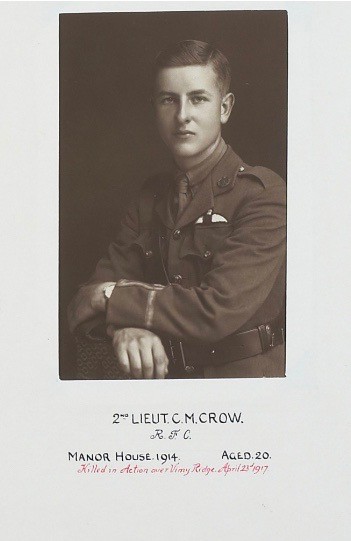 Thank you to Jane Anthony for the following research. Thank you to Tonbridge School for the military information and photograph. Thank you to the Crow Family for their family photographs. Thank you to Adria Kinloch for additional research.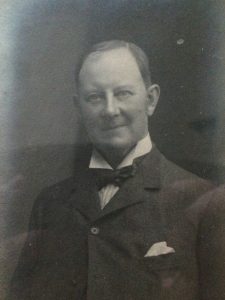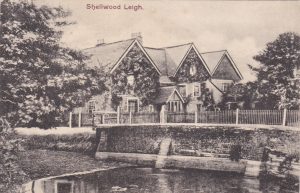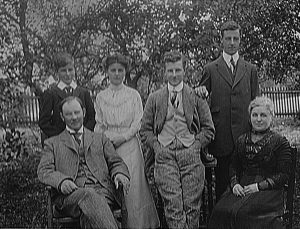 Charles Maurice Crow was born on 24th February 1897, the fourth and youngest child of Frederick and Annie Crow of Shellwood Manor, Leigh.
Frederick Crow, his father, had been born into a farming family in Kent but became a land agent in Dorking. In the 1911 census Charles was boarding at Seabrook Lodge Preparatory School in Hythe Kent. Later that year he followed both his two older brothers to Manor House at Tonbridge School in Kent.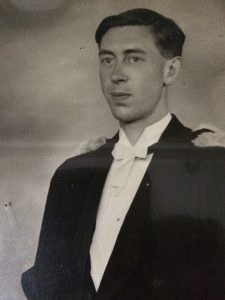 Charles' oldest brother Frederick Lewis only attended Tonbridge for two years before being badly injured in a hunting accident, this injury was sufficiently bad to exclude him out of active service in WW1, although he did later go into the family business as an auctioneer. The middle brother, Percy, was a preaposter (school prefect) at Tonbridge winning academic prizes and a scholarship to Cambridge. He later became a teacher at Epsom College and had a distinguished war record before returning to Epsom. Charles left Tonbridge a little early in 1914 to go into the family business, the intention being that he would qualify as a chartered surveyor and join the family business. Their father had also attended Tonbridge School.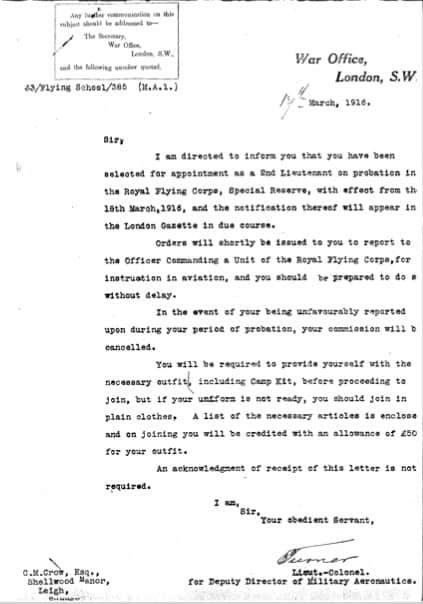 He was gazetted in to The Royal Flying Corps on 16th March 1916 having been certificated to fly at the Military School Beaulieu in a Curtiss Biplane. Being both keen and gifted he was singled out to perform some of the most dangerous missions.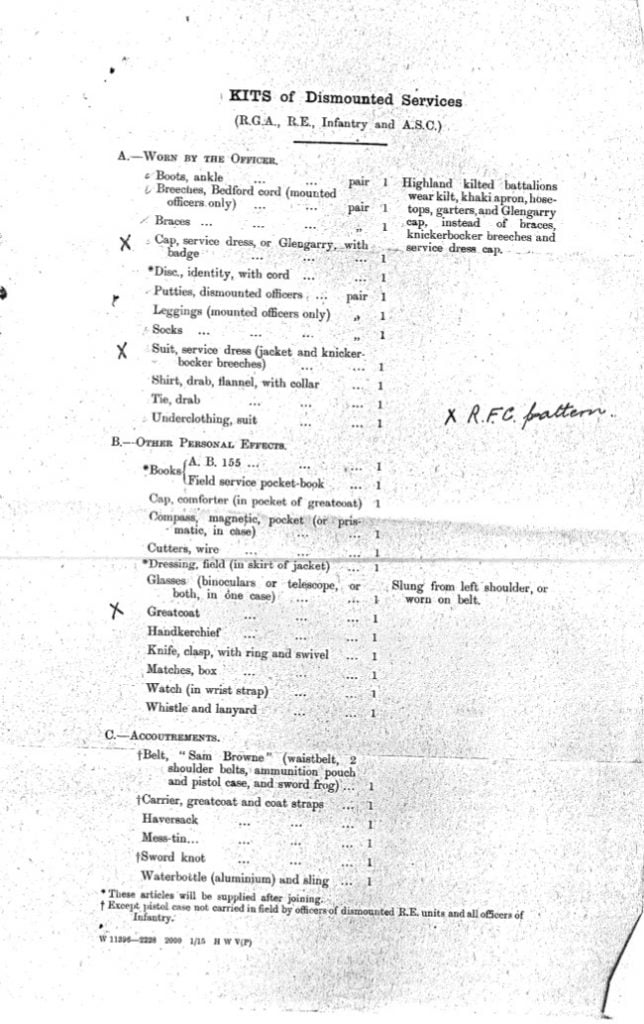 In April 1917 he was transferred to a different squadron, probably 16th Squadron which specialised in reconnaissance work. The 16th squadron had been formed in St Omer France on in 1915 and was based at Camblain L'Abbe.  He was killed whilst out flying on a reconnaissance mission over Vimy Ridge. He was wounded in both the head and chest, either of which could have killed him. His observer was able to land the plane and survived. In a letter written after his death he was described by a fellow officer as – ""He was one of the most gallant and upright boys I have met in this War. We have lost a dear friend and the R.F.C. a fine officer. But God will not allow the high courage and the charm of your son to be wasted".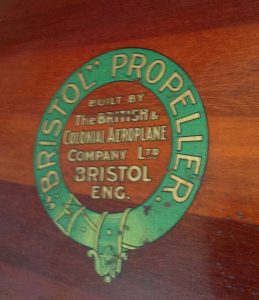 The officer who had been his Observer for some time, but had returned to train for his Pilot's certificate two days before Lieut. Crow was killed, wrote :—"I had got to look on him as a younger brother. We have flown together a great deal and I looked upon him as one of the finest pilots in the Wing. On two or three occasions he saved my life by his coolness and courage. Every one in the Squadron had the greatest respect and admiration for him. The C.O. of his original Squadron wrote:—"He was known as 'our boy' in the Squadron, and loved by every one. He was with my Squadron for some months, but several of my best pilots had to be transferred to No. — Squadron owing to there being a very great deal of work to be done there. He was a most gallant and loyal boy, and one wonders why the best are dealt with so cruelly" ; whilst the CO. of the Squadron with which he was serving wrote as follows :—" We miss him here dreadfully, both in the mess and in his work. He was so popular and very thorough and gallant in his work. It was only the other day that he carried out a very dangerously low reconnaissance, coming down to a height of 250 feet in order to inspect wire and trenches about two miles on the other side of the trenches on the ridge. He was recommended for the M.C. for this and a series of very good pieces of work of various descriptions, for which I still hope it may be awarded. He deserved anything. I can truthfully say that he was one of the most gallant and conscientious of my officers, which characteristics you may naturally conclude endeared him to every one who had to work with him. He has left a gap in the Squadron which I am afraid I shall never be able to fill."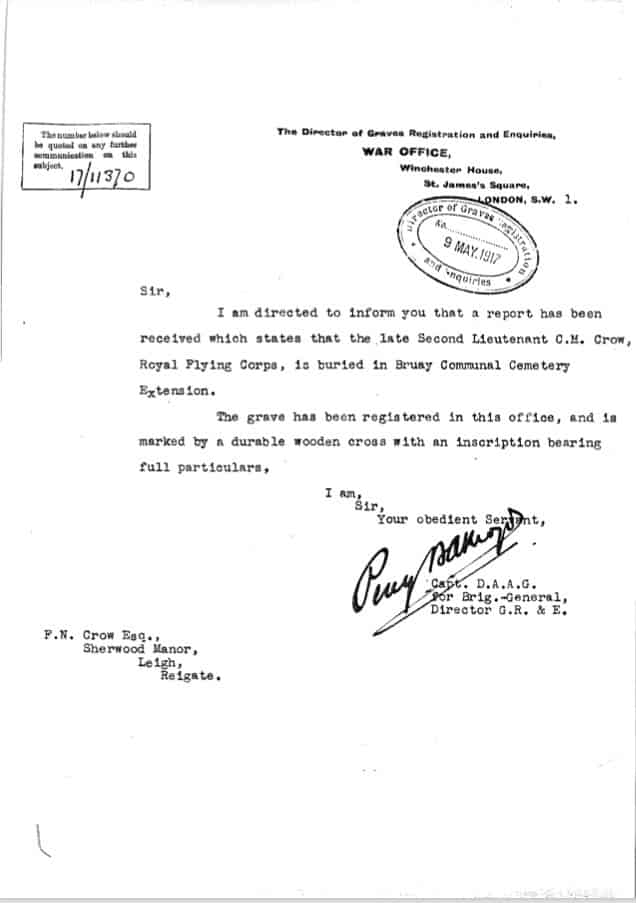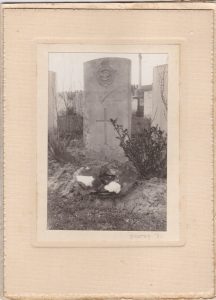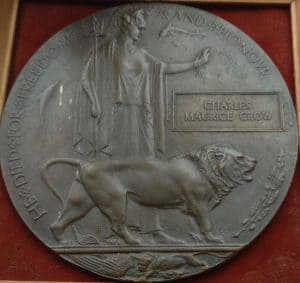 2nd Lt Charles Maurice Crow was killed on 23th April 1917 aged only 20 and was buried at the Brauy Communal Cemetery Extension. Most of the burials at this cemetery came from 22 Casualty Station, which was nearby, and were mostly Canadian. He is also commemorated on the Leigh War Memorial. He is very possibly the first and only pilot from the Royal Flying Corps in the Dorking area to be killed although there were several members of the Royal Air Force killed later in the war after the Royal Flying Corps and The Royal Naval Air Service merged in 1918.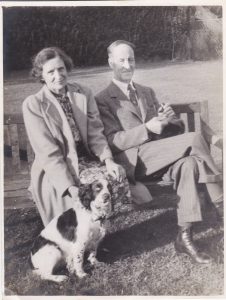 The Crow family were extremely prominent in business circles in Dorking and had a presence on in South Street as land agents and auctioneers for 3 generations over a 100 year period. Crows Auction Galleries which is still behind Dorking Halls was also founded by the Crow family, although no longer run by them.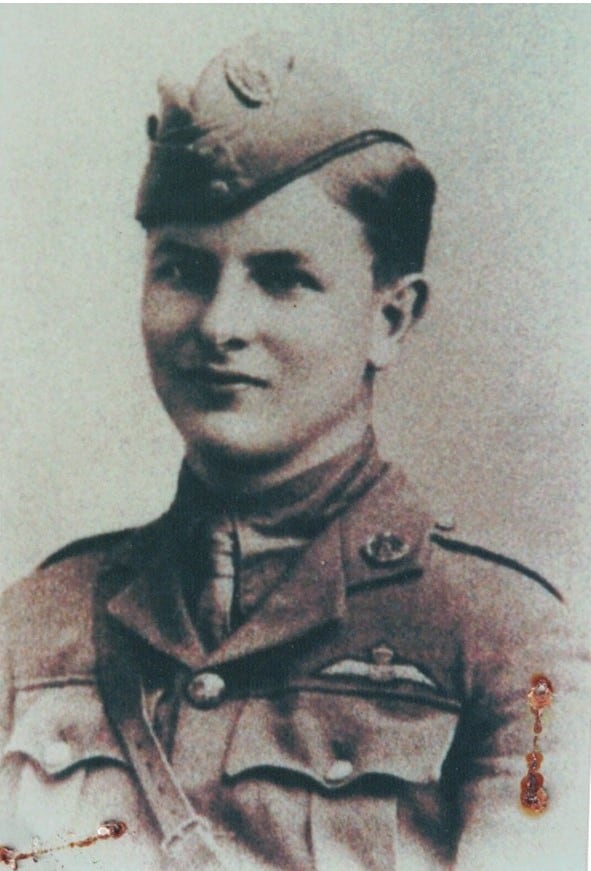 Maurice Crow Death Notice 1 © Dorking Advertiser findmypast.co.uk

Maurice Crow Death Notice © Dorking Advertiser findmypast.co.uk

Maurice Crow Death Notice © Dorking Advertiser findmypast.co.uk
Here is the full version of the article Jane Anthony produced for the Dorking Advertiser.
| | | |
| --- | --- | --- |
| Born | | Leigh, Surrey |
| | | |
| Son of | | Frederick and Annie Crow of Shellwood Manor, Leigh |
| | | |
| Regiment | | 16th Squadron, Royal Flying Corps |
| | | |
| Date of Death | | 23rd April 1917 |
| Place of Death | | France |
| Cause of Death | | Killed in action |
| | | |
| Age | | 20 |
| | | |
| Cemetery | | Bruay Communal Cemetery Extension |