Thank you to John Callcutt for letting us reproduce the following information, taken from his book: A Village at War. Newdigate in World War One.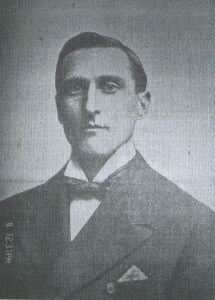 Frederick William Goldberg, who was known as Fritz, was born at Clapton on the 4th April 1882 and like his brother was educated at Charterhouse and University College, Oxford, whence he graduated with honours in jurisprudence. Although he was not in the Charterhouse eleven he represented University College at cricket. He was called to the bar at Inner Temple in 1904 and during the same year he played hockey for England against Ireland. He was a prominent member of Redhill Lawn Tennis Club, playing right up to the start of the war, and took part in the Championships at Wimbledon. In June 1915 he joined the Inns of Court Officer Training Corps and in the November received his commission in the Queens. He was sent to Egypt in May 1916 and then to another front where he was attached to the Royal Dublin Fusiliers. The combined British Salonika Army under Lieutenant-General G. F. Milne C.B., D.S.O and the French Army were combating the Bulgarians who had advanced into Greek Macedonia. On the morning of the 3rd October 1916 preparations were made to capture the village of Jenikoj on the main Serres road. The operation was preceded by an artillery barrage and then an infantry brigade composed of the 6th Dublins and 7th Munsters with the 7th Dublins and 6th Munsters in support – took their objective with few casualties. As they advanced, some 7th Dublins were killed by their own artillery and both Dublin battalions were caught between the allied bombardment and a Bulgarian counter attack. Following this bombardment six or seven enemy battalions advanced with a view to enveloping the held position and succeeded in entering the northern portion of Jenikoj where the hard fighting continued all night until fresh reinforcements succeeded in clearing out the enemy. During this operation 385 men were killed, wounded or missing and 128 were from the Royal Dublin Fusiliers.

Frederick Goldberg was killed during the fight for Jenikoj on the 3rd October 1916 and is buried at the Struma Military Cemetery, ref III H2. Like his brother he is also remembered on memorials at Charterhouse, Temple Church and on his parents' gravestone in Newdigate churchyard.


Born                            Clapton, East London
Son of                          L. Goldberg of The Red House, Newdigate
Brother of                     Herbert Walter Goldberg
Regiment                     3rd Battalion, The Queen's Royal West Surrey Regiment, attd. 7th Battalion, Royal Dublin Fusiliers
Date of Death              3rd October 1916
Place of Death             Jenikoj, Greece
Cause of Death            Killed in Action
Age                              34
Cemetery                     Struma Military Cemetery, Greece