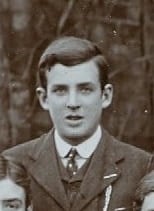 Thank you to Jane Anthony for the following research.
Maurice Edmund King did not have any deep connection to the Dorking area. One of his older brothers the Rev Norman King was a curate at St Martin's in Dorking at the time of his death but other than that there is no connection to the area.
Maurice King was the third of four sons of Dr Henry William and Mrs Annie King and was born in Chester in 1896. His father came from a farming family in Bury St Edmunds and his mother from Liverpool. His oldest brother Norman was educated at Radley College and gained a scholarship to Keble College Oxford before taking Holy Orders at Cuddesdon, before being appointed curate at St Martin's Church Dorking. Henry died in 1909, the family continued to live in Holylake.
Maurice Edmund King and his elder brother Wilfrid Lyle attended St. Edmunds School, Oxford. Maurice attended between 1908-1913. He was an excellent student, both academically and in the sporting arena. 
His brother, Wilfrid went up to Keble College Oxford and thence straight into The Middlesex regiment in 1914, he was wounded twice, awarded the MC and TD, survived the war and became a master at Cheltenham College in 1920 – he died in 1972.
Maurice went up to The London University in 1914 and then into the Middlesex Regiment in 1915. He was promoted to Lieutenant in December 1915 and was killed in action at Hooge, Ypres on 15th March 1916 by a sniper.
The 13th Battalion of the Middlesex regiment was formed in September 1914 as part of the new army at Mill Hill, London. They were not mobilised until September 1915.
Maurice Edmund King is listed on the Menin Gate, Ypres, Belgium.
Not long after his death the Rev Norma King became an Army Chaplain. After the war he continued in the church eventually immigrating to South Africa in 1938.
Born                            Chester
Son of                         Dr Henry William and Mrs Annie King
Regiment                     13th Battalion. The Middlesex Regiment. (Duke of Cambridge)
Date of Death              16th March 1916
Place of Death              Hooge, Belgium
Cause of Death            Killed in Action
Age                               18
Memorial                      Menin Gate, Ypres, Belgium