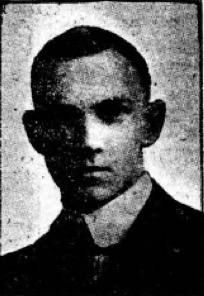 Thank you to Margaret Dennis for the following research.
Born on 10th March 1892 in Dorking to Joseph and Eliza, Walter Jeal was the sixth of eight children of Joseph Jeal, a grocer. Four of the brothers served in the Army during the First World.
Walter attended Dorking High School. The family lived at Falkland Rd, and later Cliftonville, both in Dorking.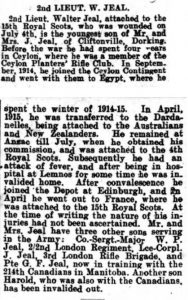 Walter Jeal worked in Colombo, Ceylon in 1914, and enlisted there in the Ceylon Force, on 2 October 1914. After Serving in the Dardanelles in April 1915, he was then commissioned in July 1915 and attached to 15th Battalion Royal Scots. After being invalided home suffering from fever, Walter then recovered and returned to the Royal Scots in the Expeditionary Force in France.

Walter Jeal was killed in action on the first day of the Battle of the Somme and is remembered on the Thiepval Memorial and Dorking South Street Memorial.
Probate was granted to his father Joseph Jeal, effects valued at £210. 9s. 1d.
Son of                          Joseph and Eliza Jeal of Yverdon Cliftonville, Dorking
Regiment                     15th Battalion. Royal Scots
Date of Death               1st July 1916
Place of Death              Somme, France
Cause of Death            Killed in Action
Age                               24
Memorial                     Thiepval Memorial, France
Previously : A. Lipscomb                                                                          Next : H.T. Nicklin