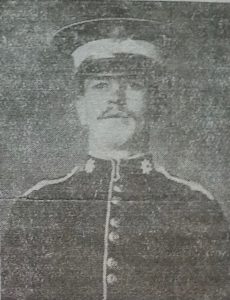 Thank you to Jane Anthony for this research, and thank you to Karen Rice, the grandniece of Alfred and Arthur for the newspaper archives.
Alfred Thomas Rice was the son of William and Fanny Rice.  At the time of the 1911 census the family, which consisted of three brothers and also a nephew were living at Broadmoor in Wotton. William Rice and his oldest son, another William, were both employed on the Wotton Estate as wood-men.
Alfred was born in Wotton in 1893, at the time of the 1911 census his occupation was given as labourer. The oldest son living with his parents, William, was significantly older that the other children and was born in about 1870.  In all the William and Fanny had eleven children, three of whom died in infancy.
Alfred and his wife, Ada lived at 18 Rose Cottages, Dorking. His daughter was a year old when he was killed.
At the time of his death, Alfred was a private in the Coldstream Guards. He was killed on 18th June 1916 in his sleep, when a shell exploded nearby. He is commemorated on the Menin Gate.
His brother Arthur died whilst still serving in 1919 and his nephew Jack weeks earlier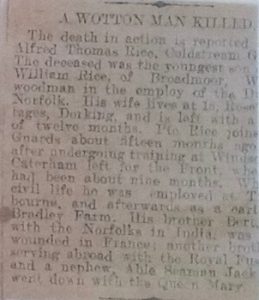 A WOTTON MAN KILLED
The death in action is reported of Alfred Thomas Rice. Coldstream Guards. The deceased was the youngest son of William Rice in Broadmoor. William was a woodman in the employ of the Duke of Norfolk. His wife lives at Rose Cottages, Dorking and is left with a daughter of twelve months. Pte. Rice joined the Coldstream Guards about fifteen months ago, and after undergoing training at Windsor and Caterham, left for the Front, where he had been for about nine months. When in civil life he was employed at Tillingbourne, and afterwards as a carter at Bradley Farm. His brother Bert is with the Norfolks in India, was wounded in France; another brother, serving abroad with the Royal Fusiliers and a nephew, Able Seaman Jack Rice went down with the Queen Mary.

KILLED IN HIS SLEEP
PTE. A. T. RICE. COLDSTREAM GUARDS
Reference was made in our last issue to the death of Pte. Rice. His widow, who lives at 18, Rose's Cottages, Dorking, has since received the following letter from Sergt. Harms:- "Please accept the deepest sympathy of his comrades at No. 9 Platoon in your sad bereavement. Your husband was a good soldier, and liked by all, and he died doing his duty for King and country. It may perhaps consule your feelings to know that he suffered no pain, death being instantaneous. We who are out here sacrificing our lives cannot realize what anxieties our loved ones at home are suffering and I feel that I am only doing my duty in writing to you being Pte. Rice's platoon commander." Mrs. Rice has also received a letter from Pte. F. Wilkinson, of the same regiment. He says: "Please accept the deepest sympathy of all the boys of No. 9 Platoon. Poor Tom was well liked by us all; he was a good comrade, and we were all very much upset when we knew he had met his death. It will be a consolation to you to know that he did not suffer an instant's pain; he was asleep at the time the shell exploded, so that he did not suffer in the least. I have been asked by Pte. Jackson (who is a Dorking man, living in Mint Gardens) to let you know that Tim was buried quite decently close to the trench in which we were shelled so badly. I think everyone thought their end was at hand; we had a terrible time; about four hours' almost incessant shelling. Poor Tom was hit by the first shell which the enemy fired at our trench. Up to a short time ago Tom and I slept together. He was my best chum; in fact, where one was the other was sure to be found. But I was moved to another platoon, so of course we were separated. I shall miss him very much indeed."
Born                             Wotton
Lived                            Broadmoor, Dorking
Son of                          William and Fanny Rice
Brother of                     Arthur James Rice
Husband of                  Ada Rice
Enlisted                        Dorking
Regiment                     Coldstream Guards
Number                       14791
Date of Death              18th June 1916
Place of Death             Flanders
Cause of Death           Killed by a shell.
Age                             23
Memorial                     Ypres (Menin Gate) Memorial