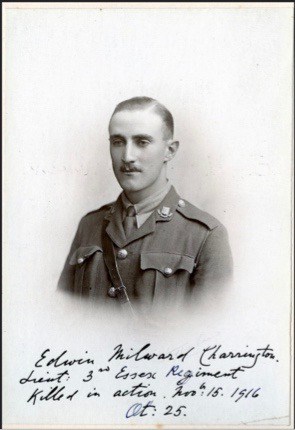 Thank you to Molly Worsfold and Tim Dumas from St. Bartholomew Church in Leigh for allowing Dorking Museum to reproduce their research. Thank you to Lenka Cathersides for further research.
Edwin Milward Charrington was born on the 28th of February 1891 in Paddington, London to retired Yorkshire Regiment Captain Julian Charrington and Helen Charrington nee Gray. He was baptised on the 25th of March 1891 at St Marylebone All Saint's church, Westminster. At the time of his baptism the family lived at 9 Stanhope Terrace, Paddington.
The family comprised of Harry, Helen and their children Evelyn Mary Beatrice, Mowbray Julian England and Edwin Milward. The family were looked after by a cook, an under housemaid, a housemaid, a nurse and a butler.
At the time of the 1901 Census, Edwin was a boarder and pupil at Wellington House at Westgate-on-Lea, Kent.
At the time of the 1911 Census, the family lived at 72 Eaton Terrace, London. The family comprised of Harry, his wife Helen and their children Evelyn and Edwin, who was working as an insurance clerk. Helen stated that she had given birth to three children. The house had six rooms.
Edwin's mother Helen died in the 1st quarter of 1915 in Steyning, Sussex.
After finishing at Wellington House, Edwin attended Radley College. After leaving Radley, he entered the office of the Union Society of Canton in London, with a view to going to China later. But after two years' service he relinquished his position and on the outbreak of war in August 1914 he obtained a commission as a 2nd Lieutenant in the Essex Regiment. (1916 Dorking and Leatherhead Advertiser)
He served with the Expeditionary Force in France and Flanders from the 18th of February 1915, being attached to the Suffolk Regiment. He disembarked on the 28th of February in France.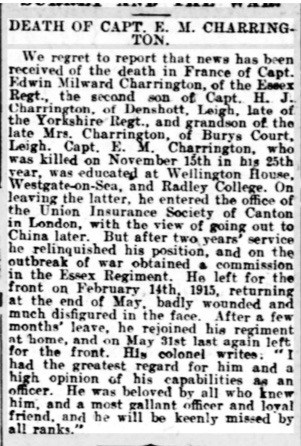 Edwin Milward was badly wounded and much disfigured in the face at Bailleul in May 1915. (1916 Dorking and Leatherhead Advertiser)
"His left arm was thoroughly shattered by shrapnel in an explosion which also tore off his nose completely and inflicted severe damage to the rest of his head. Incredibly, due to the skill of surgeons, he recovered his health and confidence despite wearing an aluminium prosthetic 'tin' nose and other shocking disfigurements, including a 'red, permanent deformity of the face'." http://westhampals.blogspot.cz/
After a few months' leave, he re-joined his regiment at Felixstowe, and on the 31st of May 1915 returned to France.
He took part in the operations on the Somme and was promoted to Captain on the 21st of September 1916.

At the time of his death Edwin Milward was a Captain of the 3rd (Reserve) Battalion, attached to the 13th Battalion, the Essex Regiment.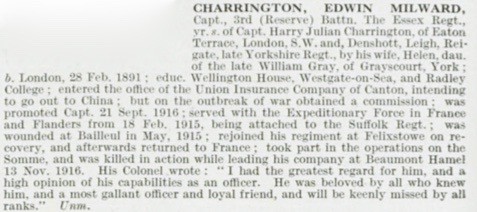 Captain Charrington was killed in action on the 13th of November 1916 in France while leading his company at Beaumont Hamel. "He was beloved by all who knew him, and a most gallant officer and loyal friend."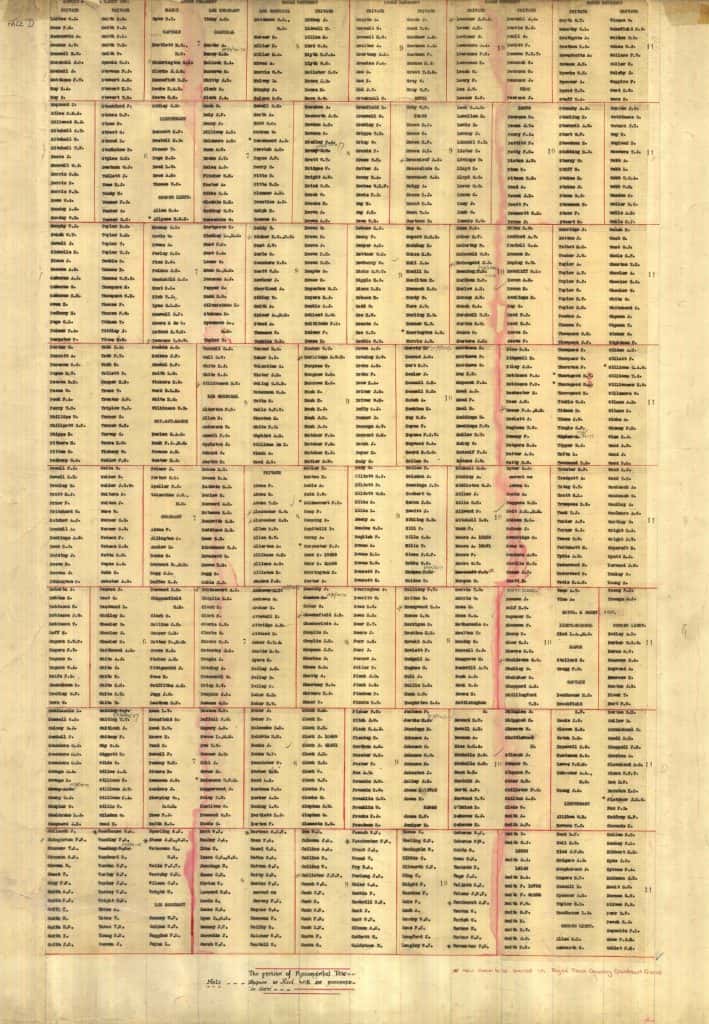 Edwin Charrington is commemorated on the Thiepval Memorial in France on Pier and Face 10 D.
He received the British War and Victory medals and the 1915 Star.
Edwin of 60 Eaton Terrace, Westminster, left to his father Harry £322, 6s and 4d in Probate.
Charrington Family History
Edwin's father Harry Julian Charrington was born about 1849 in Chigwell, Essex to Edward, born about 1812 in Stepney, Middlesex and Georgiana Tryce Mary Charrington, born about 1821 in Godmanchester, Huntingdonshire. Harry was baptised on the 2nd of August 1849 in Chigwell, Essex.
Edwin's mother Helen Gray was born in the 4th quarter of 1851 in Yorkshire to attorney and land owner William, born about 1807 in York and Margaret, born about 1810 in Scotland. Helen was baptised on the 4th of December 1851 in York, Yorkshire.
Harry and Helen married in the 2nd quarter of 1881 in the Registration District of St George Hanover Square, London. At the time of their marriage Harry lived in Leigh, Surrey and Helen in St Gabriel's, Pimlico, Middlesex.
Edwin had two siblings: Evelyn Mary Beatrice born in the 1st quarter of 1885 and Mowbray Julian England born in the 1st quarter of 1887, both in South Kensington, London.
In 1916 Edwin's father, Harry was living at Eaton Terrace and Denshott, Leigh.
The 1920 Surrey, England, Electoral Register reads that Harry was still at Denshott Cottages, Leigh, and had moved to 7 St Martin's Place, Trafalgar Square, London.
Harry died on the 21st of July 1930 at The Salem Hospital, Bern, Switzerland. He left to his son, Mowbray Julian England Charrington, £5048, 3s and 2d in Probate.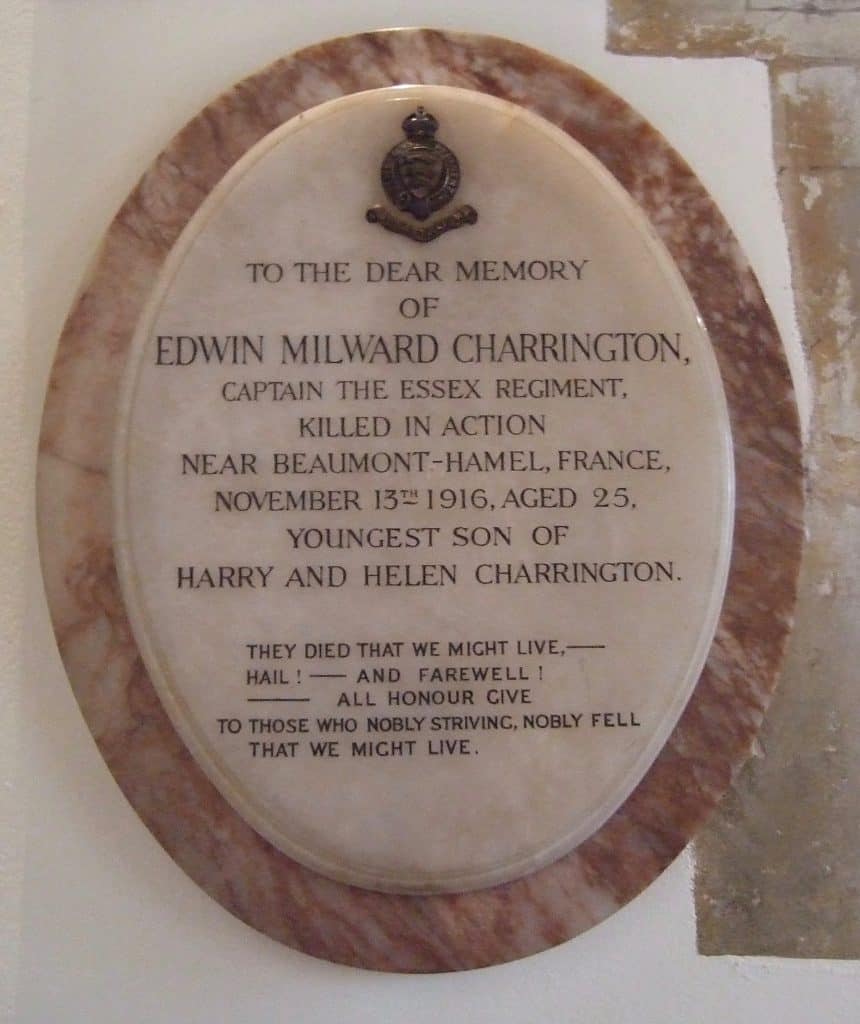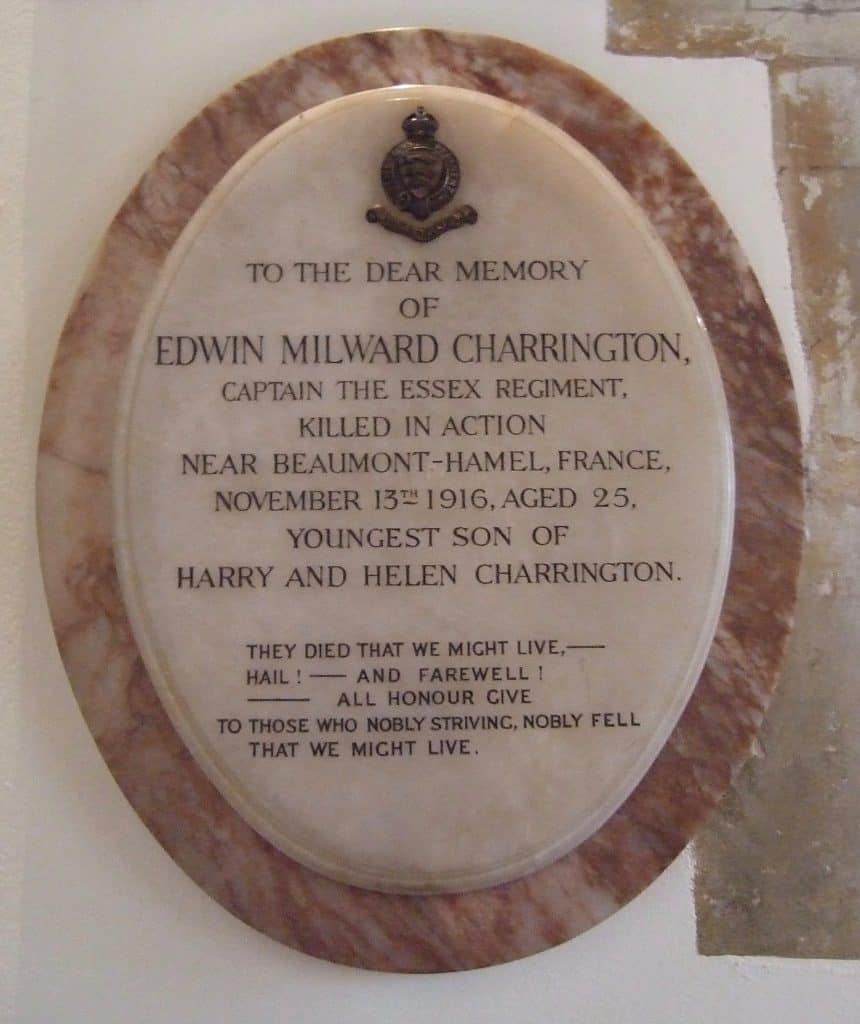 There is a special memorial for him near the font in Leigh Church.
Son of                          Harry Julian and Helen Charrington of Denshott, Leigh
Regiment                      3rd Battalion attached 13th Battalion. Essex Regiment
Date of Death               13th November 1916
Place of Death              Beaumont Hamel, France
Cause of Death             Killed in Action
Age                               25
Memorial                       Thiepval Memorial, Somme, France.