Thank you to John Callcutt for letting us reproduce the following information, taken from his book: A Village at War. Newdigate in World War One. Thank you to Lenka Cathersides for the addition research.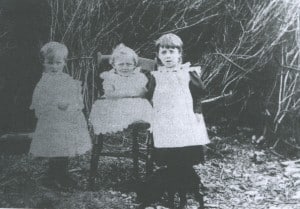 Westley Johns was born on the 23rd January 1897 in Harbridge near Ringwood in Hampshire, and was the son of William and Gertrude Johns (nee Weller), Westley was baptised on the 29th March 1897 in Harbridge.
William was born in Newdigate in the first quarter of 1862 and became a gamekeeper. His work took him to farms in Surrey, Hampshire and Sussex before he returned to Henfold in Newdigate. During this time he had married twice, his first wife Julia Sarah, born about 1865 in Bapton, Wiltshire, and married William in the fourth quarter of 1884 in Epsom Surrey.
At the time of the 1891 Census, the family lived at Warren Bottom, Cocking, Midhurst in West Sussex. William was working as a gamekeeper. Julia was looking after their children Ellen, William, Walter and her 14 year old sister-in-law Harriett. Julia died early in 1893.
William married to Gertrude Weller in the 3rd quarter of 1893 in Epsom, Surrey. Gertrude was born in the 1st quarter of 1874 in Dorking, Surrey to farmer Thomas Weller and his wife Anne.
During the 1891 Census, Gertrude lived with her parents, now retired farmer Thomas and Anne and eight siblings at Wathen Road in Dorking. Gertrude worked as a milkmen assistant.
Westley had seven siblings. Ellen, William, Walter and Annie were born from William's first marriage and Emma, Purdey and Gertrude Julia from the second.
During the time of the 1901 Census, the family lived in Alderholt, Wimborne, East Dorset. Father William worked as a gamekeeper and Gertrude was looking after Ellen, Walter, Annie and her own children Emma, Westley, Purdey and Gertrude Julia.
His last two sons, Westley and Purdey, he named after the famous rifles. Westley was a member of Mrs. Janson's carving class.
The National School Admission Register of 1902-1903 reads that Westley, his half sister Annie, sister Emma and brother Purdey enrolled on the 3rd of February 1903 to Stoughton & Stansted Church of England School in Sussex. The family lived at Broad Road. Westley is stated to have previously attended a school in Alderholt. He left Stoughton School on the 23rd of January 1905. The family left the village.
By the time of the 1911 Census, the family moved to Henfold in Newdigate, Surrey. William still worked as an assistant gamekeeper and Gertrude was taking care of Westley, Purdey and Gertrude Julia. The house had five rooms.
Westley joined the navy, following his brothers, Purdey and Walter, on the 23rd of November 1915 at Portsmouth for the period of duration of hostilities. He is said to be of full age, to be 5 feet 9 inches tall with chest measurement of 35 inches. Westley had a fresh complexion, brown hair and blue eyes. At the time of the enlistment he was working as a labourer.
He became a Cook's Mate attached to the Royal Naval Barracks in Portsmouth. His regimental number was M16918.
On the 20th January 1916 he hanged himself there in 'D' room lavatory, whilst – according to the Coroner, the Hon. Sir T.A. Bramsdon – he was in 'a state of unsound mind'. He was just eighteen years of age. Westley Johns was buried at the Newdigate (St Peter) Churchyard in Dorking, north of church. He was awarded the British War Medal.
Unfortunately, the family tragedy did not end there. On Monday 6th February 1933 at 6.45am, Luke Gadd, the husband of William's daughter Emma, found 71 years old William Johns shot in the chest while sitting in the lavatory of Gadd's house at 4 Henfold Cottages in Capel. William was living separately from Gertrude by this time. A double barrelled sports gun was found by the dying man, together with a suicide note in his bedroom. The note read "I have suffered agonies tonight". The deceased was dressed in his shirt, pullover and heavy boots. Mr Gadd found him still alive and groaning. An ambulance was called, which took him to Dorking Hospital. Although oxygen was administrated to him he died of his wounds at 8.40am. William was heard to talk about suicide several times. He had been treated by doctors for a while. It was further said that the "deceased was rather agitated about his illness and was very much afraid he was going into the infirmary". Mr Johns suffered from chronic bronchitis and was known to be "a man who magnified all his symptoms enormously". The inquest into his death passed the same verdict as in the case of his son Westley "suicide whilst of temporary unsound mind".
Born                            Harbridge, Hampshire
Son of                         William and Gertrude Johns of Newdigate
Brother of                    Purdey and Emma Johns
Regiment                     H.M.S. Victory, Royal Navy
Number                       M/16918
Date of Death              20th January 1916
Place of Death             Portsmouth Naval Barracks, Hampshire
Cause of Death            Committed suicide
Age                             18
Cemetery                     St Peter's Church, Newdigate
Previously : John A. Innes                                                                 Next : John Kempshall