Thank you to Lenka Cathersides for the following research.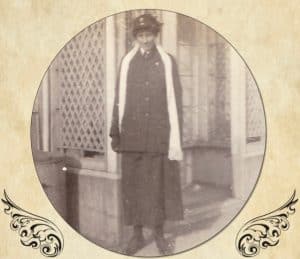 Dora Frances Livermore was born on the 9th of July 1885 at Edmonton, Middlesex to Herbert Isaac Livermore and Fanny Crosby Evans. Dora was baptised on the 21th of August 1893 at Shanklin, Hampshire.
Dora´s father Herbert Isaac Livermore was born about 1857 in Middlesex and was baptized on the 4th of October 1857 at Dalston St Philip in Hackney to Isaac Livermore a merchant and clerk (born about 1822 in Middlesex) and Elizabeth Margaret Livermore (born about 1832 in Middlesex). Herbert Isaac of Oakfield, Crossland Road, Redhill died at the age of 56 on the 25th of March 1913 and was buried on the 29th of March at St Mary´s church in Reigate. He was interred into the family grave at Reigate Cemetery. He left over £ 26,699 in effects.
Dora´s mother Fanny Crosby Evans was born about 1855 at New York, America to Frederick Evans a colonial broker (born about 1917 at Westbury Wiltshire) and Fanny Evans (born about 1832 at Coventry). During the 1871 Census the family lived at Leytonstone, Essex. Fanny Crosby died in the 3rd quarter of 1901 at Reigate.
Herbert Isaac and Fanny Crosby married in the 3rd quarter of 1884 in Woolwich London.
Dora had three siblings: Herbert Crosby Livermore born in the 2nd quarter of 1887 at Edmonton, Middlesex and the twins Marjorie Neville and Ella Grant Livermore born in the 3rd quarter of 1889 at Edmonton, Middlesex.
Herbert Crosby of Oakfield, Crossland Road, Redhill died on the 9th of April 1902 at Surrey. He left effects of £975.
Marjorie Neville married Frederick Lewis Crow, the eldest son of Frederick Lewis Crow of Shellwood Manor, Leigh on the 12th of January 1914 at Chingford, Essex. According the 1922 Electoral Register the couple live at Kinghorpe, Harrow Road West in the parish of Dorking.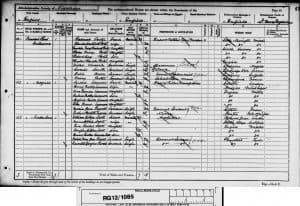 During the 1891 Census Herbert Isaac, Fanny Crosby and their children Dora Frances, Herbert Crosby and the twins lived at Oakfield, Crescent Road, Enfield, Edmonton. Herbert worked as an India Rubber Manufacturer. The family employed a general servant and a nurse for the children.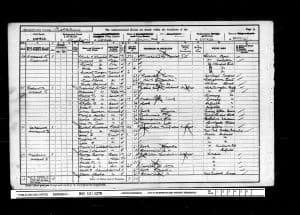 At the time of the 1901 Census the family still lived at Crescent Road and were employing a housemaid and a cook.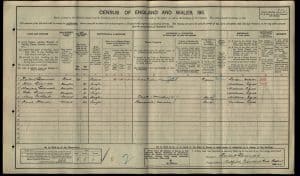 By the time of the 1911 Census the family moved to Crossland Road, Redhill, Reigate, Surrey. Herbert Isaac was a widower and was living with his daughters Dora, Marjorie and Ella. The family employed a housemaid and a cook. The house had ten rooms.
During WW1, Dora joined the British Red Cross overseas volunteers and became part of the Queen Alexandra Imperial Military Nursing Service. Dora served from the 27th of May 1916 to the 2nd of April 1919 in France and Flanders.

She was awarded the British War and Victory medals.
After the war Dora lived at Colindale, Cavendish Road, Reigate with her sister Ella Grant.
Later in life Dora became a missionary nurse in India. Well travelled Dora visited on her journey to India Colombo in Sri Lanka. While back in England Dora was staying either at 28 Elvaston Place, South Kensington or Brasted, Westcott Road in Dorking. For example on the 20th of August 1958 at the age of 73 Dora arrived in London from Bombay, India via Sydney on R.M.S. Strathmore. She was staying for 6 months at Brasted, Westcott Road, Dorking.
Dora died at the age of 84 at Surrey Mid Eastern in the 1st quarter of 1970