Thank you to Patricia Brazier for the following research.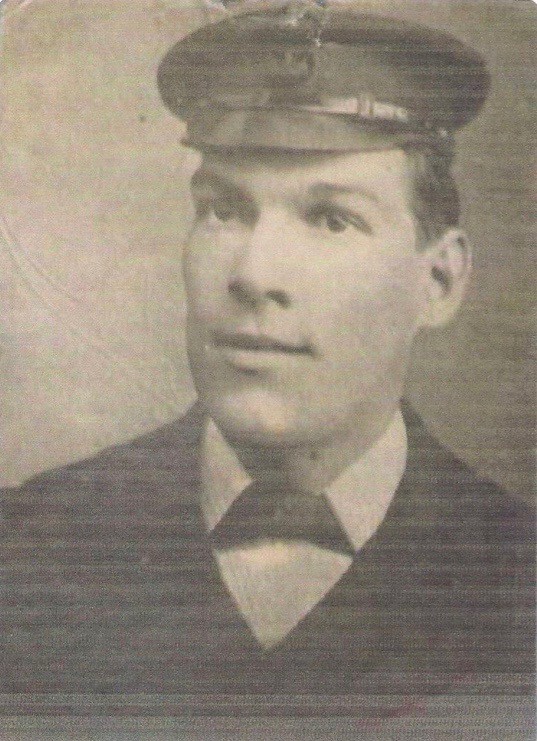 James was born on 26th April 1887 and baptised Arthur James Victor Cooper on 10th July 1887 at the parish Church of Dorking. His parents are Charles, a Stonemason, and Margaret. Their address is 133 St Martins Place, Dorking.
In the 1891 census the family are living at 8 North Street, Dorking. Arthur James has an older brother Charles, born in Woolwich. His father Charles is 40 and was born in Dorking. Charles is still a stonemason. His mother is 30 and was born in India.
In the 1901 census, the family have moved again, this time to 11 Jubilee Terrace. James now has a sister Lillian aged 6 and a brother Reginald aged 5, both born in Dorking.
On 11th October 1907, James joined the Navy where he served on various ships, the last one being the Vernon from June until November 1914. In the 1911 census he is listed as Cooks Mate in the Parish of Portsea, St. John. His parents are still living in Dorking, now at 20 St. Martin's Place.
On the 18th December 1913 he married Hilda Mary Edwards at Reigate Register Office. His "rank or profession" is First Class Petty Officer; his address is 20 St. Martins Place. He is a Batchelor. Hilda is a spinster and her address is 3 Market Row, Redhill. Hilda's father is Samuel Edwards. He was an Ostler and is deceased.
On the 11th August 1914 the Police Gazette shows Arthur J. Cooper, born in Dorking, as a deserter from HMS Vernon. It gives a brief description of him. He has brown hair, brown eyes and a fresh complexion.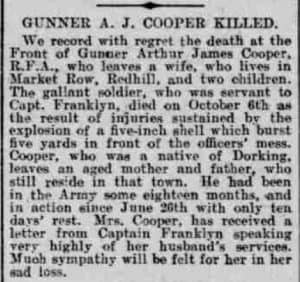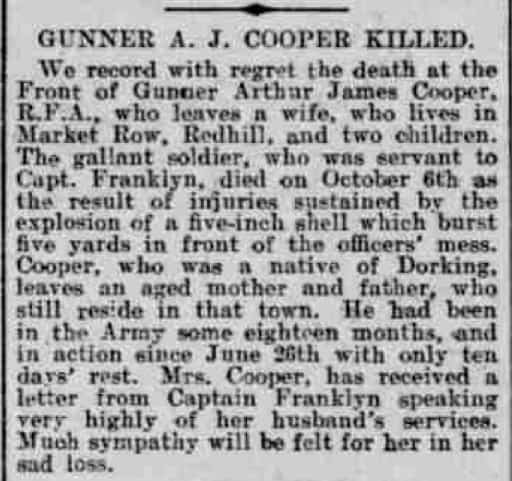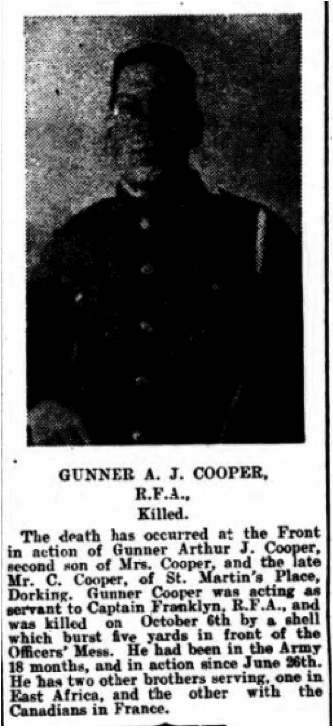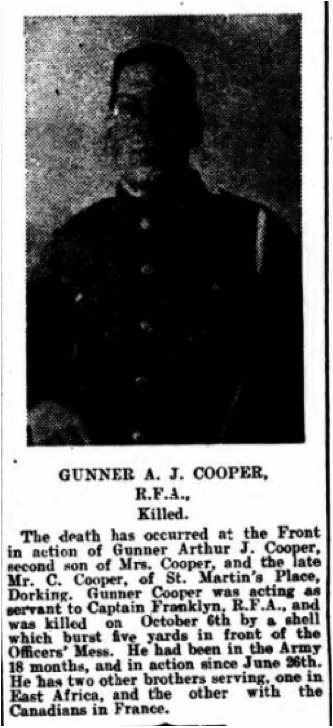 Arthur James Cooper died on 2nd October 1916 at the Somme as a result of injuries sustained from a shell explosion.
James received the Victory Medal, the British Medal and the 1915 Star. They were sent to his wife Hilda Mary. His wife also received £4 8s 9d in 1917 and £7 10s in 1919.
Arthur and Hilda had two children, Herbert A.S Cooper born in 1914 and Phyllis M.P. Cooper in 1916. His widow Hilda married Charles Brown in Reigate in 1918.
Arthur James had five siblings:
Charles P: born around 1883.
Lilian May: born 16 May 1894 Baptised 11 July 1894, at the Parish church of Dorking.   She married, Arthur Henry Derriman on December 19th 1916. They had one daughter Margaret J. in 1917. Margaret married Mr. Roberts in 1949.
Reginald Hue: born 27th March 1896 Baptised at the Parish Church of Dorking on 3 June 1896.
Florence Alice: born 4th November 1903 Baptised 25th November 1903 at the Parish Church of Dorking. Florence married a Mr. Jenner in 1950.
Phillip G: born in the September quarter of 1910.
In the 1939 Register, Arthur's mother Margaret, his sisters, Lillian Derriman and Florence May, his brother Phillip and niece Margaret Joan are living in St. Martin's Place Dorking.
Born                       Dorking
Lived                       Dorking
Son of                     Charles and Margaret Cooper
Husband of             Hilda Mary Edwards
Regiment                 B Battery, 94th Brigade, Royal Field Artillery
Number                   68311
Date of Death           2nd October 1916
Place of Death         Somme, France
Cause of Death        Died of Wounds.
Age                           30
Cemetery                  Thiepval Memorial, Somme