Thank you to Lenka Cathersides for the following information
Alfred Frederick Ireland was born in December 1876 in Dorking Surrey.
Alfred's father was called Charles Ireland, born in the 1st quarter of 1838 in Dorking Surrey. He was baptized on the 7th of February 1838 at St Martin's Church in Dorking Surrey. Charles' parents and Alfred's grandparents were called James and Sally Ireland. At the time of Charles' baptism the family lived at Ram Alley in Dorking (renamed Dene Street in 1904). Charles died in the 3rd quarter of 1894 in Dorking. He was 56 years old.
Alfred's mother was called Frances/Fanny Mann, born on the 5th of April 1840 in Horsham Sussex. She was baptized on the 21st of June 1840 in Horsham Sussex. Fanny's parents and Alfred's grandparents were called William and Mary Mann. Fanny died in 1891. She was buried on the 13th of March 1891 in Dorking Municipal Cemetery. She was 51 years old.
Fanny and Charles married on the 8th of February 1864 at St George the Martyr church in Southwark, where at the time both resided. Charles lived at 7 Swan Street, Borough and Fanny at 6 Swan Street, Borough. They were both of 'full age' (21 and over). Charles worked as a tailor, his father James as an inn keeper and Fanny's father William as a carpenter.
Their marriage was solemnized by banns. Banns were called on the three consecutive Sundays of the 10th, 17th and 24th of January 1864 at St George the Martyr Church in Southwark.
Alfred had five siblings. He was the youngest of three sisters and three brothers. His siblings were: Edith Ruth Ireland born in the 2nd quarter of 1864 in Dorking Surrey and baptized on the 24th of April 1864 at St Barnabus, Ranmore; Mary Ann Ireland born in the 1st quarter of 1866 in Dorking Surrey and baptized on the 6th of June 1866 at St Barnabus, Ranmore; James George Ireland born in the 4th quarter of 1867 in Dorking Surrey and baptized on the 9th of February 1868 at St Barnabus, Ranmore; Thomas Edward Ireland born on the 25th of June 1870 in Dorking Surrey and baptized on the 25th of September 1870 at St Paul Church in Dorking Surrey and lastly, Alice Ellen Ireland born in the 2nd quarter of 1874 in Dorking Surrey and baptised on the 11th of February 1875 at St Paul in Dorking Surrey.
As the last two children of Charles and Fanny were baptized at St Paul church in Dorking it is very likely that Alfred, who was born in 1876, was baptized at the same church.
1871 Census reads that Charles and Fanny were living at Dean Street (Dene Street?) in Dorking. Charles was working as a tailor.
1881 Census reads that the family moved to Heath Hill Dorking Surrey. At this time Alfred was four years old. Charles was still working as a tailor and Alfred's brother James George as a shop boy.
1891 Census reads that the family still lived in Heath Hill at number 9. Alfred's mother sadly passed away in the 1st quarter of 1891 (likely in March as she was buried on the 13th of March). Alfred's oldest sister Edith Ruth was working as a domestic servant and cook, his dad as a tailor, brother James George as a coach smith and brother Edward Thomas as a footman. Alfred himself worked as a grocer's assistant and he was fourteen years old.
Edith Ruth married James Peters on the 18th of April 1892 at St Matthew's church in Redhill Surrey.
There is no information in 1901 Census for Alfred Frederick Ireland. However, by the time of the 1911 Census, Alfred's father Charles also died. He passed away in 1894 in Dorking Surrey. At this time all siblings were already grown up and some set up their new families. Alfred became a boarder at his oldest sister Edith Ruth Peters nee Ireland's home at 74 Rothes Road Dorking Surrey. The house had five rooms and was occupied by: Edith, her husband James (a journey man and a butcher);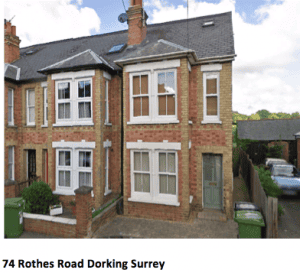 their two teenage daughters Edith Alice (a ladies tailor) and Fanny Eliza, lovingly named after her grandmother; and lastly eleven years old Mabel. Apart from Alfred, Edith had another boarder: Mr Henry Trimm (a school teacher). Alfred was working as a house painter.
Military History
Alfred Frederick Ireland enlisted at Guildford Surrey. He was part of the 3th (Reserved) Battalion The Border Regiment with a rank of Lance Corporal and the 2nd Battalion (Regular Army) The Border Regiment with a rank of Private. His regimental number at both Battalions was 5537.
The 3rd Battalion was based at the outbreak of the war in August 1914 at Carlisle. On the 5th of August 1914 they moved to Shoeburyness where they stayed until 1916. The Battalion was a depot and training unit and stayed throughout the war in the UK. However soldiers on reserve were expected to fill the ranks of the wounded and deceased at the front.
Considering Alfred's age (38 years old in 1915), he was likely to be first on reserve and later in 1915 called up with many others to fill gaps of the 2nd (Regular) Battalion.
As evidence we can use his Medal Roll Index Card that reads that he entered Western Europe (code 1) theatre of war on the 1st of May 1915. Furthermore he received the 1915 Star for those who fought overseas.
In May 1915 the 2nd Battalion was fighting in France in actions at the Battle of Aubers (9 May), the Battle of Festubert (15-25 May), the second action of Givenchy (15-16 June), and the Battle of Loos (25 September to 14 October) the largest British offensive.
We can only speculate at which of these battles Alfred was wounded and from which he was then transferred back home to England to the 3rd Battalion to recover from his injuries.
Alfred could also have been injured in an accident while training with the 3rd Battalion.
What we know for sure is that he died from wounds at home.
Perhaps his sister Edith Ruth was caring for him at 74 Rothes Road where he was a boarder back at 1911. She was also his next of kin.
Arthur died on the 16th of December 1915. He was buried on the 21st of December 1915 at the Municipal Cemetery in Dorking Surrey on Reigate Road. His grave reference number is R.3137 and his headstone does not carry an inscription (a quotation or verse). The grave was listed as a private marble memorial stone. He was just a few days short from Christmas Eve and close to his birthday. He was 38 years old. He was granted the British and Victory the 1914 Star medals.
Born                            Dorking
Son of                          Charles and Fanny Ireland
Regiment                     3rd Battalion Border Regiment
Number                       5537
Date of Death              16th December 1915
Place of Death             Dorking
Cause of Death           Died of Wounds
Age                              38
Cemetery                    Dorking Cemetery
Image © Royston Williamson 2015