Thank you to Lenka Cathersides for the following research.
Percy Coleman was born in the 3rd quarter of 1889 in Woking, Registration District of Guildford, to Henry Coleman, a Superintendant of the Police and Alice Swindlehurst.
Henry Coleman was born about 1863 in Ilminster, Somerset to a Francis Coleman, a labourer. Alice Swindlehurst was born abt 1861 in Wonersh, Surrey to Robert James Swindlehurst, a blacksmith.
Henry Coleman and Alice Swindlehurst married by Banns on the 21st of December 1881 at St John the Baptist Church in Wonersh, Surrey. At the time of marriage both partners were living at Wonersh and Henry was working as a leather dresser.
Percy Coleman was born in 1889 and had 8 brothers and sisters of whom 1 had died by 1911. They were called: Harry W. Coleman; Albert G. Coleman; Francis Coleman; Leonard Coleman; Alice Coleman; Mabel Coleman and Ellen Minnie Coleman.
At the time of the 1891 Census, the family lived in the Police Station, Guildford Road in Woking. Henry was working as a police constable and Alice was looking after Harry W., Albert G., Francis and 1 year old Percy.
At the time of the 1901 Census, the family moved to the Police Station at Camberley, Frimley in Farnham. Henry was working as a Sergeant of Surrey Constabulary. Alice was looking after Percy, Leonard, Alice and Mabel. Albert G. was working as a railway porter and Francis as an oilman assistant.
By the 1911 Census, Percy's father Henry became the Superintendant of Police. The family lived at the Police Station at Hersham, Walton-on-Thames, Surrey. Alice was at home looking after Mabel and Ellen Minnie. Her son Leonard was working as a motor car driver and sixteen years old Alice was a dressmaker assistant. The family occupied five rooms: three bedrooms, a kitchen and a sitting room.
Percy was working as a footman at Warwick House, St James's Stable Yard, SW, London to Mary Hoadley Dodge (an American heiress). The house had 20 rooms and Mrs Hoadley employed an extremely large household.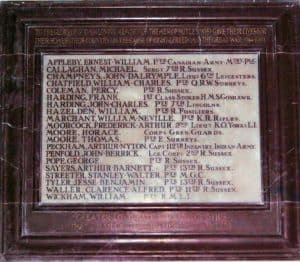 At the time of Enlistment Percy was living at the Cottage, Pippingford Park, Nutley in Sussex, where he appears on the War Memorial there.
Percy Coleman enrolled into the 2nd Royal Sussex Regiment. He enlisted in September 1914 in Lewes, Sussex, a month after the war broke out.He was a Private with the regimental number G/1647. Later he was transferred into the 7th Battalion of the Royal Sussex Regiment. He became a Lance Corporal with the regimental number G/1647.
Percy disembarked on the 29th of November 1914 in France. In winter 1915 Henry caught dysentery in the trenches at the front, which developed into double pneumonia. The War Office proclaimed him dead; but he survived. When Percy sufficiently recovered he was sent home and for a while stayed at a hospital in Oxford. Unfortunately in January 1915, his young wife was buried in Dorking as a result of the after affects of an operation. The grieving Percy returned back to his regiment in France less than a week after the event.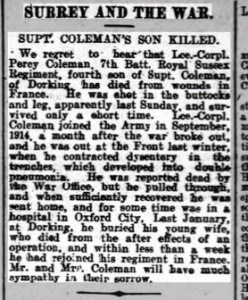 Percy died of wounds on the 5th of March 1916 at 33rd Central Clearing Station, Bethune in France. He was shot in the buttocks and leg and lived for only a short while thereafter.
By 1916 his father Henry was a Superintendant of Dorking.
Percy Coleman is buried at the Bethune Cemetery in France. His grave reference number is V.A.75. His headstone reads 'Thy Will Be Done'.
His father Henry, Superintendant of Police, received £2, 10s and 10d on the 2nd of November 1916 and £6 and 10s on the 2nd of November 1919 in Soldier's Effects.
His father also received £241, 7s and 2d in Probate.
Percy was awarded the British War and Victory Medals and the 1915 Star. His brother Albert was killed in France in 1918
By 1920 his parents moved to Brock's House, Horton in Ilminster, Somerset.
Born                         Woking, Surrey
Lived                        Esher
Son of                      Henry and Alice Coleman of Brock's House, Horton, Ilminster, Somerset
Enlisted                    Lewes, Sussex
Regiment                  7th Battalion, Royal Sussex Regiment
Number                    G/1612
Date of Death            5th March 1916
Place of Death           France
Cause of Death          Died of Wounds
Age                            27
Cemetery                   Bethune Town Cemetery, Pas de Calais