Thank you to Lenka Cathersides for the following research. Thank you to Mike Wade; Grandson of Frederick's wife Vanda.
Frederick Charles Bottomley was born on the 13th of April 1891 in Holmwood to shipbroker and merchant Charles David Bottomley and Eliza Mary Bottomley nee Cater. He was baptised on the 30th of May 1891 at St Mary's church in Holmwood. At the time of the baptism the family lived in Moor Cottage in Holmwood.
At the time of the 1901 Census, Frederick Charles Bottomley was a boarder and pupil at Norfolk House, High Street, Beaconsfield, Buckinghamshire.
Frederick Charles Bottomley enrolled into the Royal Navy on the 15th of May 1907.
At the time of the 1911 Census, widowed Emily Bottomley and her son Navy Sub-Lieutenant Frederick lived at Hambrook Grange, Emsworth in Sussex. The household further comprised of a cook, parlourmaid, housemaid and a chauffeur. The house had ten rooms. Emily stated that she had given birth to one son.
Frederick married Vanda Marr Fairbairn on the 2nd of June 1919 at St Mary The Boltons' church in West Brompton. At the time of the marriage Frederick lived at Hambrook Grange near Emsworth, Sussex and Vanda at 10 The Grove, Boltons. The wedding was officiated by Frank R. (Francis Richard) Fairburn, who was (almost certainly) Edward Percy Fairbairn's brother (Vanda's uncle).
Vanda was born in the 3rd October of 1896 in Knighton, Radnorshire to Edward and Mary. Vanda was baptised on the 6th of November 1896 at Knighton, Powys.
Edward Percy Fairbairn, born on the 7th June 1866 in Kensington London, worked as a civil engineer.  Mary Douglass was born on 21st January 1871 at Thüringen, Bludenz, Vorarlberg, Austria. They were married on 23rd May 1894, the exact location is not known – but it is likely to have been in Austria. Mary died on the 3rd Jan 1903 at Chateau D'Oex, Canton-de-Vaud, Switzerland andEdward died on the 15th September 1931 in Alderminster, Warwickshire.
On the 18th of April 1921 Frederick and Vanda arrived on RMS Aquitania from New York, USA to Southampton, England.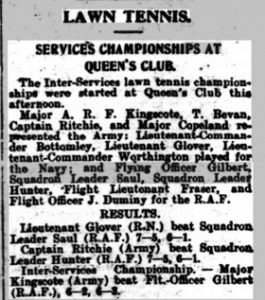 On the 8th of July 1921 Frederick took part in the Inter-Services lawn tennis championships at Queen's Club.
Lieutenant Commander Frederick Charles Bottomley died from suppuration of frontal sinus and septicaemia on the 18th of July 1921 at Nursing Home, 3 Portland Terrace, Southsea, Portsmouth, Hampshire. At the time of his death Lieutenant Commander Bottomley served on HMS Victory.
He was buried on the 21st of July 1921 at St Mary Magdalene's Churchyard, South Holmwood, Surrey.
Lieutenant Commander Bottomley of 59 Courtfield Gardens and of 42 Harcourt Terrace, Middlesex left £17,287 2s and 8d in the Probate.
He received the British War and Victory medals and the 1914-1915 Star.
Vanda Marr Bottomley re-married Francis James Wylie; a Lieutenant in the Royal Navy; on 1st March 1924 St. Barnabas' Church, Kensington
Vanda Marr Wylie of Littlestones, Parkstone Avenue, Southsea, Hampshire died on the 4th of May 1934. She left £3990, 17s and 2d in the Probate.
Bottomley Family History
Frederick's father Charles David Bottomley was born about 1840 in London to shipbroker Albert David born about 1813 in Brampton, Huntington and Eliza M. born about 1829 Clerkenwell, London. His mother Emily Mary was born in the 4th quarter of 1858 in Edmonton to draper master Frederick Thomas , Esq., born about 1832 in Islington, London and Ann Sever born about 1830 in Stone, Kent. Emily was baptised on the 4th of November 1858 at All Saints' church in Edmonton.
Charles and Emily  married on the 11th of April 1888 at St James' Church, Enfield Highway, Enfield. Charles was working as a merchant and lived at St James', Westminster. Emily lived at St James', Enfield Highway.
At the time of the 1891 Census, the family lived at Moor Cottage, Holmwood, Surrey. Charles was a retired merchant and Emily was at home. The couple was looked after by a cook, parlourmaid and a housemaid.
| | | |
| --- | --- | --- |
| Born | | Holmwood, Surrey |
| | | |
| Son of | | Charles David and Eliza Mary (nee Cater) Bottomley |
| Husband of | | Vanda Marr Fairburn |
| | | |
| Regiment | | H. M. S. Victory. Royal Navy |
| | | |
| Date of Death | | 18th July 1921 |
| Place of Death | | Southsea, Portsmouth |
| Cause of Death | | Died of frontal sinus and septicaemia |
| | | |
| Age | | 30 |
| | | |
| Cemetery | | St. Mary Magdalene Church, South Holmwood |