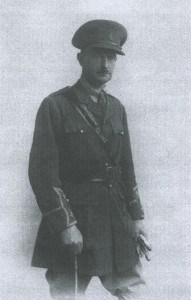 Thank you to John Callcutt for letting us reproduce the following information, taken from his book: A Village at War. Newdigate in World War One.
Kenneth Chester Herron was the youngest son of George O.M. Herron and Ellen (later Janson) and was born at Harbord House in Richmond on the 6th March 1881. Like his older brother Walter he grew up at 14 De Vere Gardens in Kensington and worked as a clerk at the family wool merchants' business at 25 St Thomas's Street (just opposite St. Barts Hospital). In the 1890s the family built and moved to Newdigate Place and Kenneth owned the lower half, park and land.
He was educated at Bradfield College, a school near Tours in France, and at Leipzig in Germany. He was fond of yachting and sailing. On the 31st July 1907 he married Alice Kate Smith whose father, an oil merchant, had died less than four weeks previously.
He and his wife were living at Wickham Place, Wickham Bishops near Witham in Essex with their three children when he obtained a commission in the Yeomanry in January 1915 and went to France in July 1916. In August 1917 he transferred to the Royal Flying Corps. Earlier than year, in what became known as 'Bloody April', the R.F.C. lost seventy-five aircraft in action in one week. The average life expectancy of a pilot in France during this time was two months. Some aircrew were arriving with as little as seventeen and a half hours flying time under their belt. By the end of April, the R.F.C. had lost a total of 150 aircraft and 316 crew.
The 82nd Squadron had been formed at Doncaster in January 1917 and served as an army co-operation unit on the Western Front, flying Armstrong Whitworth FK8 reconnaissance/bomber aircraft. It was a massive aircraft by the standards of the day – large, ungainly and sturdy. Although it had an excellent platform from which to drop bombs, it was not very agile, but it was fitted with a Vickers gun on the cowling and a Lewis gun in the rear on a ring mount for the observer/gunner. The squadron transferred from its base in Waddington to St. Omer in France, where the machines were equipped with wireless and other important equipment. Under the command of Major J.B. Solomon, they moved to Argonvillers and in March 1918 started a 'new career' with two to three bombing raids each day. Between the 28th March and the 10th July they dropped 3227 twenty-five pound bombs and 264 one-hundred-and-twelve pound bombs, which was a record.
Life was very difficult for these flyers. The squadron diary in March 1918 describes how Capt. R.T. Fagan, whilst returning from a patrol, was attacked by six Albatross D5 aircraft. None of the British scouts were in the vicinity but Capt. Fagan was successful in fighting his way through and in addition brought down one of the enemy aircraft.
On the 24th April 1918. Whilst flying low over enemy lines at Villers-Bretonneux, observing the world's first battle between two tank forces, Lt. Herron was hit by a rifle bullet and died almost immediately. His pilot was uninjured and flew the aircraft back safely. On that same day two other officers also lost their lives, 2nd Lt. L.K.W. Barrett and 2nd Lt. C.A. Procter.
In his will, Lt. Herron left an estate to the value of £75,574. He is buried at the Vignacourt British Cemetery and a window to his memory can be seen in the south aisle of Newdigate Church. There is also a memorial to him at St. Bartholomew's Church in Wickham Bishops. The Essex Herald recorded his death in their issue of the 7th May 1918.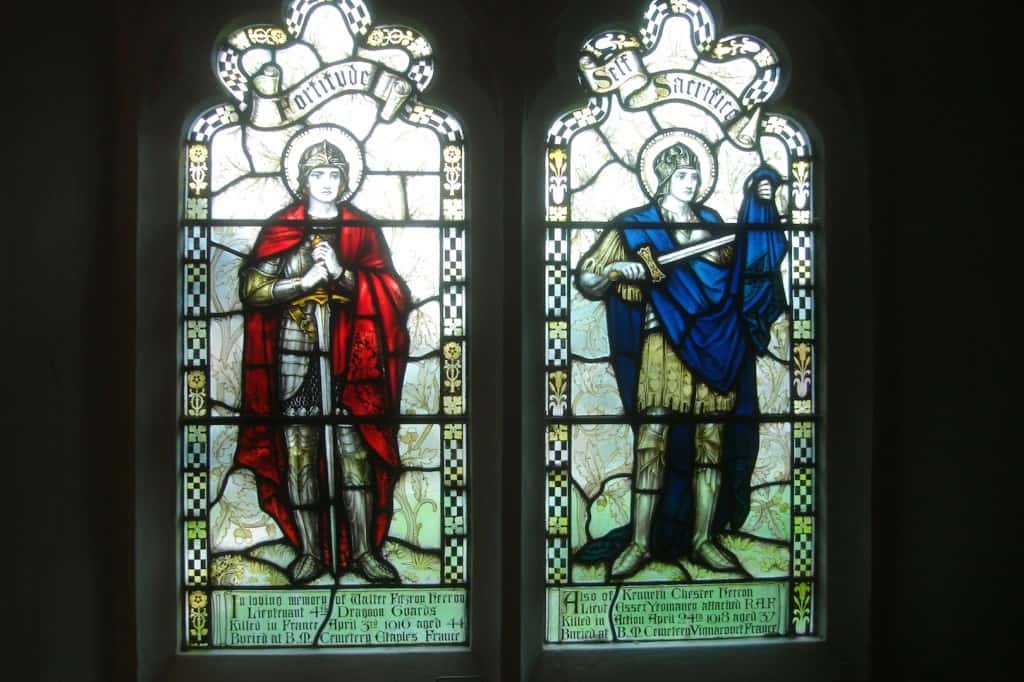 Born                            Richmond
Lived                           Kensington, London
Husband of                 Alice Kate Smith
Son of                         The late George O.M. Herron and Ellen C. Herron (later Janson) of Newdigate Place, Newdigate
Brother of                    Walter Fitzroy Herron
Regiment                     82nd Squadron, Royal Air Force
Date of Death              24th April 1918
Place of Death             Villers-Bretonneux, France
Cause of Death            Killed in Action.
Age                              37
Cemetery                     Vignacourt British Cemetery – Kenneth is featured on the town of Vignacourt's website.
Previously : Walter F. Herron                                                              Next : Cyril D. Herron