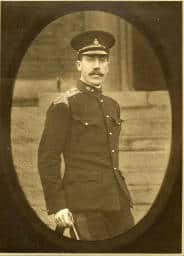 Thank you to Lenka Cathersides for the following research.
John Leslie Mowbray was born on the 19th of July 1875 at Newton House, Cambuslang, Lanarkshire, Scotland to Charles Cochrane Mowbray and Louisa Mowbray nee Brotherton.
At the time of the 1881 Census, the family lived at Newton House, Cambuslang, Lanarkshire, Scotland. Charles was an iron master employing 1810 men and Louisa was at home. The house further comprised of their children: Archibald, Basil, Evelyn, John and Mabel. The family was looked after by a governess, cook, laundry maid, table maid, kitchen maid, two housemaids and two nurses.
John ´s mother Louisa Mowbray died in 1887.
John Mowbray was educated at Mr Wellesley Wesley´s Sandroyd School in Cobham, Surrey and at Radley College where he rowed in the Eight in 1894.
At the time of the 1891 Census, John was a boarder at Radley College, Kennington Road, Radley. He left Radley College in 1894.
He was afterwards trained as a civil engineer, and worked from 1894 to 1900.
John received a commission as 2nd Lieutenant in the Royal Field Artillery on the 28th of July 1900 and joined a battery in India. He was promoted Lieutenant on the 28th of July 1903.
John´s father Charles, died on the 28th of June 1903 at Dalclathie Lodge, Comrie, Scotland and was buried on the 3rd of July 1903 at St Mary Magdalene´s Churchyard in South Holmwood. According to the 1916 Dorking and Leatherhead Advertiser John and his family lived at one time at Holmwood Cottage, Holmwood.
Lieutenant Mowbray was afterwards transferred to the Royal Horse Artillery with which he remained until entering the Staff College Quetta in British India for which he was specially nominated in 1907. On passing out he was appointed to the General Staff at Simla, India. He served as a General Staff Officer, Third Grade, from 4th of April 1909 to the 3rd of April 1913.
Lieutenant Mowbray was promoted Captain on the 21st of August 1911.
He went to France as Staff Captain in August 1914 and became Brigade-Major on a divisional staff in December 1914. This appointment he resigned in the spring of 1916 in order to take command of a field battery.
Major Mowbray was twice mentioned in Dispatches by Field Marshal Sir John French for galant and distinguished service in the field and was awarded the Distinquished Service Order.
At the time of his death Major John Leslie Mowbray D.S.O. was part of the 41st Brigate, the Royal Field Artillery. He was killed in action on the 24th of July 1916 near Carnoy on the Somme, France.
Major Mowbray is burried at the Peronne Road Cemetery, Marycourt, France. His grave reference number is: IV.F.20.
Mowbray Family History
John´s father Charles Cochrane Mowbray was born about 1844 at Largo, Fife, Scotland to Gentleman Benjamin Holme Mowbray, born about 1809 at Cheetham Hill, Lancashire, and Caroline E. Mowbray, born about 1815 in Sherburn, Durham. At the time of the 1861 Census, the family lived at Surbiton House, Surbiton Road, Kingston, Surrey.
John´s mother Louisa Brotherton was born on the 8th of March 1847 in London, Middlesex to John William Brotherton, esq. of The Firs, Esher, Surrey and Georgiana Brotherton nee Palmes. Louisa´s father John William Brotherton was born on the 24th of July 1821 in Ireland. Louisa´s mother Georgiana Palmes was born about 1824 in Scotland to George Palmes of Naburn Hall, Yorkshire. Louisa Brotherton was baptised on the 30th of March 1847 at Holy Trinity church in Paddington, Westminster. She was descended from the Plantagenets. Her grandfather was General Sir Thomas Brotherton, G.C.B.
Charles Cochrane Mowbray, gent. of Surbiton and Louisa Brotherton married, by Banns, on the 5th of September 1868 at St Andrew´s church, Cobham, Surrey. At the time of their marriage Louisa lived at Cobham.
John Leslie Mowbray had six known siblings: Archibald John Holme born about 1870 in England and Basil C. born about 1872, both in England; Evelyn L. born about 1874 Mabel Georgina Mowbray born about 1879; and Margine C. born about 1882 all Cambuslang, Lanarkshire, Scotland and Louisa Rose D. born about 1887 at Glasgow, Lanarkshire, Scotland.
Born                           Cambuslang, Lanarkshire
Son of                         Charles Cochrane and Louise (nee Brotherton) Gould
Regiment                     41st Brigade. Royal Field Artillery
Date of Death              24th July 1916
Place of Death             Carnoy, Somme, France
Cause of Death           Killed in action
Age                              41
Cemetery                     Peronne Road Cemetery, Marycourt, France