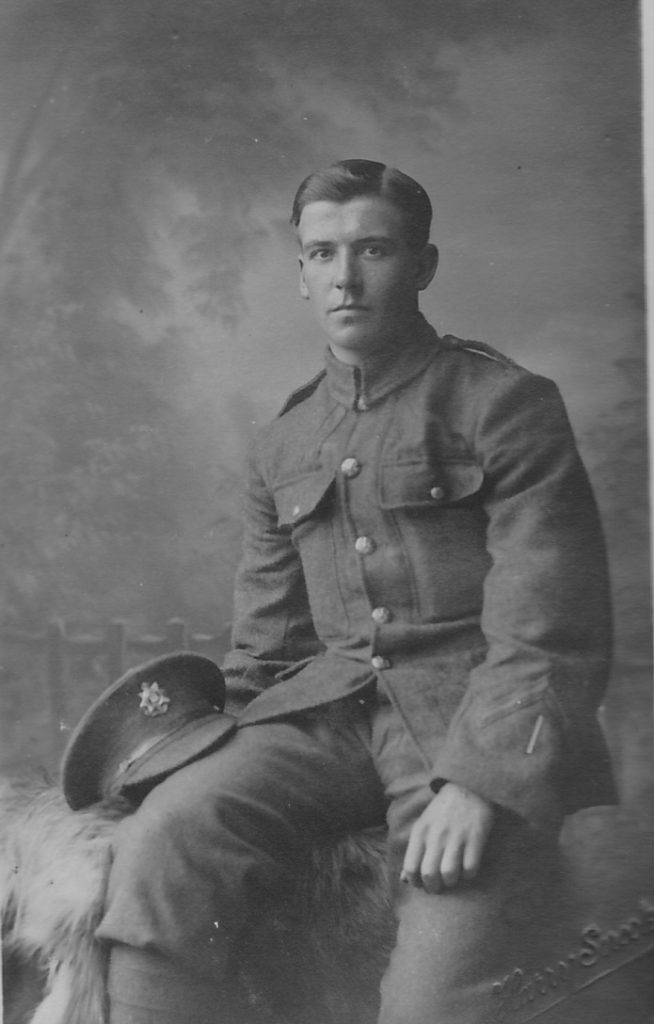 Thank you to Patricia Brazier for the following research and thank you to Mary Rice (niece of Alfred) for the family detail and photograph.
Alfred was the 4th child of eight children of Alfred and Louisa Mary (nee Clevett) and was born on 29th April 1897 in Dorking and was baptised at the Parish church on 4th July of the same year. Their address is 13 Dene Street Dorking. Alfred senior's occupation is a labourer.
In the 1901 census the family have moved to 52 Dene Street, Alfred's father is now a coal carter. Alfred has three sisters, Louisa Mary aged 9, Annie aged 5 and Ellen aged 3 months. Another sister, Emily had died in 1893 just 8 months old.
The 1911 census finds the family now living at 36 Falklands Road, Alfred is 14 and working as an errand boy for the local Chemist. He now has another sister, Alice who is 8 years old and two brothers, George aged 5 and William aged 3. His father is now a carman working for a building contractor. His elder sister Louisa Mary is a domestic servant, in the household of Frank Davey, an upholsterer in High Street, Dorking.
Alfred then worked for a plant nursery in Woking. There is a memorial in Goldsworth Park, Woking dedicated to all employees of that nursery who gave their lives in the Great War.
On the 12th October 1914, when he was 17 years old, Alfred Enlisted into the 6th (Home Service) Battalion of the Queens Royal West Surrey. Records show he was 5 feet 7 Inches tall and in good health. His home address was 36 Falkland Road, Dorking. He transferred to the London Regiment on 28th August 1916 and arrived in France on 31st August 1916. He was hospitalised on 8th January to 2nd April 1917 for treatment for an abscess. He then received a gun shot Wound to his right shoulder on 8th June 1917 and returned to England, where he spent time recuperating at Sherborne Red Cross Hospital. He left hospital on 8th August. His photograph shows he has a wound stripe on his left sleeve. He then returned to duty.
His regiment was sent to Egypt, as part of the Egypt Expeditionary Force arriving on 27th October 1917. Alfred was killed by a sniper on 30th March 1918. His service papers say this happened in Egypt; however his family were told this happened in Palestine. He is buried in the Damascus Commonwealth Cemetery in Syria. Grave Reference: F.26. His parents requested that "Thy Will be Done" should be inscribed on his headstone.
His death was particularly hard for his parents, as their eldest daughter Louisa Mary had died aged 25 in 1917. She had married James Wren in 1912 and left a daughter of just 4 years old. Their Granddaughter, known to the family as Lal spent a lot of time with her Grandparents at the house in Falklands Road. Mary, Alfred's niece describes the house as a two bedroom terraced house with three floors. The kitchen, which had a packed dirt floor, was on the ground floor. The living room was on the middle floor, the top floor had two bedrooms one for the parents. The other for the children, housed one double bed, the children used to sleep across the bed rather than lengthwise as it could house more children that way. There was no bathroom; four "outhouses" served the entire community of around 40 houses. The houses formed a triangle surrounded by hillside; inside the triangle was unkempt scrubland.
In January 1919, Alfred's father requested that all Alfred's belongings, including a prayer book and pocket watch, be returned to him. His War Gratuity of £14.8.3 was sent to his mother along with his Medals and Plaque, in June 1922.
Two years after Louisa Mary Jnr died, Alfred's sister Annie married James Wren; they went on to have two daughters. Ellen married and had one child, she died in 1942. Alice married William Hockley; she died in 1988 and had one child. George married Rose Larby and had two children. William married Olive E Wallis and also had two children.
His niece Mary Rice made this comment about her uncle.
"His military records note he "embodied service". If he was anything like his siblings, he would have been a quiet, but determined man, who enjoyed and believed in "family" in the true sense of the word. He would have had a lovely chuckle, rather than a baldy laugh; the type that disappears into him and burbles out as a quiet chuckle. He would have been honest to the core. His family was extremely poor, but had a sense of worth in other human beings, treating them honestly. He left this earth far too soon."
| | | |
| --- | --- | --- |
| Born | | Dorking, Surrey |
| Lived | | Dorking, Surrey |
| | | |
| Son of | | Alfred and Louisa Mary (nee Clevett) Wye |
| | | |
| Regiment | | 6th Home Service. The Queens Royal West Surrey Regiment |
| Number | | 703226 |
| | | |
| Date of Death | | 30th March 1918 |
| Place of Death | | Egypt |
| Cause of Death | | Killed in action |
| | | |
| Age | | 20 |
| | | |
| Cemetery | | Damascus Commonwealth Cemetery, Syria |