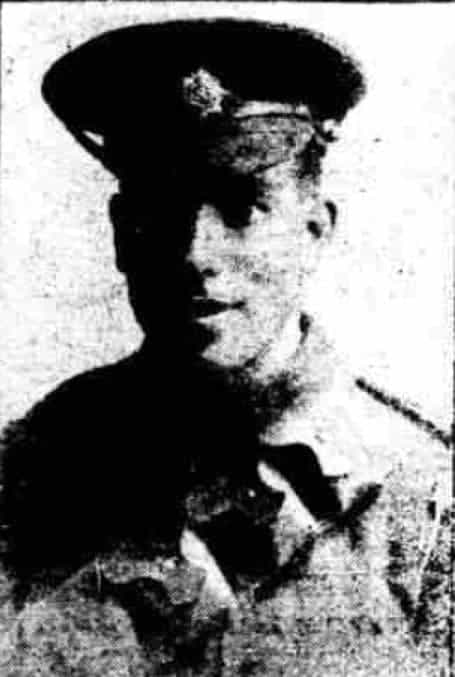 Charles was born in Petworth Sussex and baptised on 17th June 1894 at the parish church in Frittleworth. His parents are William and Ellen. William is a baker and Ellen's maiden name is Collins.
In the 1901 census the family are living in Birtley Green, Bramley. Charles has several siblings:- Susan born in 1888, Edith born in 1890, William born in 1892, Frederick born in 1893, Albert born in 1897, Irene born in 1899 and Edward born in 1901
In 1911 the family are still living in Birtley Green. William, Charles's father is now a Journeyman Miller at Wonersh Mill. Susan, Edith and William have left home. Charles now has four more siblings:- Sidney, born in 1903, Ellen Rose, born in 1906, Doris Vera born in 1908 and Flora Alice born in 1910.
William and Ellen also have a Grandson; he is Albert and was born in 1906.
Surrey Recruitment Registers show that Charles enlisted into the Army Service Corps on 21st November 1914. His occupation at the time is listed as Attendant. He is 5 feet six inches in height and weighs 140 pounds.
In April 1915 Charles married Sarah Esther Trott in Watford.
Charles then transferred to the Machine Gun Corps and entered the theatre of war on 25th September 1915.
In November 1917,  his battalion were fighting in Bourlon Wood as part of the Battle of Cambrai. Charles died on 24th November. He has no known grave and is commemorated along with 7,000 others on Panel 12/13 of the Cambria Memorial to the missing, which stands on a terrace in the Louveral Military Cemetery.
His personal effects were sent to his Widow Sarah. Sarah married Albert Curtiss in Marylebone in 1938 and died in Paddington in 1976.
Charles' Brother Albert was a Guardsman in the Grenadier Guards and received the Military Medal; he died in March 1918 aged 21 and is remembered on the Arras Memorial.
Charles 'parents moved to Dorking in 1918 and lived at 18 Jubilee Terrace for many years. William died in November 1931 and Ellen died in 1942.
Charles's siblings continued to live in Dorking. Flora Alice married William Phillpot, Vera married George Barrell, Irene married Percy Hesselgrave, Susan married Edwin Sharp and William married Ivy Lucas.
Born                             Petworth
Lived                            Epsom
Son of                          William and Ellen Stenning of 18 Jubilee Terrace, Dorking
Husband of                  Sarah Esther Trott of Watford
Enlisted                        Kingston Upon Thames
Regiment                     119th Company. Machine Gun Corps
Number                       90278
Former Regiment         029552 Army Service Corps
Date of Death              24th November 1917
Place of Death             France
Cause of Death           Killed in Action
Age                             23
Memorial                     Cambrai Memorial, Louverval, France