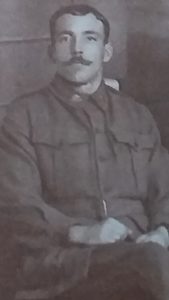 Thank you to Lenka Cathersides for the following research. Thank you to Raymond Chadwick for the family photographs.
Ernest Arthur Vallance was born on the 17th of December 1886 in Dorking, Surrey to labourer Peter and Harriet Vallance nee Stanbridge. He was baptised on the 14th of March 1886 at St Paul´s in Dorking. At the time of the baptism, the family lived at 38 Orchard Road, Dorking.
At the time of the 1901 Census, the family lived at 3 Falkland Road, Falkland Gardens, Dorking. Peter was working as a general labourer and Harriet was looking after their daughter Caroline Elizabeth. Fifteen year old Ernest was a boy under detention (prisoner) at St David´s Late Clarence Reformatory School, Mold Rural, Flintshire, Wales.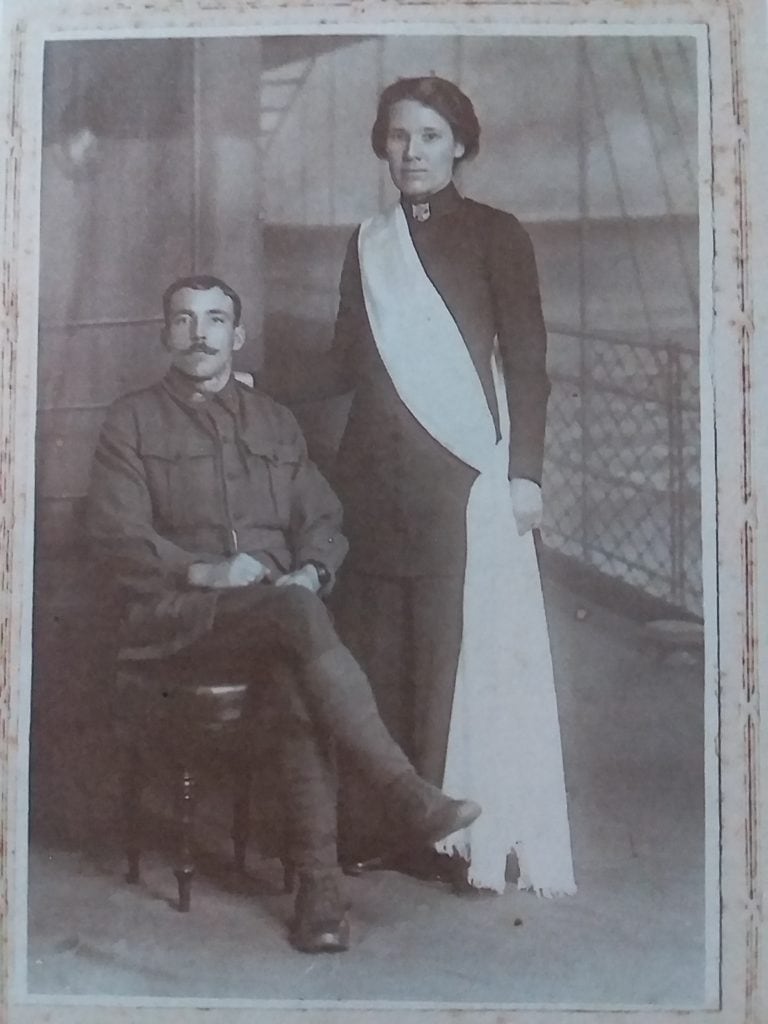 Ernest emigrated to Australia in 1908, he married Mary Catherine Connell in 1916 in Victoria, Australia. She was born about 1873 in Wehla, Victoria, Australia to Morgan Connell and Mary Stokes.
Ernest Vallance enlisted into the Australian Imperial Force on the 10th of May 1916 at Royal Park Camp in Victoria. He was a Private with regimental number 5904. Ernest stated that he had previously served 8 weeks in the Home Service of Australian Imperial Force. He was at one point rejected from the Army because of his hammer toe. He also attended a Signal School.
At the time of the enlistment Ernest was working as a labourer and lived at 124 Exhibition Street, Melbourne, Victoria, Australia. His wife Mary lived at 180 Gatehouse Street, Parkville, Victoria, Australia. By January 1917 Mary moved to the Salvation Army Military Rooms, Watson´s Place off Little Flinder´s street, Melbourne.
Ernest Arthur had five vaccination marks on his left arm and a tattoo on his right arm. He was over 5ft tall. His weigh was 118 lbs. He had a fresh complexion, brown eyes and black hair. He was a member of the Salvation Army.
On the 2nd of October 1916 Ernest Arthur embarked on HMAT Nestor (A71) from Melbourne, Victoria, Australia to England. He disembarked on the 16th of November 1916 to Plymouth. He was part of the 7th Training Battalion. 20th of January 1917 Ernest Arthur marched out to the 6th Training Battalion stationed in Rollestone Camp. 15th of February 1917 Ernest Arthur sailed on board of SS Victoria from Folkestone, England to France. 16th of February 1917 Ernest Arthur arrived at the 2nd Australian Divisional Base Depot in Etaples, France.
On the 8th of March 1917 Ernest became part of the 24th Australian Infantry Battalion of Australian Imperial Forces (16th Reinforcements). The 24th Battalion formed part of the 6th Infantry Brigade.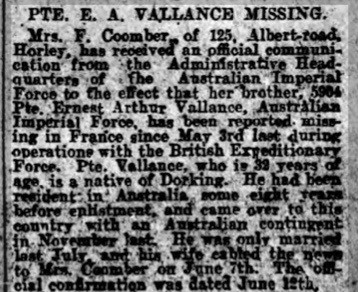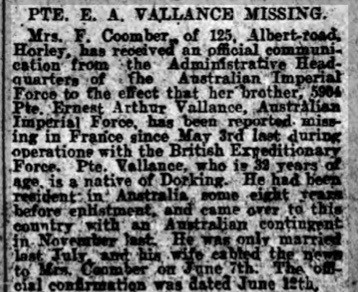 Ernest Vallance was killed during the night on the 3rd of May 1917 in the attack at Bullecourt, France. He was previously reported missing believed to have been taken a German Prisoner of War. His body was never found.
Corporal C. W. Swetnan recalled: ´I was close when Vallance was struck by a shell splinter and killed outright.´


He is commemorated on the Villers-Bretonneux Memorial, Picardie, France.
By October 1917 Ernest's wife Mary Vallance moved to Fentons Creek, Victoria, Australia.
Mary received the British War and Victory medals and the 1914/1915 Star. As the next of kin she also received the Memorial Scroll, King´s Message, Memorial Plaque and the pamphlet ´Where the Australians Rest. Mary died in 1967 in Malvern, Victoria, Australia. The family still live in Fentons Creek, Victoria, Australia.
Vallance Family History
Ernest's father Peter was born about 1836 in Dorking, Surrey to labourer Peter and Elisa Vallance. Peter Jnr was baptised on the 26th of June 1836 at St Martin's church in Dorking. His mother Harriet Stanbridge was born about 1849 in Horsham, Sussex to labourer James and Eliza Stanbridge. Harriet was baptised on the 25th of March 1849 in Warnham, Sussex. Widower Peter Vallance and widow Eliza Fairbrother nee Stanbridge married on the 28th of January 1883 at St Paul's Church, Dorking. Ernest Arthur had one known half sister and two known full siblings: Kate Fairbrother Vallance born in the 2nd quarter of 1877 in Dorking, Surrey; John Henry Vallance born in the 1st quarter of 1884 in Dorking, Surrey and Caroline Elizabeth Vallance born in the 3rd quarter of 1887 in Dorking, Surrey.
At the time of the 1911 Census, Ernest Arthur´s father Peter Vallance was an inmate of the Dorking Union Workhouse, 2 Horsham Road, Dorking. Peter stated that he was married and was working as a labourer. He died in the 1st quarter of 1914 in the Registration District of Dorking.
| | | |
| --- | --- | --- |
| Born | | Dorking, Surrey |
| Lived | | Victoria, Australia |
| | | |
| Son of | | Peter and Harriet (nee Stanbridge) Vallance |
| Husband of | | Mary Catherine Vallance (nee Connell) |
| | | |
| Regiment | | 24th Australian Infantry Battalion. Australian Imperial Forces |
| Number | | 5906 |
| | | |
| Date of Death | | 3rd May 1917 |
| Place of Death | | Bullecourt, France |
| Cause of Death | | Killed in action |
| | | |
| Age | | 31 |
| | | |
| Memorial | | Villers-Bretonneux Memorial, Picardie, France |