Thank you to Lenka Cathersides for the following research. Thank you to Andy Bailey for further contributions.
Frank Mattingley was born in 1889 in Witley, Surrey to bricklayer and builder's foreman Walter Francis Mattingley and Constance Jane Mattingley nee Chennell. He was baptised on the 22nd of February 1889 at All Saint's church in Witley. At the time of his baptism, the family lived in Witley.
At the time of the 1901 Census, the family were still in Witley. Walter had become a builders foreman and Constance was at home looking after bricklayers apprentice Walter, William, Frank, Harry, Nellie, George, Frederick and Cyril.
At the time of the 1911 Census, the family had moved to Glenmore in Witley. Walter had the same job and Constance was looking after their children; bricklayer Frank, apprentice Harry, mill hand George, telegraph messenger Frederick and scholar Cyril. Constance stated that she had given birth to eleven children of whom nine were still alive. The accommodation had five rooms.
Frank Mattingley married Beatrice Ethel Wilson in 1914 in the Registration District of Guildford, Surrey.
Beatrice was born in 1890 in Swindon, Wiltshire to railway coach painter George Wilson, born about 1858 in Warwickshire and Olive Wilson, born about 1861 in Sevenoaks, Kent. At the time of the 1911 Census, Beatrice was a kitchen maid for stoke broker Mr Schwann at Hangerfield, Witley, Surrey. The house had nineteen rooms.
Frank and Beatrice had two children: Olive born in 1914 and Allan Frank born in 1916, both in the Registration District of Dorking.
In June 1917, as a part of Dorking Red Cross Week, baby Allan won the 3rd prize in the class 1 (under 10 months) category in a baby show.
Frank enlisted in Dorking into the Royal Innsikilling Fusiliers
At the time of his death he was part of the 1st Battalion, the Royal Inniskilling Fusiliers. He was a Private with regimental number 41108.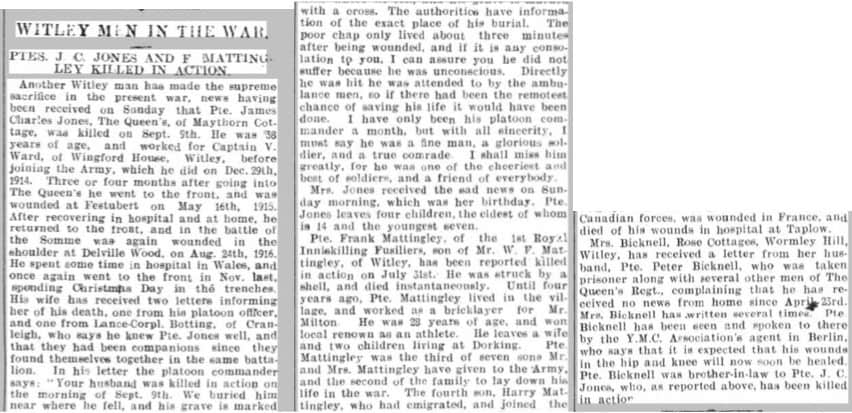 Frank Mattingley was killed in action on the 31st of July 1917 in France. He was struck by a shell and died instantaneously.

Frank's body was exhumed and reburied at the Artillery Wood Cemetery in Belgium. His grave reference number is II.E.14. His headstone bears the inscription: "Ever In Our Thoughts."
He received the British War and Victory medals.
Prior to the war Frank worked as a bricklayer for Mr Milton. He achieved local renown as an athlete. "Pte Mattingley was the third of seven sons Mr and Mrs Mattingley have given to the Army, and the second of the family to lay down his life in the war. The fourth son, Harry Mattingley, who had emigrated, and joined the Canadian forces, was wounded in France, and died of his wounds in hospital at Taplow." (1917 Dorking and Leatherhead Advertiser)
Beatrice received 18s and 9d on the 20th of November 1917 and a further £3 and 10s on the 1st of November 1919 in Soldier's Effects.
The 1918 and 1919 Surrey, England Electoral Registers read that Beatrice lived at 50 Dene Street in Dorking. She married Thomas W. Valentine in 1919 in Dorking. Sometime after her marriage Beatrice lived at 15 Dene Street in Dorking.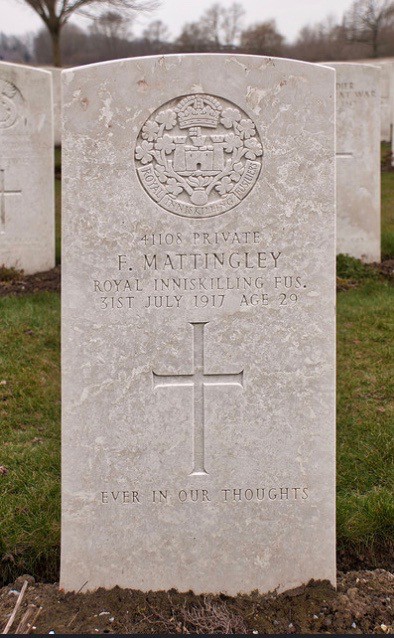 Mattingley Family History
Frank's father Walter Francis was born in the 2nd quarter of in 1858 Wokingham, Berkshire to licensed victualler Henry, born about 1828 in Wokingham, Berkshire and Martha, born about 1833 in Wokingham, Berkshire.
His mother, Constance Jane Chennell was born in the 2nd quarter of 1863 in Godalming, Surrey to labourer and shepherd George Chennell, born about 1831 in Godalming and Emily Chennell, born about 1837 in Lurgashall, Sussex. Constance was baptised on the 12th of July 1863 at All Saint's church in Witley.
Walter and Constance married in the 3rd quarter of 1881 in the Registration District of Guildford, Surrey.
Frank Mattingley had ten siblings of whom nine are known: Grace Lilian born about 1882 in Farncombe, Surrey; Edith Maude born about 1884 in Battersea; Walter born about 1887; William born about 1888; Harry born about 1892; Nellie born about 1894; George born about 1895; Frederick born about 1897 and Cyril born about 1898, all in Witley, Surrey.
At the time of the 1891 Census, the family lived in Witley. Walter was still working as a bricklayer and Constance was looking after their children: Grace, Edith, Walter, William and Frank. The household further comprised of Walter's brother, carpenter, John George Mattingley.
Frank's son, Allan, served in and survived the Second World War. WW2. He
enlisted on the 16th March 1940, into the Queen's Royal West Surrey Regiment, and to the reserve 2nd (Territorial) Battalion on 1st June 1946.
Born                            Witley, Surrey
Husband of                 Beatrice Ethel Valentine (formerly Mattingley) of 15 Dene Street, Dorking
Son of                          Walter Francis and Constance Mattingley of Witley, Surrey
Enlisted                       Dorking
Regiment                     Royal Inniskilling Fusiliers
Number                       41108
Former Regiment        53363 Royal Fusiliers
Date of Death              31st July 1917
Place of Death             France
Cause of Death           Killed in Action
Age                              29
Cemetery                    Artillery Wood Cemetery, Boesinghe, Belgium