Thank you to Patricia Brazier for the following research.
George was born on 28th February 1889 in Rotherhithe and baptised at St Alfege Church in Greenwich on 25th March 1889. His parents are George Edward, a Butcher and his mother is Florence, her maiden name is Marchant.
In the 1891 census the family are living in Moorland Cottage in the village of York Town in Surrey. George has a brother named Arthur; who is a few months old.
The family then spent some time in Blackwater, Hampshire and in the 1901 census the family have moved to Hawley Lane in Hartley Witney. George now has more siblings, Herbert born in 1893, Mable born in 1895, Florence born in 1897 and Edith born in 1900. They were all born in Blackwater Hampshire.
In the 1911 census George has left home and is now a Footman in a Household in Hampstead. His parents are living at 25 Grovelands Road Reading. George has three more siblings, Lilian born in 1901, Frederick born in 1904 and Leonard born in 1907. His sister Florence is a servant in a household in Reading and Mabel is a servant in a household in London.
George enlisted on 31st August 1914. His address at the time was 36 Bessborough Place, Vauxhall. His occupation was a Waiter. He was 5 feet 3 ¾ inches tall and had grey Eyes and brown hair. These papers also mention that he was discharged after three months as he was considered unfit for service. However his discharge must have been reconsidered as his medal card show that he entered the theatre of War in France on 21st May 1915.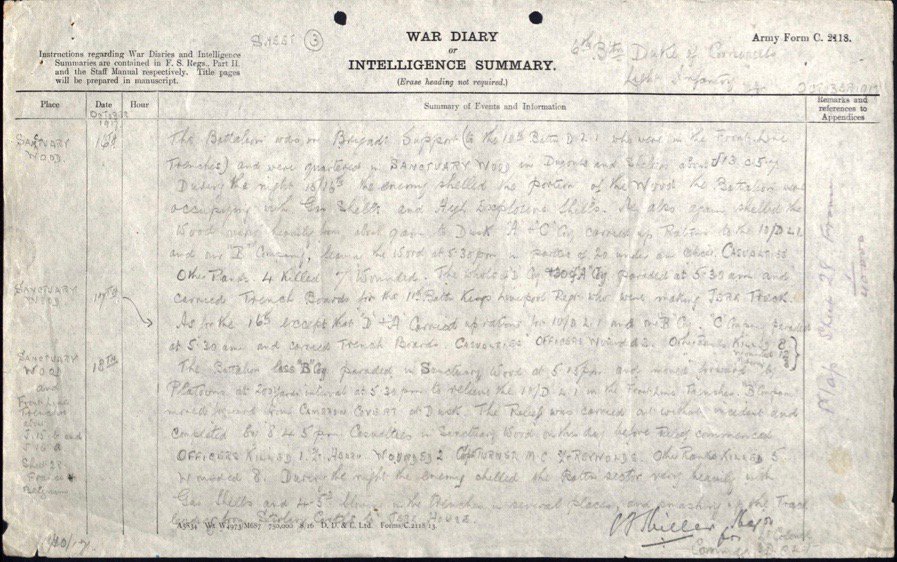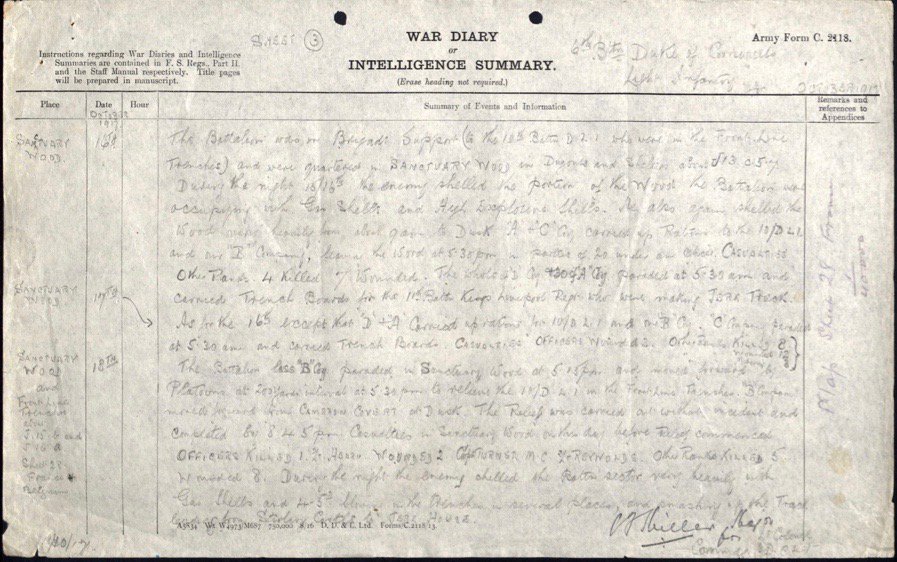 His Battalion were in Action at Hooge and the 2nd attack on Bellenwaarde in 1915. Then: the battles of Delville Wood and Fleurs-Courclette in 1916. They were then involved in the German retreat to the Hindenburg Line in 1917. George died on 16th October 1917. He is buried at Hooges Crater Cemetery which is four Kilometres east of Ypres in Belgium.
George's personal effects were sent to his father, George who was living at 70 Dene Street in Dorking. He died in Dorking in March 1939.
George's mother, Florence returned to Reading and died there in 1964.
Born                          Rotherhithe, London
Son of                       George Edward and Florence (nee Marchant) Boxall
Regiment                   6th Battalion. Duke of Cornwall Regiment
Number                     12194
Date of Death             16th October 1917
Place of Death            Belgium
Cause of Death           Killed in action
Age                            27
Cemetery                   Hooges Crater Cemetery, Ypres, Belgium