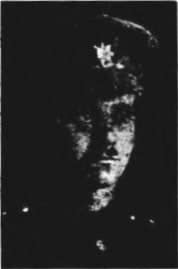 Thank you to Lenka Cathersides for the following research.
Gilbert Valentine Smithers was born on the 18th of March 1890 in Dorking, Surrey to veterinary surgeon Walter [Vernon] Smithers and Alice Margaret Smithers nee Bishop. He was baptised on the 16th of December 1890 at St Martin's church in Dorking. The family were living at 35 South Street, Dorking.
Gilbert had five siblings: Shirley W born about 1882 in Middlesex; Frank R. born about 1885; Violet Margaret born about 1895; Ruth Mary born about 1900 and Kathleen Clodagh born about 1902, all in Dorking, Surrey.
At the time of the 1891 Census, the family were still living at 35 South Street, Dorking. Alice was looking after their children: Shirley, Frank and Gilbert. The household further comprised of a servant Alice K. Johnson.
At the time of the 1901 Census, the family were at 44 South Street, Dorking. The household further comprised of their children: Gilbert, Violet and Ruth. The family employed a cook and a general servant.
At the time of the 1911 Census, the family lived at 22a South Street, Dorking. The household comprised Walter and Alice and of their children: law clerk solicitor Gilbert, Violet, Ruth and Kathleen and a servant. Alice stated that she had given birth to six children. The house had eight rooms.
The 1915 Surrey, England Electoral Register reads that Gilbert lived at 22a South Street, Dorking. He occupied one furnished room on the 2nd floor at his father's house.
Gilbert's father Walter died on the 14th of February 1916. He left to his wife Alice, £29, 6s and 3d in the Probate.
Gilbert Valentine Smithers enlisted in May 1916 in Dorking into the 13th (Princess Louise's Kensington) (County of London) Battalion, The London Regiment. He was a Private with regimental numbers 5324 and 492274. At the time of his enlistment he resided in Dorking.
Pte Smithers disembarked on the 3rd of September 1916 in France.
At the time of his death Gilbert belonged to the Lewis Gun Section. Gilbert Valentine Smithers was killed by a shell on the 19th of April 1917 in France.

He was exhumed and re-buried at the Wancourt British Cemetery in France. His grave reference number is: III.F.14. The headstone reads the inscription: "A Loving & Devoted    Son & Brother."
He received the British War and Victory medals.
"The gallant soldier was many years in the office of Mr Frank C. Morrison (Clerk to the Reigate Board of Guardians and Rural District Council), and about four years ago he was appointed as an assistant clerk (case tickets) and secretary to the Boarding-out Committee. He gave every promise of a successful future in Poor Law work."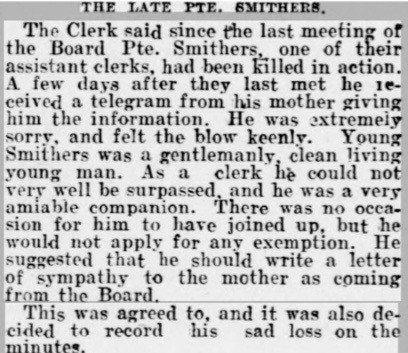 "Pte. Smithers was a staunch upright Churchman; and a fine example of what a Churchman may become. He was actively interested in the different organisations at St. Martin's Church, for many years hon. sec. to the Guild of Servers, attached to the Order of the Guild of Servants of the Sanctuary, and an active member of the Local Chapter of St. Edward."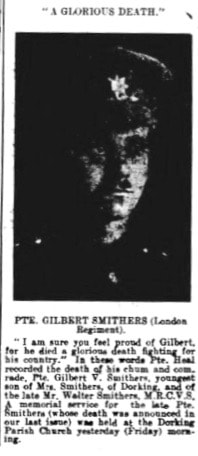 "He lived a quiet, Christian life, was unobtrusive, conscientious to a degree, punctilious in the performance of his duties, and possessed of an individuality that instinctively impelled confidence and won respect. It was always difficult to imagine that frail figure developing into a "Soldier of the King", and yet he possessed a stout heart, an unwavering patriotism, and unswerving desire to do his "bit." (1917 Dorking and Leatherhead Advertiser)
Gilbert of Old Cottage, High Street, Dorking left to his mother Alice: £116, 18s and 5d in the Probate.
He also left Mrs Smithers £1, 4s and 11d on the 9th of August 1917 and a further £3 on the 22nd of October 1919 in Soldier's Effects.
Alice later lived at 2 Cliftonville, Dorking.
Smithers Family History
Gilbert's father Walter was born in the 4th quarter of 1858 in Dorking to William and Elizabeth Smithers. Walter was baptised on the 22nd of December 1858 in Dorking.
His mother Alice Margaret Bishop was born on the 23rd of July 1861 in Woolwich, Kent to undertaker Charles Bishop, born about 1821 in Cobham, Surrey and Frances Charlotte Bishop, born about 1826 in Loughborough, Leicestershire. Alice was baptised on the 14th of August 1861 at St Mary Magdalene's Church in Woolwich. At the time of her baptism the family lived at 60 Powis Street, Woolwich.
Walter married Alice in the 1st quarter of 1881 in the Registration District of London City.
At the time of the 1881 Census, Walter was a boarder of traveller Charles Burridge at 2 Primrose Street, London. Walter was a veterinary student.
At the time of the 1881 Census, Alice was a boarder of housekeeper Jane Costin at 1 Ropemaker Street, London. Alice was a cashier at a butcher.
Lived                           Dorking
Son of                           Alice M. Smithers and the late Walter Smithers M.R.C.V.S of 2, Cliftonville Dorking
Enlisted                       Dorking
Regiment                     13th Battalion, London Regiment
Number                       492274
Date of Death              19th April 1917
Place of Death             France
Cause of Death           Killed in Action
Age                              27
Cemetery                    Wancourt British Cemetery, France