Private Horace John Longhurst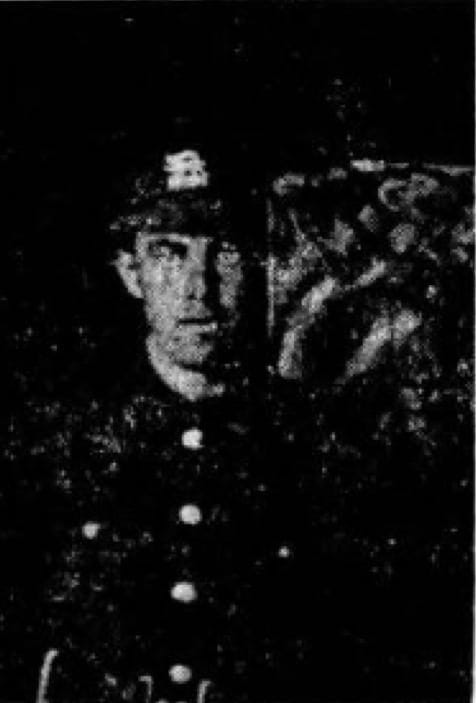 Thank you to Jane Anthony and Mary Hustings for the following research.
Horace was baptised at Christ Church on 26th September 1886, the fourth child of William and Amelia Longhurst, the family lived near Leigh Hill Place. His father, along with several of his siblings including Horace, worked as stablemen and domestic gardeners at various locations, including at Leith Hill Place and Anstie Grange. By 1901 Horace was working as a cow boy and in 1911 he had moved out of the family home and was working as a domestic gardener and living in staff accommodation at Anstie Grange.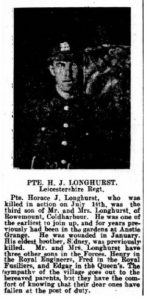 Horace enlisted in the Leicestershire Regiment on 4th September 1914, as his older brother was already a Company Quartermaster in the Queens Own West Surrey Regiment, it might be that Horace chose to serve in a different regiment from his brother. The 9th Battalion was a service battalion raised in September 1914 and disbanded in 1917. Horace was killed during the battle of the Somme and is commemorated on the Thiepval Memorial
Born                                 Coldharbour
Son of                              Amelia and the late William Longhurst of 2 Weald View Cottages, Coldharbour, Dorking
Brother of                         William Sidney Longhurst
Regiment                          9th Battalion, Leicestershire Regiment
Number                             15004
Cause of Death                 Killed in action
Date of Death                    14th July 1916
Place of Death                   France
Age                                     28
Memorial                           Thiepval Memorial, Somme, France
Previously : Private Arthur Lipscomb Next : Company Quartermaster William Sidney Longhurst