Thank you to Lenka Cathersides for this research.
 Family History
Thomas Richard Gill was born on the 12th of August 1891 in Dorking, Surrey and was baptised on the 13th of September 1891 at St. Martin's church in Dorking.
His parents were called Richard Gill born about 1858 in Hascombe, Surrey and Lydia Gill nee Sivyer born about 1864 in Dorking, Surrey. The couple got married on the 7th of June 1884 at St. John's Church in North Holmwood, Surrey by banns.
Thomas had four siblings: Lydia Gill born about 1886 in Holmwood, Surrey; Louisa born about 1889 in Dorking, Surrey; Agnes born about 1898 in Dorking, Surrey and Edmund born about 1900 in Dorking Surrey.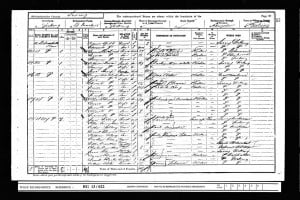 At the time of the 1901 Census the family lived at 10 St. Martins Place, Dorking and Thomas' father worked as a general labourer.
By the time of the 1911 Census, Thomas moved from Dorking to London and worked as a footman for Mrs Violet Dudley Ward, a 56 years old widow, at 63 Cromwell Rd, South Kensington. The widow employed 9 servants and a governess and occupied a house with 19 rooms.
Thomas' family also moved from Dorking to Betchworth and at the time of the 1911 Census lived at The Cottages, Betchworth Hill, Betchworth where they occupied five rooms. Thomas' father Richard worked as a cow man on a farm.
Sometime after the 1911 Census took place Thomas emigrated to Australia.
Thomas was 5 feet and 8 inches tall and weighed 154 lb. He had fair complexion, grey hair and blue eyes. He was a member of the Church of England. Thomas also had 5 vaccination marks on his left upper arm.
Military History
Thomas Richard Gill enlisted on the 26th of Oct 1914 in Ayr, Queensland, Australia into the
Imperial Force. He became the part of the C Company, 15th Battalion of the
Infantry A.I.F. He was a private, with a regimental number 438.
On his enlistment papers Thomas stated that he had not previously been in the Army; and he signed up for the duration of the war. His occupation before enlistment was a labourer.
Thomas committed three offences. While he was stationed at Broadmeadows, Australia he was twice absent without leave. Once in November 1914 and for the second time from 9.30PM on the 18th of December 1914 until 12PM the following day.
Four days later, on the 22nd of December 1914 the 15th Battalion embarked at Melbourne on H.M.A.T. A40 'Ceramic' to Egypt. Thomas was charged on the ship again; this time for failure to report a venereal disease.
'After a brief stop in Albany, Western Australia, the battalion proceeded to Egypt, arriving in early February 1915. The 4th Brigade [including 15th Battalion] landed at ANZAC late in the afternoon of 25 April 1915. From May to August, the battalion was heavily involved in establishing and defending the front line of the ANZAC beachhead.'
Thomas went missing at the Dardanelles on the 9th of May 1915. It is thought that he was killed in action on Gallipoli Peninsula on the 10th of May 1915. He is believed to have been buried on the same day by Chaplain A. Gillison at Courtney's and Steel's Post Cemetery, near Anzac cove on the Gallipoli Peninsula, Turkey. His original grave remains unidentified. A special memorial headstone tablet was erected which reads: 'Their Glory Shall Not Be Blotted Out'. His grave reference number is: Sp.Mem.11.
Thomas's mother Lydia was his next of kin and a benefactress of his will. At the time Thomas' will was made she lived at 2 Primrose Cottage, New North Road, Reigate, Surrey. However the payment to her as the deceased soldier's next of kin ceased in 1916 after she passed away. Lydia was buried on the 30th Aug 1916 in Reigate. At the time of her death she resided at 19 New North Road.
Thomas' personal effects were dispatched including: letters, postcards, hat band, shaving brush, a booklet, testament, wrist watch, disc and Y.M.C.A. book.
A memorial plaque and a memorial scroll were also passed to Thomas' family and a brochure entitled 'Where the
Rest' was published with a desire to bring comfort to the families of fallen soldiers. The brochure contained a brief description of the majority of cemeteries where Australian soldiers were buried; illustrated with sketches of graveyards.
Thomas received the British, Victory and the 1915 Star.
Richard Thomas Gill is also commemorated on panel 79 at the Australian War Memorial in Campbell, Canberra.
Next of Kin                  Richard and Lydia Gill of 2 Primrose Cottage, New North Road, South Park, Reigate, Surrey
Regiment                    15th Battalion, Australian Imperial Force
Number                       438
Date of Death              10th May 1915
Place of Death             Gallipoli
Cause of Death           Killed in Action
Age                              23
Cemetery                    Courtney's Post Cemetery, Gallipoli, Turkey