Sergeant Robert William Sturges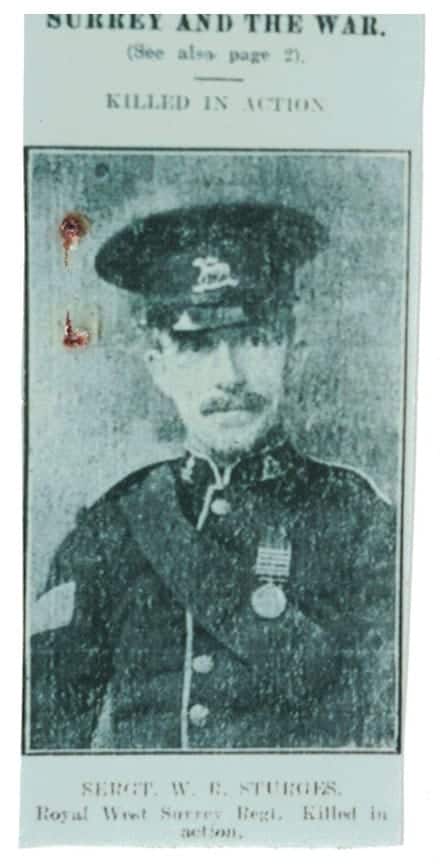 Thank you to Margaret Dennis for the following research. Thank you to Molly Worsfold and Tim Dumas from St. Bartholomew Church in Leigh for allowing Dorking Museum to reproduce their research.
Robert William Sturges is wrongly listed on the South Street Memorial as W.R. Sturgess
Robert Sturges was born in Dorking in 1882. His mother lived at 18 Ansell Rd, Dorking. When he enlisted in 1903 as a regular soldier, his occupation was a Groom, and he was single.
William joined the Royal Sussex Regiment and served with them in the Boer War, winning the Queen Victoria Medal with 5 bars. He was sent to St. Helena to guard Boer prisoners and promoted to Lance Sergeant. In about 1904, he moved to the Queens Royal West Surrey Regiment as a Private, was posted to India with the 1st Battalion, he also served in Aden. He became a distinguished member of the running team, with long distance being his speciality. He came home in 1910, and was posted to the 2nd Battalion, who then went to Gibraltar for two years and while he was there he was promoted to Corporal. He also got married. He spent a year in Bermuda, and then applied for a home post. He rejoined the 1st Battalion and was promoted to Sergeant.
He left England at the outbreak of the War on 12th August 1914. He was killed in action near the River Aisne,  Northern France 14th September 1914, aged 32, and commemorated on La Ferte-sous-Jouarre memorial to the missing. He was the first Dorking man to die in the First World War.
Locally Sergeant Sturges' name is on Dorking South St Memorial, and Leigh memorials, as he had also lived in the Reigate area.
He left a wife and a one year old son.
Born                            Dorking
Lived                           Reigate
Son of                          Mrs Sturges of 18 Ansell Road, Dorking
Enlisted                       Guildford
Regiment                     1st/2nd Battalion, The Queen's (Royal West Surrey Regiment)
Number                       L/7881
Date of Death              14th September 1914
Place of Death             Chemin des Dames, France
Cause of Death           Killed in Action
Age                             32
Memorial                     La Ferte-sous-Jouarre Memorial