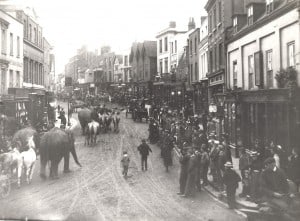 Our Local History Box has had a complete and exciting remake. Based on maps of the High Street from different periods of time, the new resource covers four centuries of development, change and continuity in Dorking and its surrounding area. Along with the maps, you will find stories, images, objects, documents and replica costumes to use as evidence in discovering what this area was like in the past and to consider what it was like to grow up, live and work in Dorking.
More details of Dorking's local history can be found on these web pages.
Click on each image of the maps, that can be downloaded or be used on your interactive white board.
Fill in our online form to enquire about booking the loan box.