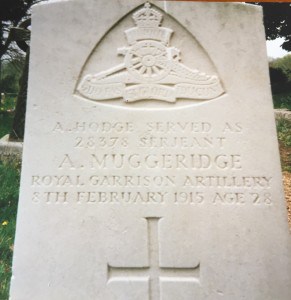 Thank you to Lenka Cathersides for the following research and thank you to the Hodge family for the photographs.
Arthur Muggeridge was born on the 3rd of June 1885 in Ockley or Wotton in Surrey to Eliza Taylor/Muggeridge. Arthur was illegitimate and his father is unknown. His stepfather was called Walter Hodge.
Arthur was baptised on the 12th of July 1885 as Arthur Charman Taylor at St John the Baptist in Okewood, Surrey. Arthur nevertheless is later listed with the surname Muggeridge.
Arthur's mother Eliza Taylor/Muggeridge was also illegitimate. She was born in the 3rd quarter of 1867 in Capel or Ockley, Surrey and was baptised on the 21st of September 1867 at St John's in Capel. On the baptismal record, Eliza's father is stated to be Jacob Muggeridge and her mother the deceased Eliza Taylor. Jacob Muggeridge was born about 1837 in Abinger, Surrey.
According to the 1871 Census, Eliza Taylor/Muggeridge seemed to have been brought up by her paternal grandparents, agricultural labourer James Muggeridge and Sarah Muggeridge. Eliza's surname is written as Taylor. At this time the family lived in Ockley, Surrey.
In 1885 Eliza conceived her son Arthur (Charman) Taylor, who later used the surname Muggeridge.
Eliza Taylor/Muggeridge married Walter Hodge in Southampton, Hampshire in the 1st quarter of 1891. At the time of her marriage she used the surname Muggeridge. Walter Hodge was born about 1868 either in Leeds or Hunslet in Yorkshire.
Arthur Muggeridge had 3 half blood siblings: Walter Hodge born about 1892 in Gosport, Hampshire, Dorothy M. Hodge born about 1897 in Portsmouth, Hampshire and George Edward Hodge born about 1901 in Dorking, Surrey.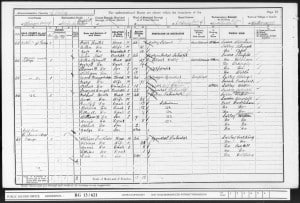 At the time of the 1901 Census, Arthur Muggeridge was living at Wallis Wood Cottage in Abinger, Surrey with his grandfather Jacob Muggeridge and his wife Mary Muggeridge. Jacob was working as a carman and Arthur as a carter boy.
At the time of the 1901 Census, Arthur's mother Eliza Hodge lived with her husband, miller's carman, Walter Hodge and their children Walter Hodge and Dorothy M. Hodge at Millers Cottage in Ockley, Surrey.
Arthur Muggeridge enlisted on the 19th of February 1908 in Horsham, Sussex to the 8th Royal Garrison Artillery. His regimental number was 28378 and he became a gunner. At the time of his enlistment Arthur resided in Sandhurst, Berkshire and was working as a labourer.
Arthur was over 5ft tall and weighed 133lbs. He had a fresh complexion, grey eyes and dark brown hair. Arthur had a brown birth mark on the right side of his breast bone, a mole 2 inches above left nipple and a 2/3rd inch linear transverse scar on the left wrist.
Arthur served at home from the 19th of February 1908 until the 14th of September 1908. From the 15th of September 1908 to the 18th of December 1911 he was stationed in Hong Kong. From the 19th of December 1911 until his death he served again at home.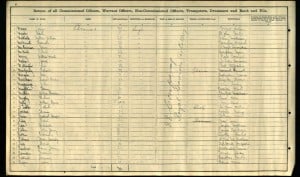 During the 1911 Census, Arthur Muggeridge was a gunner of the Royal Garrison Artillery stationed at the Victoria Barracks in Hong Kong, South China.
At the time of the 1911 Census, Eliza Hodge, Walter Hodge and their son George Edward Hodge were living at Oak Cottage Laundry in Sandhurst, Berkshire. Walter Hodge was a laundry proprietor, Eliza was assisting him in the business and the family could afford 2 servants, a house keeper and errand boy for the laundry. The household had 4 rooms.
Arthur became a bombardier of the Royal Garrison Artillery on the 14th of April 1914.
At the time of his death, Arthur was an Acting Sergeant of the 2nd Company, the Royal Garrison Artillery.
Arthur had poor health. While in Hong Kong he suffered from catarrhal bronchitis and also from pyrexia.
Back at home, the Royal Garrison Artillery manned the Coalhouse Fort in Essex, where he again suffered from bronchitis from the 17th of December 1914 to the 24th of December 1914.
Arthur Muggeridge was re-admitted to the hospital at the Coalhouse Fort on the 28th of January 1915. He died there from acute bronchitis on the 8th of February 1915. He was in the Army for 6 years and 356 days.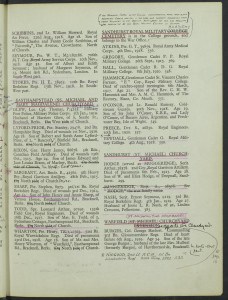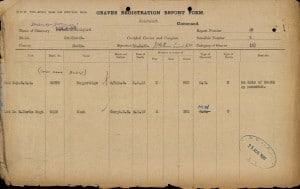 Arthur is buried at St Michael's churchyard in Sandhurst. His grave reference number is 299.
At the time of Arthur's death, his mother Eliza Hodge lived at Oak Cottage Laundry, Sandhurst in Berkshire. Later she lived at 3 Deepnell House in Sandhurst, Berkshire.

Arthur Muggeridge left his mother Eliza Hodge £12, 1s and 8d in 1915 and £6 in 1920 in Soldier's Effects.
Born                             Ockley, Surrey
Lived                            Sandhurst, Berkshire
Son of                          Walter and Eliza Hodge of Deepnall, Sandhurst
Enlisted                        Horsham, West Sussex
Regiment                      2nd Company, the Royal Garrison Artillery
Number                        28378
Date of Death              8th February 1915
Place of Death             At home
Age                              28
Cemetery                     Sandhurst (St Michael)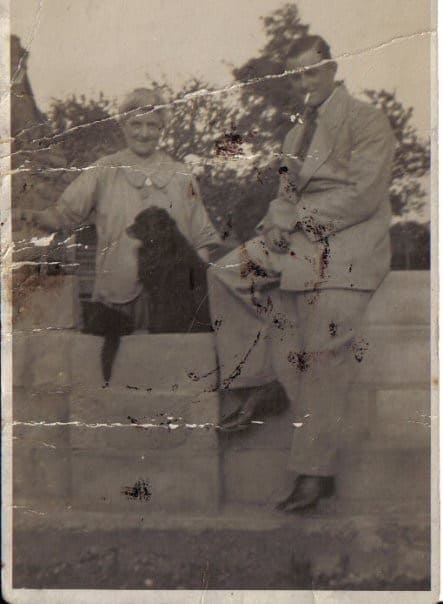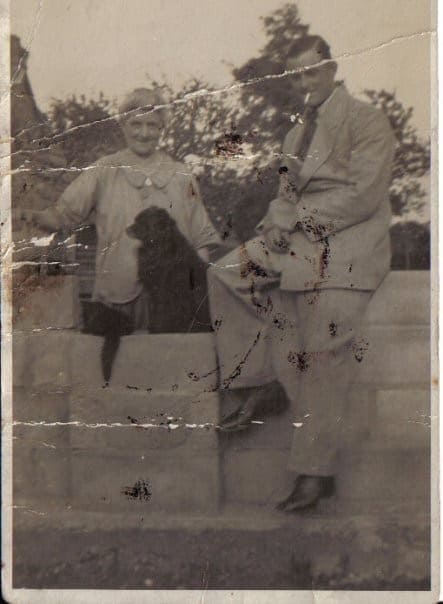 Michael Hodge, the grand nephew of Arthur Muggeridge contacted the Museum with the photograph of Arthurs headstone.
"I was given your link by an American cousin who was researching the family and was absolutely  amazed to find so much information on my great Uncle Arthur Muggeridge
Thank you for collecting and preserving this information as it has filled in a lot of spaces in family history. My late father was always told he died in France."
The above photo, sent in by Michael, shows Arthur's mother and brother. Dick Hodge went on to start Hodge's Coaches, Sandhurst, a company which is still in the Hodge family today.