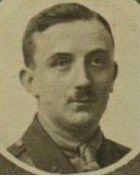 Many thanks to Jim Edwards from North Holmwood for this research.
Thank you to Ian Whitlock for additional military detail.
Olaf Ranson Cuthbert was born early in 1891 and was baptised in Marylebone, London. Most of the family had unusual first names; Ranson was the maiden surname of his great grandmother and was used as a middle name for his grandfather and father.
In 1901 he was living in Greenwich with his father (an architect and surveyor employing others), his mother, a brother and two sisters. There were also two children, age 6 and 7, described as boarders and a governess. His father died the following year. Olaf was educated at Dover College and St John's College, Oxford. He was in the University Officers' training Corps for 2 years. On 24th March 1914, at the age of 23, he bought a house in Mid Holmwood Lane, called Brookmeadow, and lived there with his widowed mother Marion; they had moved from Anwick Manor, Sleaford, Lincoln. He paid £1,500 but needed a mortgage for £950.
He volunteered on 4th August 1914 as a private (Number 1265) in 25th Battalion, London Regiment, which was a territorial cyclist battalion. He was embodied the following day and became a motor cyclist. He was commissioned as a Temporary Second Lieutenant in the infantry in October 1914. (It was normal at this period of the war to commission immediately those with experience as cadets at school or university.)
He was promoted to Temporary Lieutenant in January 1915 in the 8th battalion, York and Lancaster Regiment. The battalion was then at Aldershot and moved to Hythe, Kent in February and Bordon, Hampshire in May. He went to France in August, with the battalion, landing at Boulogne. He was promoted to Temporary Captain in October.
On 25th November 1915 he was married to Millicent Frances Down at St Martin's, Dorking, by her uncle, Revd Edward Arthur Down, a curate in Lambeth and made his will two days later. Millicent had been educated as a boarder at Roedean and was just 20. Both Millicent's father and uncle were partners in the local solicitors Down, Scott, Down (now Downs). Her grandfather, James Dundas Down, had been one of the founding churchwardens of St John's (1875-77). Her brother, John McLeod Down, was a regular officer in the Wiltshire Regiment.
On the 1st July 1916, Temporary Captain Cuthbert attacked with his Battalion near Ovillers towards Pozieres, this was a very dangerous place for the Allies as it was dominated by German Machine Guns. The Battalion, however, made it into the German trenches.
Sadly, Olaf was killed during this attack on the first day of the Battle of Albert, which was the opening phase of the Battle of the Somme. He was a company commander and was hit by machine gun fire whilst between the trenches during an attack at 7.40am. He was buried at Blighty Valley Cemetery, about 100 miles from Calais.
His address was given at probate as Palace Mansions, Kensington and his estate was valued at £3,436. The executors were Millicent, Rev Milroy Westell Cuthbert (Olaf's brother) and Francis Patton Down (Millicent's Uncle).
Olaf had been married for less than a year and his widow, Millicent, was still only 21. She was living at Elmhurst, Tower Hill Road, Dorking, with her father.
The executors sold Brookmeadow on 5th May 1922 for £2,400, which, after allowing for inflation, represented a loss. It is unclear how long Millicent and Olaf lived at Brookmeadow, as it was rented by another soldier 2nd Lieut James Henry Skene, who was killed 13 days after Olaf.
Until 1938 at least Millicent was living in Rose Hill, Dorking with various members of her family. She died in late 1974 in Chichester.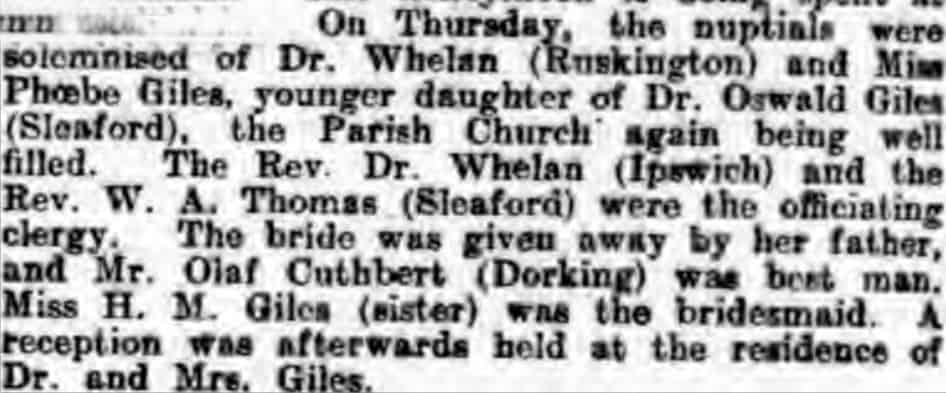 A reference in the Grantham Journal of 18th April 1914, which mentions that Olaf Cuthbert was a best man at a wedding.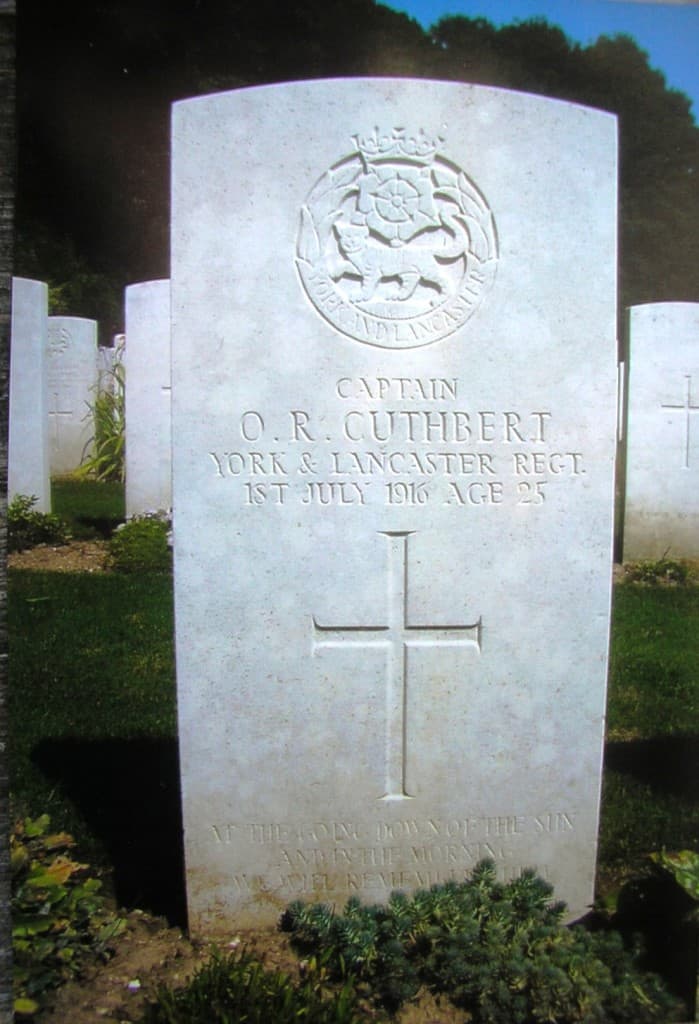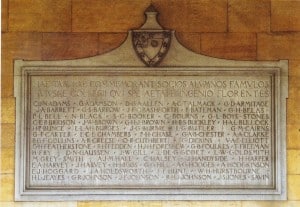 Commemorated on North Holmwood Church Memorial, on South Street and St Martin's Church, Dorking and Dover College memorials.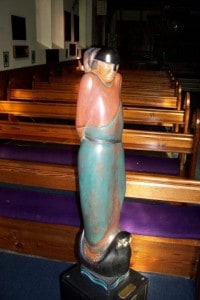 A statue of St Olaf was presented to St Olaf's Church in Kirkwall, Orkney by his nephew Dr Olaf David Cuthbert in Olaf's memory.  St. Olaf is the patron of the Church. He was Olaf Haraldsson (995 – 29 July 1030), and was King Olaf II of Norway from 1015 to 1028. The statue was carved by Frances Pelly RSA.
| | | |
| --- | --- | --- |
| Born | | Marylebone, London |
| Lived | | Holmwood, Surrey |
| | | |
| Son of | | Goymour and Marion Cuthbert |
| Husband of | | Milicent Frances Cuthbert (nee Down) |
| | | |
| Regiment | | 8th Battalion. Yorks and Lancaster Regiment |
| | | |
| Date of Death | | 1st July 1916 |
| Place of Death | | Somme, France |
| Cause of Death | | Killed in action |
| | | |
| Age | | 25 |
| | | |
| Cemetery | | Blightly Valley Cemetery, Authuile Wood, France |