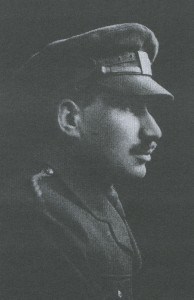 Thank you to John Callcutt for letting us reproduce the following information, taken from his book: A Village at War. Newdigate in World War One.
John Alfred Innes was born in Mayfair in 1881. He was the third son of James and Agnes Innes of Roffey Park in Sussex, who were great benefactors to this new suburb of Horsham. He was educated at a prep school in Southborough near Tonbridge, and then went on to Winchester College. He trained as a mechanical engineer with Armstrongs at Elswick and then became a partner at P. Wigham, Richardson & Co, a company which amalgamated with Swan Hunter and built, amongst other ships, the Mauretania which was the largest ever vessel to be launched on the Tyne. In 1908 he married Audrey Julia Broadwood at a society wedding at Charlwood. The reception at Lyne House was attended by the aristocracy of the county and ended with a firework display with his initials J.A.I. brightly illuminated. Afterwards he and his wife went on a motoring honeymoon to Devon and Cornwall. They settled at The Greenings in Charlwood and had two daughters, Joan Helen (b. 1909) and Margaret (b. 1911) and a son, John N. Innes (b.1914). The Greenings is a large house and the family had a live-in staff of six servants.
In October 1914, John Innes took his car to France and joined a Red Cross Motor Ambulance Convoy serving with it at the first and second battle of Ypres. He was mentioned in Lord French's despatches and held the 1914 Star. A year later Mr Innes became section leader in a convoy attached to the French army, and was present during the battle of Verdun and subsequent battles. He was awarded the Croix de Guerre and two silver stars.
In September 1918 he was taken to a field hospital suffering from appendicitis and, in spite of the best possible care, he died on the 9th September. He was afforded a full military funeral and Dr. Gauthier from the 77th Division gave the address and this is the translation from the French language.
Masters of urgency make it impossible for General Serringny (Chief of Staff 1914-1917 – he was very close to Petain who said 'Serrigny is my imagination'), Officer Commanding the 77th Division, to be here himself. He asks me to apolgise to you for his inability to accompany to his last resting place Lieutenant Innes, second-in-command of the No. 16 British Medical Section, and he had deputed Captain De L'Horne, one of his Staff Officers, to represent him. The General asks me, in the name of the officers, NCOs and ranks of this division, to speak the soldier's farewell to a comrade at Lieutenant Innes' graveside.
Dear friends of the British Medical Section, during the first four years of the war the Great Reaper was kind to you. When your Commanding Officer, Lieutenat Hindle, first came to the 77th Infantry Division, he listed the battles in which you have taken part, told me of the risks you had run, and was thankful that not one of his men had been lost. Alas! During the last six weeks the hand of Death has struck several times. On the 24th July 1918, in the course of the Battle of the Marne, two of your comrades, Blatch and Clark, were taken from us, killed by the same shell. And they were believed to be amongst the safest in your Section, by virtue of the largely sedentary nature of their occupation.
Today it is Lieutenant Innes who has gone from us, after a short and painful illness. For four years he withstood the fatigue of war without one day's sickness, and he was even more fortunate enough to escape injury. He was in excellent health, his constitution was sound. One would have thought him capable of withstanding the onslaught of a dangerous and insidious illness, but one which is recognizable by its symptoms and amenable to treatment.
Moreover, he was in the hands of a surgeon who is at the top of his profession, both in his degree of learning and in his ability. But despite all these factors in Lieutenant Innes' favour, it proved impossible to save him. A wealthy man, adored husband and father, he died on foreign soil in a hospital room, devotedly and assiduously tended, it is true, but far away from his own family. Only a sort while ago, he was making long term plans for the future; today he lies in his coffin. This should serve as a reminder to us all that we are not masters of the morrow, that we should not waste our lives in trivial occupations, but that we should use them to perfect ourselves, and that we should always do our duty.
May Lieutenant Innes remain an example to us all.
He was a man upon whom fortune had smiled. He had a wife to he was devoted, and who was devoted to him. He was the father of three young children who needed him, and this might have led him to avoid the risks of war. But his noble country, stirred by feelings of social justice, renounced her splendid isolation, and he himself sacrificed his contented life with his family. He was a modest man, quite without personal ambition, but he felt that he had to do his duty.
From the early stages of the war he worked without one day's respite in the transport sections of the medical corps. He followed the British Army through the first and second battles of Ypres and the battle of the Neuve Chapelle, and was then transferred to a section attached to the French Army. In February and March 1916, during the German Army's onslaught on Verdun, he performed feats of ingenuity and endurance to spirit our wounded away from the enemy's fire.
In October 1916 he was present again at Verdun during the attack on the fort at Douamont. He was mentioned in the 33rd I.D. dispatches. In March 1917 he again displayed great courage during the Champagne attack on the slopes at Mont-Cornillet.
In June 1918, during the fierce fighting around Ferte-Milon, he overcame immense difficulties and saved as many of our wounded as possible from capture by the Germans. On this occasion he and his whole section were mentioned in the 26th I.D. dispatches.
In July 1918 he took part in the Battle of the Marne where, under constant heaving shelling and on broken roads, his section evacuated 2,400 wounded and was mentioned in the 77th I.D. dispatches in such terms that the General asked for this section to be permanently attached to it.
In all his actions, Innes displayed a total disregard for danger, but he did not have the satisfaction of dying on the field of battle.
Nonetheless he died bravely and piously, like a good soldier, and he was a credit to his country, immortal England.
The French Army, which adopted him and loved him like a brother, mourns his death and will remain forever indebted to him. We feel for his family in their grief, and I shall be sending them the heartfelt condolences of us all.
Lieutenant Innes, I scatter on your mortal remains a handful of the French soil you helped to defend.
Au revoir!
As Dr. Gautier said. John Alfred Innes was a wealthy man. He left over £50,000 in his will. He is remembered at the Terlincthun British Cemetery at Wimille as well as the war memorial in Charlwood.
Born                            Mayfair, London
Lived                           Charlwood, Surrey
Son of                         James and Agnes Innes of Roffey Park, West Sussex
Husband of                 Audrey Julia Broadwood
Father of                     Joan Helen, Margaret and John N. Innes
Regiment                     British Red Cross Society
Date of Death              9th September 1918
Place of Death             France
Cause of Death            Died of appendicitis.
Age                             37
Cemetery                     Terlincthun British Cemetery, Wimille, France
Previously : Aubrey Hudson                                                                Next : Westley Johns