Thank you to Lenka Cathersides for the following research.
According to the Royal Navy register Edward Day was born on 11th November 1880 in Dorking, Surrey, however, the 1891 Census reads, that Edward was born about 1882 in Croydon.
Edward's parents Thomas Charles Ruben Day and Emily Day nee Crisp. Thomas was a painter and according to his daughter Edith's marriage certificate, he was also an actor.
Edward's father Thomas Charles Ruben Day was born about 1851 in either Crondall or Aldershot in Hampshire to labourer James (born about 1826 in Crondall) and Elizabeth (born about 1832 in Crondall). Thomas was baptised as Charles Ruben Day on 23rd of November 1851 at All Saint's church in Crondall. At this time the family lived in Crookham, Hampshire. During the 1861 Census, the family lived at 7 Chatham Place, Chelsea. James was working as an excavator. Elizabeth was at home and was looking after their children Charles and James. Edward's mother Emily was born in the 3rd quarter of 1846 in Dorking to groom and coachman Samuel (born about 1821 in Great Leighs, Sussex) and Harriet (born about 1820 in Dorking, Surrey). Emily was baptised on 12th July 1846 in Dorking. At this time the family lived at Pixham Lane in Dorking. Charles and Emily married on 6th of September 1875 in Crawley, Sussex.
Edward Day had four known siblings: Emily Beatrice born in 1876 in Aldershot, Thomas H. born about 1879 in Battersea, Sidney Horace born in 1879 and Edith Florence born in 1881, both in Croydon.
At the time of the 1891 Census, the family lived at 6 Cotmandene Square in Dorking. Thomas was working as a painter and Emily was looking after their children.
Edward's father Thomas died in 1897, and was buried on 23rd March 1897 at St Mary and St Nicholas in Leatherhead. At the time of his death he was living at Leatherhead Common.
By 1900 the widowed Emily with her children moved to 5 Marcus Terrace, Malva Road in Wandsworth, London.
Edward enlisted into the Royal Navy on 5th March 1900 in Chatham for duration of 12 years. Edward became a stoker on HMS Pembroke II. During his career served on several ships. Prior to his enlistment Edward was working as a piano maker. Edward was over 5ft tall, had brown hair, dark brown eyes and dark fresh complexion. He also had flowers tattooed on his right wrist and the back of both hands.
During the 1901 Census, the Day family still lived at 5 Marcus Terrace. The household now consisted of widowed Emily and her children: Emily, house painter Sidney, Edith and Edith's husband piano repairer, William J. Blockley.
Edward married Mary Ann James at Christ Church in Southwark on 19th April 1908. At the time of the marriage the couple lived at 19 Brunswick Street in Southwark.
Mary was born about 1885 in Battersea to Charles and Elizabeth. Charles was a printers labourer and Mary Ann was a cardboard box maker.
During the 1911 Census, Edward and Mary Ann were living at B2 Martagon Buildings in Southwark. Edward was working as a Royal Navy Fireman. Mary was looking after their son Edward, born about 1909 in Southwark. Also in the house was Elizabeth James.   The accommodation had three rooms.
On 9th March 1912, Edward joined the Royal Fleet Reserve in Chatham, and served on the board of HMS Pembroke II until 4th November 1912.
On the 16th of September 1914 Edward became an acting chief stoker on the HMS Inflexible. His official number port division was: 294881 (R.F.R.CH B.8501)(Ch).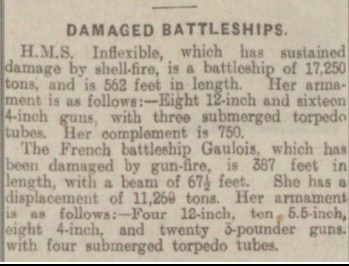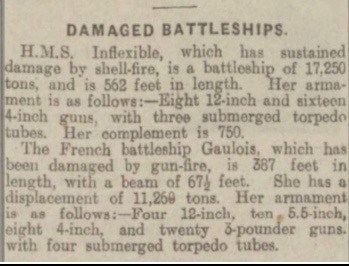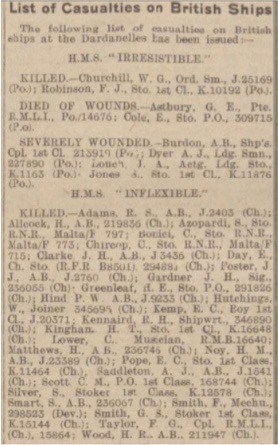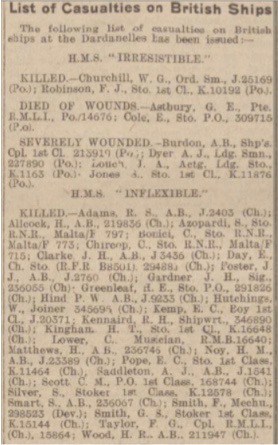 Edward Day was killed in attack on Dardanelles on 18th March 1915. HMS Inflexible was damaged by shell fire.


He was buried at sea and commemorated at Chatham Naval Memorial on Panel.
At the time of his death, Edward's wife Mary Ann was living at 6 Street's Buildings, Sumner Street in Southwark.
Edward's mother Emily died in the 3rd quarter of 1915 in Wandsworth.
| | | |
| --- | --- | --- |
| Born | Dorking, Surrey | |
| | | |
| Son of | Thomas and Emily Day of London | |
| Husband of | Mary Ann Day of 6H, Street's Buildings, Sumner Street, London | |
| | | |
| Regiment | H.M.S Inflexible | |
| Number | 294881 | |
| | | |
| Date of Death | 18th March 1915 | |
| Place of Death | At Sea | |
| Cause of Death | Killed in Action | |
| | | |
| Age | 35 | |
| | | |
| Memorial | Chatham Naval Memorial, Kent | |