Captain Henry Archibald Cubitt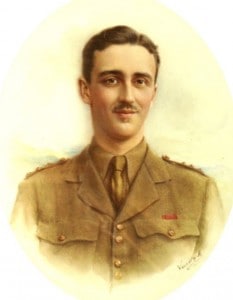 Thank you to Margaret Maynard for the following research.
Harry Cubitt was the heir to the Denbies Estate. He was born in London in 1892, the eldest of six sons of the Hon. Henry and Maud Marianne Cubitt (later 2nd Lord and Lady Ashcombe). Harry was one of three brothers killed in the First World War.
Harry was commissioned in the Coldstream Guards in 1911, he took part in the retreat from Mons and was awarded Croix de Chevalier of the Legion of Honour.
Son of                     The Honourable Henry Cubitt, 2nd Baron Ashcombe and Lady Maud Ashcombe of Denbies, Dorking
Brother of                The Honourable Alick George Cubitt
………………………..The Honourable William Hugh Cubitt
Regiment                 3rd Battalion Coldstream Guards
Date of Death           15th September 1916
Place of Death          Somme, France
Cause of Death         Killed in Action
Age                           24
Gallantry                   Knight of the Legion of Honour
Cemetery                Carnoy Military Cemetery, Somme, France