Thank you to Lenka Cathersides for the following reseach.
Frederick Charles Booth was born on the 6th of March 1890 in Upper Holloway, North London to editor, journalist, printer & publisher Thomas Charles and Lydia Jane (nee Snape).
His father, Thomas was born in the 2nd quarter of 1864 in Uttoxeter, Staffordshire to garden labourer Thomas, born about 1829 in Newton, Blithfield,  Staffordshire and Louisa, born about 1838 in Derbyshire. At the time of the 1881 Census, Thomas was working as a railway porter at Cheddleton Station in Staffordshire. His mother, Lydia was born in the 3rd quarter of 1869 in Stoke on Trent, Staffordshire to railway clerk & hosier Joseph Snape, born about 1843 in Fleetwood, Lancashire and Eliza, born about 1846 in Hanley, Staffordshire. Thomas and Lydia Jane Snape married in the 1st quarter of 1888 in Dewsbury, Yorkshire.
Frederick had two siblings:  Laura Gertrude born about 1889 in Fenny Stratford, Buckinghamshire and Eleanor Frances born about 1893 in London, Middlesex.
At the time of the 1891 Census, the family lived at 27 Lascotts Road, Wood Green, London. Thomas was working as a journalist Lydia was at home looking after their children: Laura and Frederick.
On the 6th of December 1898 Thomas was initiated into Albion Lodge. At this time he was working as an editor and the family lived at Myddleton Road, Bowes Park, London.
At the time of the 1901 Census, the family lived at 38 Wellington Road, Enfield. Thomas was working as a printer and publisher and Lydia was at home. The household further comprised of their children: Laura, Frederick and Eleanor, also a servant.
In 1904 Frederick entered Cheltenham College in Gloucestershire under Dean Waterfield, becoming a border at Hazelwell house. He left the College in 1905.
Frederick became part of the British South Africa Police attached to the Rhodesia Native Infantry. His regimental number was 1630 and he was a Sergeant. During his service he became a recipient of the Distinguished Conduct Medal and later the Victoria Cross.
On the 12th of February 1917, Sergeant Booth's regiment was ambushed by a hidden German position at Johannesburg, near Songea, German East Africa. Booth went alone under heavy fire to bring a wounded soldier to safety. Later he rallied troops who were badly disorganised and brought them to the firing line.
For this deed he was awarded the Victoria Cross by King George V in January 1918 at Buckingham Palace. He was the 5th O.C. (Old Cheltonian) to receive the Victoria Cross.
In 1918, after he returned home, he joined the Middlesex Regiment, served in France, was mentioned in dispatches and achieved the rank of Captain.
Charles Frederick Booth also received the British War and Victory medals.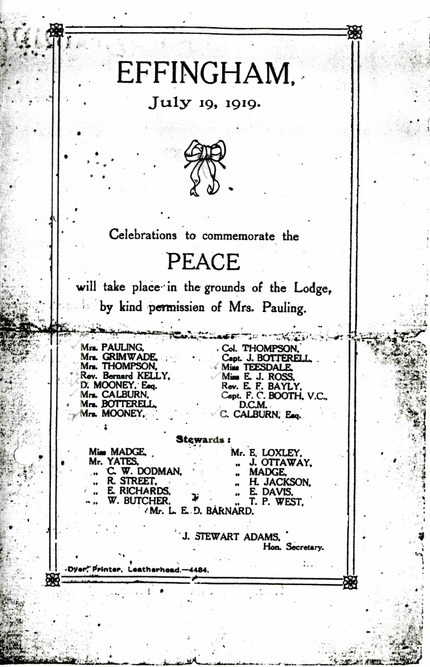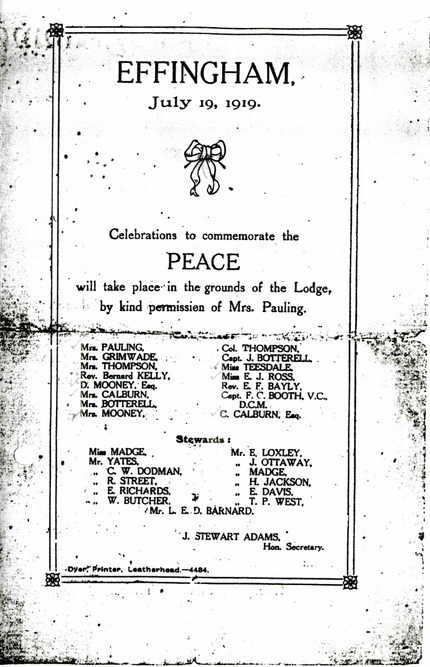 On the 19th of July 1919, Dolores 'Lola' Pauling nee Lopez Guibara organised the Peace celebration at her home in the grounds of The Lodge in Effingham. Captain Booth took the part in arranging the event.
Dolores was the recently widowed wife of George Craig Saunders Pauling. They had married on the 17th of November 1906 at the Royal Bavarian Chapel, Warwick Street, Westminster. The couple had two daughters.
The Paulings were one of the wealthiest and most socially important families in Effingham. They were great benefactors of the village. Mr Pauling bought The Lodge, the venue for the celebrations, on Lower Road in 1897. He was a prominent civil engineer and founder in 1877 of Pauling and Company Ltd which undertook large overseas civil engineering projects. https://www.effinghamparishcouncil.gov.uk/local-history/research-projects/3-effingham-in-wartime/effingham-peace-day-celebratio/
Dolores was born in the 4th quarter of 1882 in Richmond to a War Office clerk Leopold, born about 1831 in Gibraltar and Margaret, born about 1839 in Bow.
Frederick married Dolores on the 12th of April 1921 at Our Lady of Sorrows Church in Effingham.
The couple had a son David Michael born on the 23rd of October 1922 in Knightsbridge, London. He died the following year.
The marriage was short lived, the couple separated twice and their divorce proceedings in 1925 were well publicised. At this time Dolores lived predominantly at The Lodge, Effingham.
Lancashire Evening Post (8th July 1925) reads:
'Mrs Booth, to-day, petitioned for a decree of judicial separation in the Divorce Court on the grounds of cruelty. Captain Booth denied this and cross-petitioned for a decree of restitution of conjugal rights. Mrs Booth, said counsel, was a lady of substantial means of her own, having some £5000 a year. Captain Booth showed he was a man of violent temper and had struck Mrs Booth.' The parties entered into a separation in January 1923. 'Although a deed was signed and they lived apart they resumed living together about May 1923, but there were further scenes and she left him. Mr Booth said her husband had 'hammered' her with his fist. He gave her a black eye and bruised her. Witness broke down and sobbed in the witness-box when she said that once her husband said he wanted the baby taken away from her and her relations. Mrs Booth went on to say that her husband had been a bank clerk. She gave her husband £50 a month, and he lived free in the home.'
The Scotsman (9th July 1925) reads:
'He (Captain Booth) retired from the Army, and some time before the marriage helped his future wife at the farm at Effingham. He went out to Africa, and from there wrote proposing marriage to her, and she accepted him. He returned from Africa by her wish. Unfortunately after the marriage Captain Booth showed that he was a man of violent temper at times. He drank more than was good, for him, and he was sullen in his manner to his wife. Things were very unhappy, and thinking that a change of scene might lead to more happiness and with that view Mrs Booth took a house in her husband's name in Phillimore Gardens. Her child was born on October 23 1922, but matters did not improve…..About a week after the child was born, and while she was still in bed and quite was necessary and ordered by the nurse, her husband made the remark, 'She won't be quiet this morning. I am going to have the plumber in the next room.' And, said counsel, he had the plumber there. The same night after the nurse had put the wife right for the night, he came into the room, and produced a card to her on which he had written, 'I am going to push off in the morning. There is my address. If the kid ever wants me when he grows up tell him he can find me there.' Counsel said that Captain Booth threw this card on the bed and left her, but he did not in fact go away. In spite of all the assaults she did her best to make things go smoothly. But the question arose as to whether they carried on living together and a suggestion came from him that there should be a separation.' On the 30th of January 1923 the deed was signed. 'The deed was executed, but later they came together again…..In cross-examination by Mr Williams K.C., Mrs Booth denied that she was always taunting her husband of living on her means.'
Yorkshire Post and Leeds Intelligencer (14th July 1925) reads:
…..'Mrs Booth, recalled, denied that she taunted her husband with her money. She stated that a letter signed by her, stating 'I feel you are making a convenience of me for the purpose of board and lodging,' was written at her husband's request and under protest. Mr Eustice Fitzgerald said that in his opinion Captain Booth treated his wife with great cruelty. On one occasion Mrs Booth came to him in a deplorable condition, and in a state of great nervous prostration. She had a black eye, and seemed as if she had gone through a battle. ….. Captain Booth said it was the petitioner who suggested marriage to him. He had never assaulted her, and denied that he ever drank to excess. His wife's life had always been a round of gaiety. 'When you consider,' added Captain Booth, 'that she had got through £50,000 since 1919 in pure extravagant luxury, it is enough to give anybody a nervous breakdown. Cross-examined by Mr Bayford, K.C., Captain Booth said he sometimes lost his temper with his wife.'
Yorkshire Evening Post (14th July 1925) reads:
……'Capt. Frederick Charles Francis Booth, V.C. resumed his evidence in the Divorce court to-day, when the hearing was continued of the petition of his wife, Mrs Dolores Booth, of Leatherhead, for a judicial separation on the ground on his alleged cruelty. …. Asked if he threw a table towards his wife's bed Captain Booth said he did it 'to get some of his own back.' There was no doubt about it, he said, that Mrs Booth got the worst of the 'scrap'; but that was only by accident. His wife was neurotic, and suffered from mental disorders. She had lost weight ever since he had known her, and even now was only half the woman she was last year. During the twelve months she had lived a life of enjoyment and activity.'
By early October 1925 both petitions: Mrs Booth's decree of judicial separation in the Divorce Court on the grounds of cruelty and Captain Booth's cross-petition for a decree of restitution of conjugal rights were dismissed and he remained her legal husband.
Dundee Courier (8th October 1925) reads:
'Alleging that he was forcibly removed from his wife's house, Captain Frederick Charles Booth, a V.C. airman, at Dorking yesterday summoned five servants and Police-Inspector Lightfoot for assault. His counsel said that, following dismissal by the Divorce Court of a petition by Mrs Booth for divorce on the ground of alleged cruelty, and a cross-petition by the Captain for restitution of conjugal rights, the complainant went to see his wife, a lady of considerable means at Effingham Lodge, her own home, near Dorking. He was requested to leave, but refused, and Inspector Lightfoot arrived. Mrs Booth ordered him to be turned out, and two of the servants seized him. He promptly knocked down one, but was removed with the assistance of the groom, the chauffeur, the cowman, and two gardeners. Inspector Lightwood, counsel alleged, helping in the ejectment. The Magistrate dismissed the summons against one employee and also against the Inspector, who they considered was perfectly justified in the action he took. In the case of the other defendants, the Bench considered a technical offence was committed and to mark their sense of what they termed the improper way Captain Booth asserted his rights to be in his wife's house, inflicted a nominal penalty of one shilling in each case. On a cross-summons by Mrs Booth against her husband for using threats, the Magistrates bound over the Captain in the sum of £50 to keep the peace.'
Frederick and Dolores Booth Domestic Report 8th October 1925 © Birmingham Daily Gazette findmypast.co.uk

Frederick and Dolores Booth Domestic Report 8th October 1925 2 © Birmingham Daily Gazette findmypast.co.uk

Frederick and Dolores Booth Domestic Report 8th October 1925 3 © Birmingham Daily Gazette findmypast.co.uk
Birmingham Daily Gazette (8th October 1925) reads:
….'In regards to the summons by Mrs Booth against her husband, Father Philip Hamons, priest-in-charge of the Effingham Catholic Church, gave evidence that he saw Captain Booth, after the previous trouble, and asked him if he had any employment. Captain Booth said: 'No, I have not. My work is to persecute my wife for her treatment to me.' The witness believed that Mrs Booth went in fear of her husband.'….
The troubled Captain became temporarily destitute.
Western Daily Press (9th November 1925) reads:
'Captain Frederick Charles Booth, V.C., who was ejected from his wife's house, The Lodge, Effingham, by her servants, including the chauffeur, groom, and gardener, and was subsequently bound over by the Dorking magistrates for 12 months on a summons for using threats towards Mrs Booth, has been an inmate of the Dorking Workhouse since Friday last, when he was admitted on the relieving officer's order. He appeared quire destitute and told the officer that he had been refused admission to Effingham. At yesterday's meeting the Board of Guardians considered his case and told Captain Booth that he must take his discharge in the morning. Interviewed last evening, Captain Booth said he did not know the reason why the Guardians had taken this course. He was quite destitute; in fact he had only a farthing in his possession. Asked his intentions, Captain Booth said he was going up to town to see a friend in the morning, and unless he could find something to do he would be back in the workhouse that night. Captain Booth, who said his treatment in the workhouse had been perfect, shared the same fare as the other 93 inmates.'
Lancashire Evening Post (7th November 1925) reads:
'Following the decision of the Guardians that he must taxe his discharge, Captain Frederick Charles Booth, V.C., yesterday morning left Dorking Workhouse, of which he had been an inmate during the week. He was met by a friend. Captain Booth, who was ejected from his wife's house, the Lodge, Effingham, Surrey, and subsequently bound over for 12 months by the Dorking magistrates on a summons of using threats towards Mrs Booth, stated before leaving the workhouse that he had tried all over London to get work, but failed, except in one instance, when he was given work in a store, dumping furniture. Since Captain Booth's departure many offers of employment for him have been received at the workhouse by telephone and telegraph. A home was also offered Captain Booth if he could find work.'
In the end the couple agreed a deed of separation with Mrs Booth giving her husband an annuity of £500 as long as he led a chaste life. She changed her surname by deed pole to her former husband's – Pauling.
Sheffield Daily Telegraph (26th November 1927) reads:
'The hearing was concluded by the Lord Chief Justice yesterday of the action brought by Mrs Dolores Pauling – who on separating from her husband, Captain F.C. Booth, V.C., it was stated took the name of a former husband – against Messrs D. and J. Welby Ltd jewellers of Covent Garden. A new trial was ordered by the Court of Appeal. Mrs Pauling's case was that she took the two pearl neckless and a bar brooch to Messrs Welby's shop to be repaired, and gave instructions that they were to be retained until she called for them. The defendants delivered the jewellery to 34, Phillimore Gardens, where she had formerly lived, the package being received by Captain Booth, who placed it on the hall table. The package disappeared from the house, which was being vacated, and a search for the jewellery proved unsuccessful. The defence was a denial of negligence. The value of the jewellery had been agreed at £1000. The Lord Chief Justice, summing up, pointed out that Messrs Welby had no knowledge of the relations between Mrs Pauling and her husband, and they must be wary of imputing to the defendants knowledge which was of the nature of the deceptive wisdom which followed an event. The jury found that the defendants committed a breach of contract, and that they were negligent. Arguments as to the damages were adjured.'
Nottingham Evening Post (29th February 1928) reads:
'The Court of Appeal, consisting of Lord Justice Scrutton, Lord Justice Sankey and Mr Justice Romer, to-day dismissed the appeal of Messrs D. and J. Welby, Ltd, jewellers, of Covent Garden, from a judgment of the Lord Chief Justice for £1000 entered against them at the suit of Mrs Dolores Pauling, of Kensington Mansions, the wife of Capt. Booth, V.C. but who has changed her name by deed pole.'
Dolores of 23 Montpelier Row, Knightsbridge, died on the 16th of July 1938. She left the effects of £9947, 1s and 10d. She was 55 years old.
In 1940 Captain Booth joined the South Africa Field Force.
In January 1941 Captain Booth re-appeared in newspapers.
The Daily Mirror (25th January 1941) reads:
'A wife agreed in a separation deed to pay her V.C. husband an annuity of £500 so long as he led a chaste life. In the Chancery Division yesterday Mr. A. J. Belsham for the husband said the question arose: What is the meaning of chastity in a male? This, he believed was the first time the question had been raised before the Court. The action was brought by creditors concerning the estate of Mrs Dolores Booth who died in 1938. The separation deed was entered into between her and her husband Captain Frederick Charles Booth V.C. in 1925. The Court was asked to decide whether the annuity was payable from the date of the wives' death and whether it was 'void for uncertainty or still operative'. After a consultation between counsel it was agreed that the husband should be entitled to £6.547 in full satisfaction of his claim.'
Charles Frederick Booth died on the 14th of September 1960 at St Anne's, Kemptown, Brighton, Sussex.  He was buried on the 18th of September 1960 at the Bear Road Cemetery, Brighton. His grave reference number is: Red Cross Plot. ZKZ-36. He was 70 years old.
Read all the newspaper reports on Dolores and Frederick here.