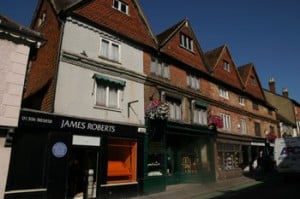 William Mullins' house on West Street, near to Dorking Museum, is the only surviving home of a Pilgrim Father. This impressive building dates from between 1568 and 1610. Mullins bought it with a mortgage in 1612, and then sold it in 1619. He ran a successful shoe-making business, so why he risked the voyage to America is not known. He was not one of the 'Saints' – religious separatists that rejected organised worship – who initiated the voyage, but one of the 'Strangers' who were recruited to fund the crossing.
Sailing on the ship Mayflower, Mullins travelled with his wife Alice, servant Robert Carter, daughter Priscilla, and son Joseph. Two grown up children remained in England. He took a large quantity of business stock; his would have been one of the first businesses in the new colony.
The Mayflower landed at Cape Cod in north-east America in November 1620, and the New Plymouth settlement was established. Disease killed many of the settlers. Mullins himself died on 21st February 1621, just three months after landing. Alice, Joseph, and Robert Carter all died just a few months later.
In 1622 Priscilla, the only survivor of the Dorking party, married John Alden, a cooper from Harwich, Essex, who was responsible for the Mayflower's barrels. Two hundred years later she became a national heroine with the publication of Henry Wadsworth Longfellow's poem The Courtship of Miles Standish. The poem has Alden proposing marriage to Priscilla on behalf of his superior, Captain Standish, whereupon she says: 'Why don't you speak for yourself, John?'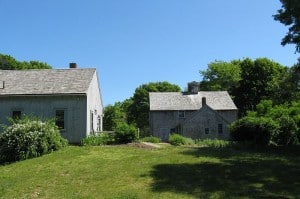 John Alden and Priscilla and their 10 children settled in the newly established town of Duxbury, and Alden went on to hold a number of important administrative positions in the colony. In the United States Priscilla is revered as a founder of the nation; two US presidents, John Adams and his son, John Quincy Adams, claim descent from the Aldens. Both the Aldens' house at Duxbury in Massachusetts, and Mullins' house in Dorking survive as places of pilgrimage for Mayflower descendants.