Thank you to Patricia Brazier for the following research.
Albert was born on 22nd February 1898. His parents were Charles, a farm labourer and Alice (nee Searle). His parents married in Westcott in 1888.
In 1901 the family are living at Bushenbury farm in Brockham. Albert has four siblings: Charles aged 11, Gertrude aged 9, Elsie aged 7 and Alice aged 6 months.
In 1911 Census the family have moved to Felton's Farm in Brockham. Charles Jnr, Gertrude, and Elsie have left home. Albert is now 13 and at school, he also has two more siblings: Evelyn aged 4 and Henry aged 2.
Albert enlisted into the Royal West Surrey Regiment along with three of his friends: Frederick Parsons, Charles Harding, and Benjamin Boxall at a recruiting meeting on Brockham Green in August 1914. He arrived in France in May 1915, in September of that year he was injured after being buried in a trench. He went home on leave in November of that year. He then returned to duty and was sent to Egypt where he stayed for two years. Whilst in Egypt he received a gun shot wound to his left thigh in March 1916 and a gun shot wound to his right thigh in December of the same year. He returned to France around June in 1918. Whilst in France he received a medal of proficiency in the use of a Lewis Gun. In his last letter to his family dated 30th August 1918 he said he would be home on leave in 5 days. He died on 6th September 1918.
Albert is buried in Plot 3 Row B grave No 50 in Tertincthun British Cemetery on the outskirts of Boulonge. This cemetery was primarily used for servicemen who died in the nearby Base Hospitals. His parents requested that "God grant him thine eternal rest" be put on his gravestone.
Sadly his three friends who enlisted at the same meeting also died. Frederick Parsons and Charles Harding in 1915 and Benjamin Boxall in 1917.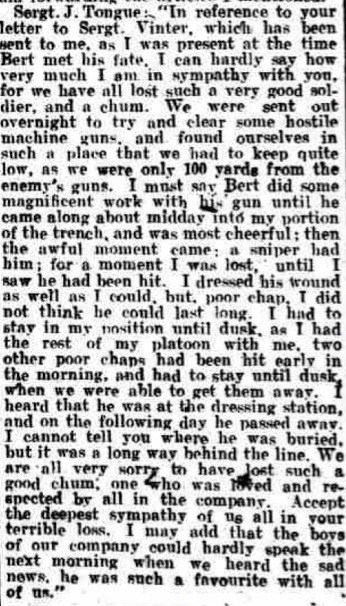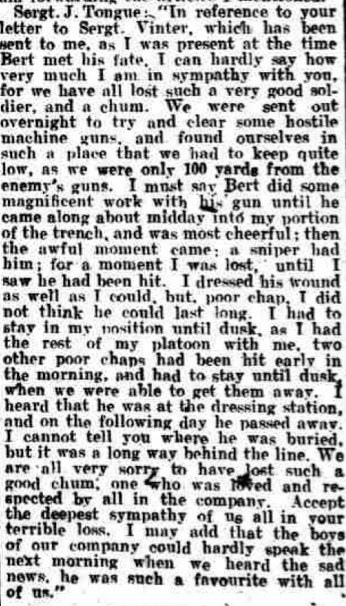 An article in the Leatherhead and Dorking Advertiser of 5th October 1918 reporting his death notes that his family received this letter from Sergeant J Tongue:-
"In reference to your letter to Sergt. Winter, which has been sent to me, as I was present at the time Bert met his fate. I can hardly say very much I am in sympathy with you, for we have all lost such a very good soldier, and a chum. We were sent out overnight to try and clear some hostile machine guns, and found ourselves in such a place that we had to keep quite low, as were only 100 yards from the enemy's guns.
I must say that Bert did some magnificent work with his gum until came along about midday into my portion of the trench and was most cheerful; then the awful moment came; a sniper had him; for a moment I was lost, until I saw he had been hit. I dressed his wound as well as I could, but, poor chap, I did not think he could last long, I had to stay in my position until dusk, as I had the rest of my platoon with me, two other poor chaps had been hit early in the morning, and had to stay until dusk, when we were able to get them away.
I heard that he was at the dressing station, and on the following day he passed away. I cannot tell you where he was buried but it was a long way behind the line.
We are all very sorry to have lost such a good chum; one who was loved and respected by all in the company. Accept the deepest sympathy of us all in your terrible loss. I may add that the boys of our company could hardly speak the next morning when we heard the sad news, he was such a favourite with all of us."
Albert's War Gratuity and medals were sent to his parents who were living at 9 Oakdene Road in Brockham. His cousin George Luff also served with the Queens Royal West Surrey. He was killed in France in 1916.
Return to Brockham Memorial Home Page
| | | |
| --- | --- | --- |
| Born | | Brockham, Surrey |
| Lived | | Brockham, Surrey |
| | | |
| Son of | | Charles and Alice Luff of 9 Oakdene Road, Brockham |
| | | |
| Regiment | | 2nd/4th Battalion. The Queen's Royal West Surrey Regiment |
| Number | | T/202185 |
| | | |
| Date of Death | | 6th September 1918 |
| Place of Death | | France |
| Cause of Death | | Died of wounds |
| | | |
| Age | | 20 |
| | | |
| Cemetery | | Terlincthun British Cemetery, Wimille, Pas de Calais, France |