The Cockerel Press is the publishing arm of Dorking Museum; it was started in 2012, and has published 16 books.
All these books are available to buy online. Simply click on each link below. The books are new – but are not shrinkwrapped.
A Dorking Foundry Scrapbook by Julian Womersley
A Dorking Foundry Scrapbook by Julian Womersley
Like all good scrapbooks, the Dorking Foundry Scrapbook is a serendipitous collection of snippets from the past: in its pages, photographs, press cutting and other ephemera are brought together to tell the story of the Dorking Foundry and to celebrate a lost part of the town's industrial heritage.
Although aimed at the general reader the fresh research and new material in this book will appeal to those with more specialist industrial or historical interests.
Published 2021. 52 pages with 59 illustrations (36 In colour)
The book is priced at £5.50.
Forster in 50 by Heather Green with illustrations by JC Green
An innovative re-telling of EM Forster's five classic novels in fifty words with stunning illustrations designed to inspire a new generation of readers.
To accompany our new exhibition – Forster at 50.
The book is 28 pages with black and white illustrations. It is priced at £4.00
The Vanishing River of Box Hill by Peter Brown
According to local folklore the River Mole occasionally vanishes.
Is that really true? Has anyone ever seen it disappear? And if it goes, where does it go – and why?
Former BBC film maker Peter Brown explores the facts behind the folklore and tells the tale of the dedicated scientist who cracked the mysteries of the Mole.
Priced at £6.00
Dorking : A Town Underground by Sam Dawson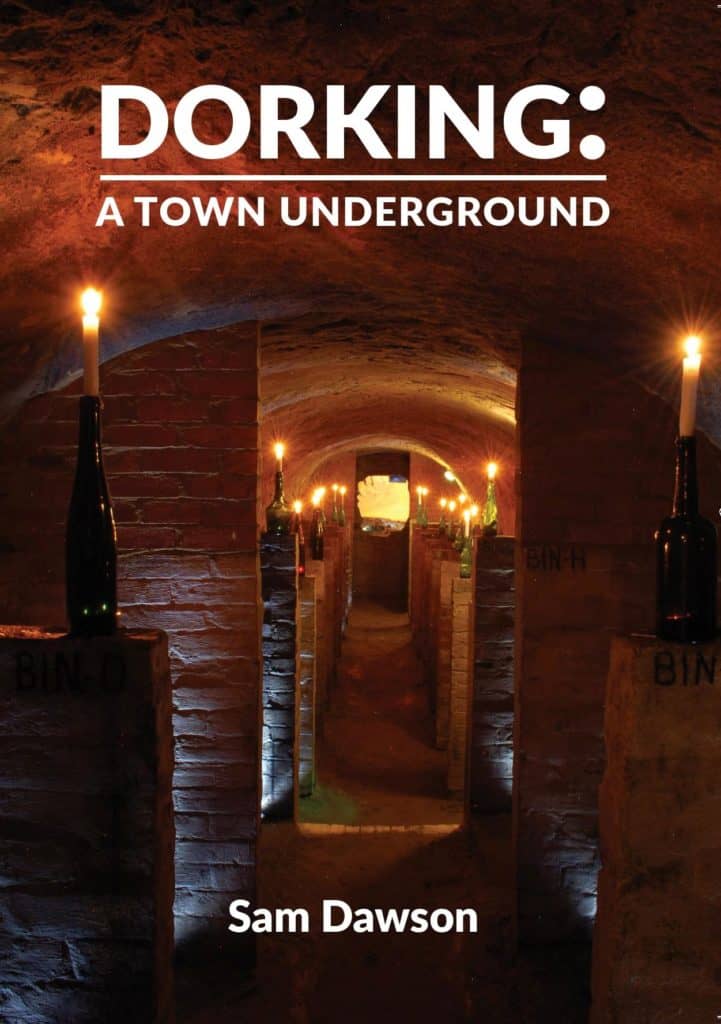 For centuries Dorking's growth above ground has been mirrored by excavations below it, leaving a unique legacy of historical sites that live on in the darkness below. In a new book, journalist and Dorking Museum cave guide Sam Dawson shines a torch on the subterranean heritage of cellars, caves, bunkers and mysterious spaces that lie below the town's streets.
In his lavishly illustrated book, "Dorking: A Town Underground", Sam explores Dorking's wartime civil defences, crypts, vaults, icehouses, wine and beer cellars and the rambling caves beneath our feet. Sam has been a guide in the highly popular South Street Caves in Dorking's West Street since soon after their reopening to the public by Dorking Museum in 2015. He has spent the past three years in intense research into the other caves and underground spaces beneath the town.
Read a review of "Dorking : A Town Underground" from Subterranea Review here.
Priced at £15.00
The Weaver, the Shoemaker and the Mother of a Nation. The Story of Dorking's Mayflower Pilgrims by Kathy Atherton and Susannah Horne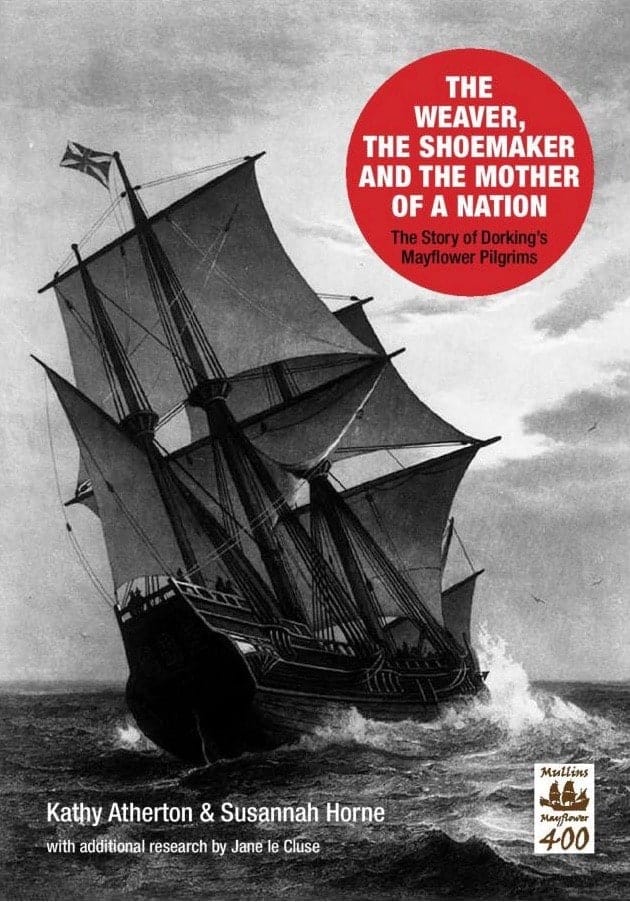 The book tells the story of the Dorking Mayflower Pilgrims of 1620 who risked everything to start a new life in the New World. It also gives an insight into day to day life in the town they left behind.
Priced at £8.00
Lonesome Lodge – A Lost Palladian Villa by Capel Local History Group
A new book by members of the Capel History Group reveals the story of the creation, evolution and decline of an impressive "lost" estate.
Lonesome Lodge tells in detail the fascinating story of the creation of a wealthy gentleman architect's idyllic and lavish retreat in the Surrey Hills, from its inception in c1740 right through to its eventual demise in 1854.
The book is a result of teamwork by members of the Capel History Group, each bringing their own particular interests and skills to the various sections.
Priced at £12.00
The Villages of Abinger Common and Wotton by Terrence O' Kelly
Abinger Common and Wotton are two small villages on the north slope of Leith Hill. Neither conforms to the text book picture of the English village. Until about 1900 both villages consisted of a few isolated cottages and farms, and hamlets of half-a-dozen cottages, along with a handful of 'big houses'. Terence O'Kelly's book traces the geography and history of these two villages from Roman times to the present day.
The book is priced at £5.00
Click here to buy through our online bookshop.
Dorking's Famous Caves by Richard Selley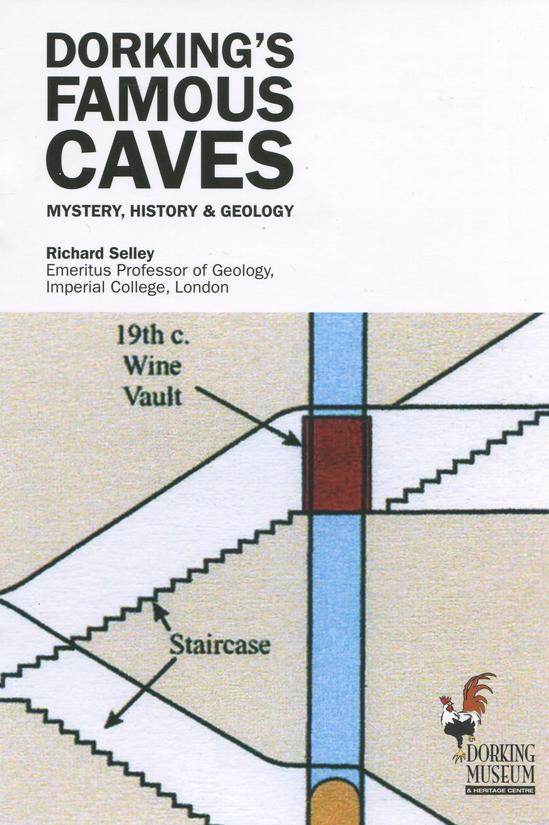 Dorking's Famous Caves: Discover the hidden history of Dorking beneath your feet!
Dorking has long been known for the number and extent of its caves and passageways, particularly in the town centre. None of them are believed to be natural. They were used for storing wine and beer. This booklet is 12 pages long with coloured photos and drawings. Published in 2015.
The book is priced at £2.50
Click here to buy through our online bookshop.
Early Medieval Dorking by Susannah Horne
Early Medieval Dorking covers the period between 600 and 1200AD, from the first Anglo-Saxon settlement in Dorking through the Norman Conquest and beyond. Dorking Museum's Susannah Horne has drawn on evidence from history, archaeology, art and literature to create a description of life as it was lived in Dorking in the early medieval period, illustrated with original drawings.
7th to 8th centuries: the initial settlement and Anglo-Saxon life in general
9th to 10th centuries: the Danish attacks and Dorking as a royal estate
11th to 12th centuries: the Norman Conquest and Domesday Book
This book is priced at £8.00
Click here to buy through our online bookshop.
The Museum Guide to Dorking by Kathy Atherton
Discover the familiar: Box Hill, Deepdene, the Dorking Cockerel, EM Forster and Vaughan Williams. Be surprised by the unexpected: rioters, suffragettes, innovators, campaigners and radical thinkers. The Museum Guide to Dorking combines text from the panels of Dorking Museum's permanent exhibition with reproductions of paintings, posters, photographs and artefacts from its collection, many not on display and most never published before. This quirky-thought provoking and beautifully illustrated book provides the reader with a unique insight into the history of Dorking, its people, and the surrounding countryside and villages. The author, Kathy Atherton, is a well-known local historian and runs the Exhibitions Team at Dorking Museum.
88 pages with full colour photographs.
This book is priced at £10.00
Click here to buy through our online shop
Dorking's Part in Motor Racing History by Tom Loftus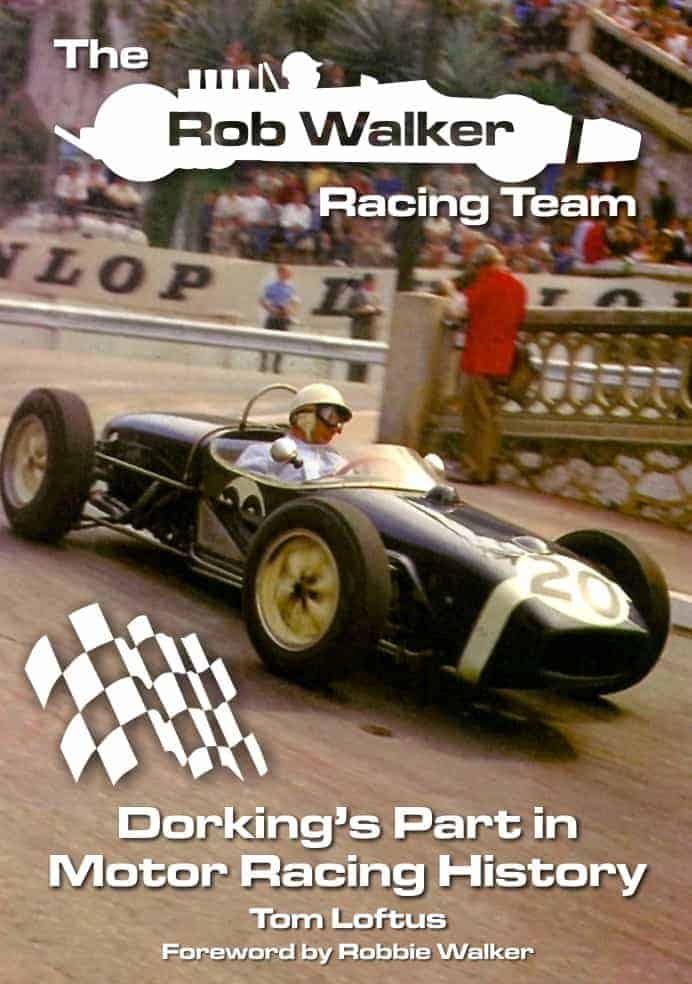 New 72 page book by Tom Loftus tells the story of Rob Walker and his ground-breaking private Grand Prix winning team from a Dorking perspective – the small town where the cars where the cars were developed, built and tested: the successes, the challenges, the people.
Many previously unseen photographs and with a foreword by Rob's son, Robbie Walker.
This book is priced at £7.00
Click here to buy through our online shop
The Rob Walker Centenary Festival by Tom Loftus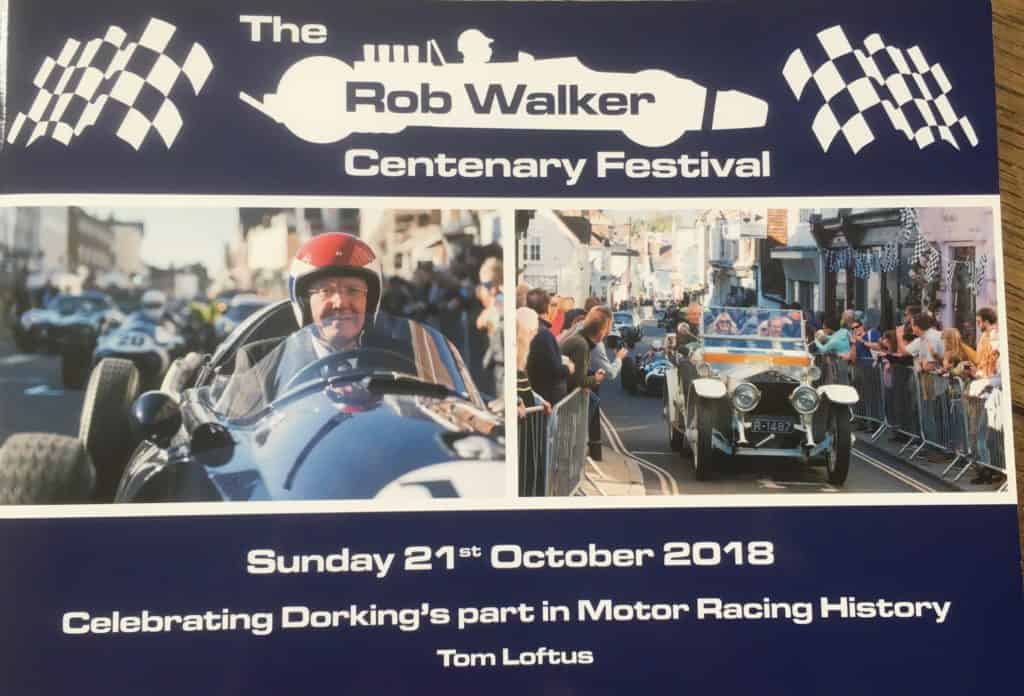 This book features images from a unique event which took place in Dorking, Surrey on 21st October 2018; the Rob Walker Centenary Festival.
Over 2 1/2 years of careful planning, and more than a little bit of luck, culminated in a parade of historic Rob Walker racing cars around the town centre a display of beautiful classic cars.
Rob Walker's privately owned racing team competed in Formula One between 1953 and 1970. His cars were developed, built and tested at his racing shop in London Road, Dorking.
The book is priced at £4.00.
A History of St. Paul's by Helen Wharmby
A History of St Paul's tells the story of the School from the day it first opened its doors in March 1860, through the varied and often traumatic events of the twentieth century, to the challenges the School now faces in the twenty-first century.
Published in 2013. 212 pages with black and white photographs.
This book is priced at £5.00.
The Tillingbourne Valley by George E. Collins
George Collins was a Dorking resident at the turn of the 20th century. His paintings are displayed at Dorking Museum.
A mixture of a history and Collins' diary, this beautifully illustrated book is Collins' love letter to the Tillingbourne Valley – an area just west of Dorking.
This book is 108 pages with black and white drawings. Reprinted in 2015.
This book is priced at £7.50.
Click here to buy through our online shop.
Time Gentlemen, Please by David Langford and Jim Docking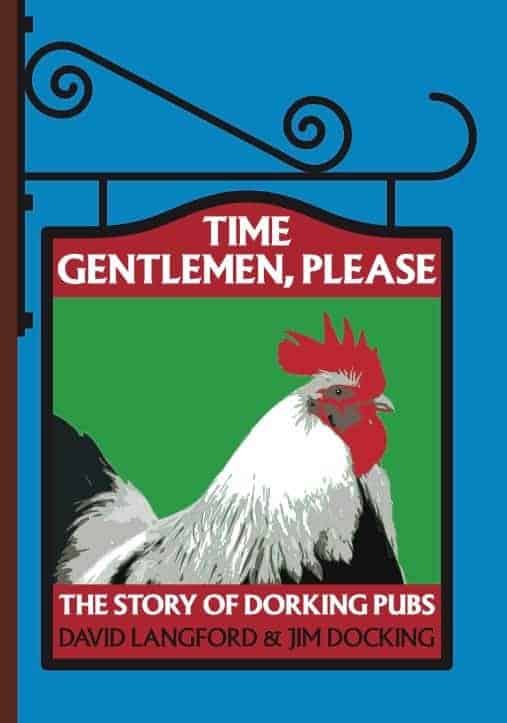 Today, Dorking contains 18 public houses. By contrast in 1892, it boasted 46 with one pub for every 238 residents, including children, women and men who didn't drink. This book recounts the history of these pubs using a wide range of sources, including a great deal of previously unpublished material. We cover not only the history of the buildings, but tales about the landlords, the clientele and their behaviour, visits by distinguished guests, the impact of stagecoaches and railways, the efforts of some pubs to fight for their very existence and the background of the town's breweries. In reading this book, you will learn not only a great deal about the drinking establishments but also much about the town's history and social life.
This book is priced at £9.50
Click here to buy through our online shop
The Dorking Cockerel by David Burton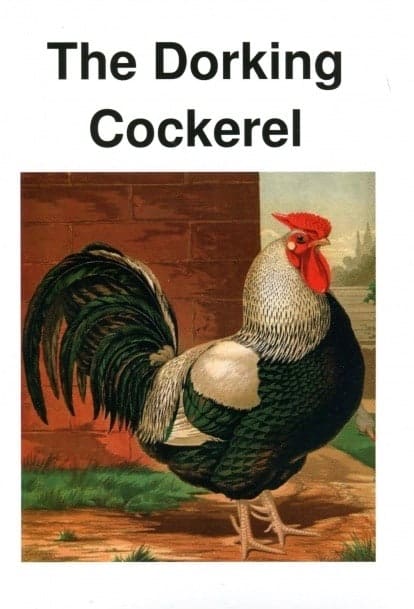 Dorking is truly proud of the famous 'Dorking Cock', a special and rare breed of chicken recognised across the world. Often known as 'the five-claw'd-un', a reference to the breed's particular distinguishing feature, the cock has become recognised as the town's symbol. Depictions can be seen throughout the town, most strikingly, a 10ft high silver cockerel that has graced the Deepdene roundabout since 2007.
This booklet is priced at £2.50
Click here to buy through our online shop.
A History of Brockham Park by Albert Bird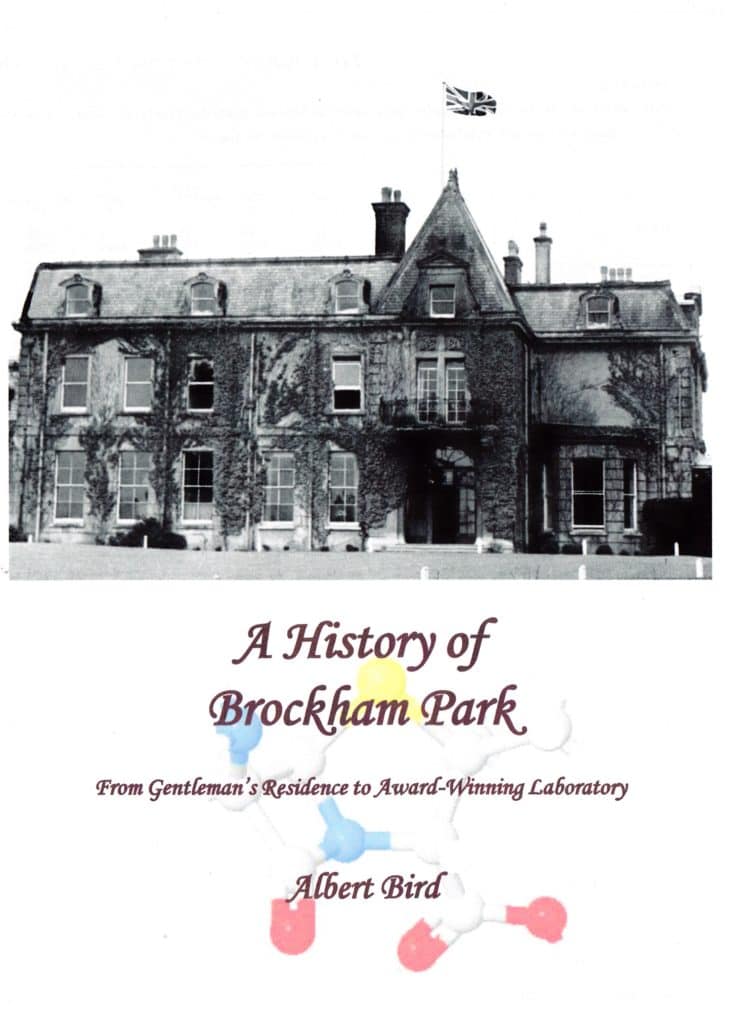 From Gentleman's residence to award-winning laboratory. Brockham Park was a Victorian mansion which became the site of one of the most important pharmaceutical discoveries of the 20th century.
In this book, the author traces the history of the property as a private home and then moves on to the ground-breaking research carried out in the Beecham laboratories. This work led to the award-winning development of many new penicillins which continue to relive suffering and save lives worldwide.
This book is priced at £5.00 – and will be available to order online soon.
Click here to buy through our online shop.
Suffragettes, Suffragists and Antis by Kathy Atherton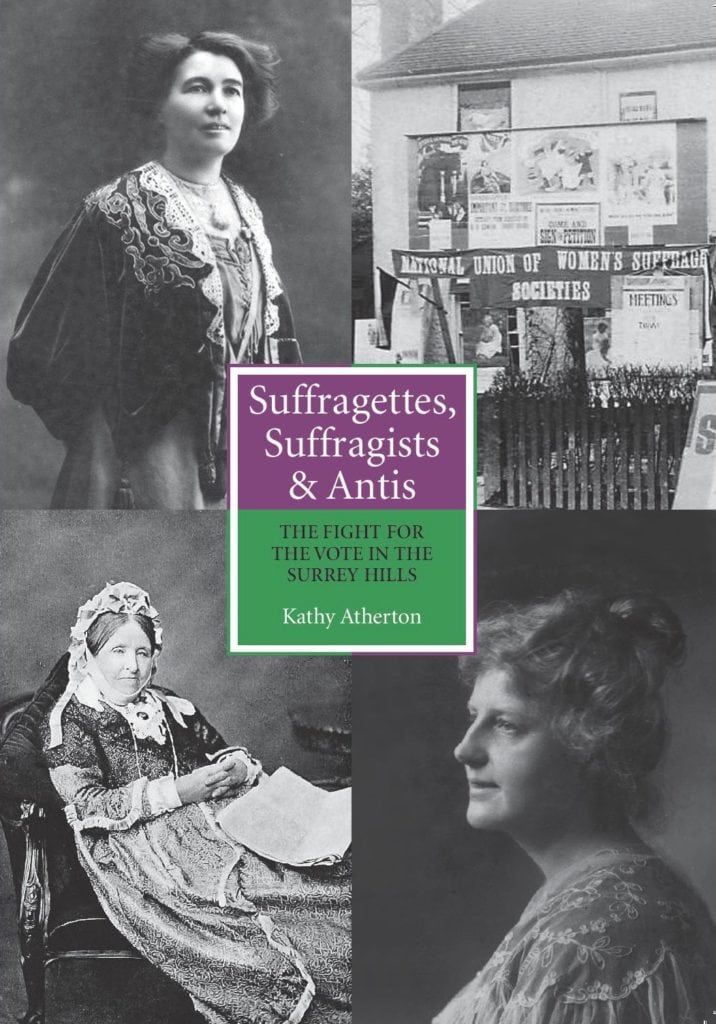 The women of the Surrey Hills were particularly active in the militant 'suffragette' campaign. Many of its most colourful characters were drawn from the villages around Leith Hill and the Pankhursts planned campaigns for the village of Holmwood, the home of Fred and Emmeline Pethick-Lawrence. But it was also home to non-militant campaigners, and those who opposed the vote for women. This is the story of a community and its involvement in the national debate on women's freedom and equality from the 1860s to the 1960s.
This book is priced at £10.00
Click here to buy through our online shop.
Mole Valley Open Gardens by David Drummond
An illustrated history of the National Gardens Scheme's Open Gardens in Mole Valley.
Printed in 2016 – 80 pages with colour photography.
This book is priced at £3.00 (reduced from £10.00)