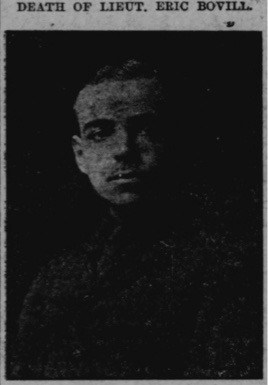 Thank you to Lenka Cathersides for the following research.

John Eric Bovill was born in February 1894 in Betchworth, Surrey to corn factor John Henry Bovill and Mary Constance Bovill nee Brock.
John Eric was educated at Summer Fields, Oxford; Harrow School and was at Pembroke College, Cambridge at the time of the outbreak of the war. He then entered Sandhurst. (1916 Dorking and Leatherhead Advertiser)
In November 1914 Bovill obtained a commission in the 6th Dragoon Guards (Carabiniers).
He disembarked on the 7th of March 1915 in France.
At the time of his death Second Lieutenant Bovill was acting as Bombing Officer for his regiment.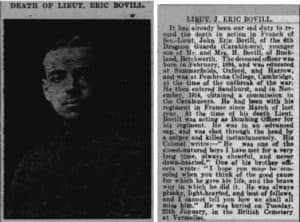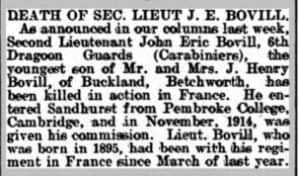 Second Lieutenant John Eric Bovill was killed in action on the 23rd of January 1916 at or near Bethune in France.
He was in an advanced sap, and was shot through the head by a sniper and killed instantaneously. His Colonel wrote: "He was one of the nicest-natured boys I have met for a very long time, always cheerful, and never down-hearted." One of his brother officers wrote: "He was always plucky, light-hearted, and best of fellows, and I cannot tell you how we shall all miss him". (1916 Dorking and Leatherhead Advertiser)

John Eric Bovill is buried at the Vermelles British Cemetery in France. His grave reference number is: III. A. I.
He received the British War and Victory medals and the 1915 Star.
John Eric Bovill of Broome Perrow, Buckland, Surrey left to his father John Henry Bovill £304, 9s and 11d in the Probate.
John Henry Bovill also received £2 in March 1916 and a further £37 on the 19th of September 1919 in Soldier's Effects.
Born                        Betchworth, Surrey
Lived                       Betchworth, Surrey
Son of                     Son of John Henry Bovill and Mary Constance Bovill nee Brock of 'Broome Perrow', Buckland, Betchworth
Brother of                Edward Henry Bovill
Regiment                 6th Battalion. Dragoon Guards (Carabiners)
Date of Death           23rd January 1916
Place of Death          France
Cause of Death        Killed in Action
Age                          21
Cemetery                 Vermelles British Cemetery