The idea for a Museum in Dorking was first proposed in 1939. The war prevented any progress being made at that time but in June 1945, Captain Evelyn Broadwood of Capel, approached influential local residents seeking support for a museum to serve Dorking and the surrounding villages.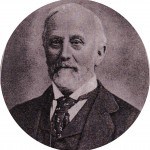 A Committee was formed and set about collecting exhibits. The Ashcombe Collection; a large collection of fossils and bones of extinct animals (all found locally), together with a valuable collection of minerals; was donated on the death of Henry Cubitt, 2nd Lord Ashcombe in the late 1940's.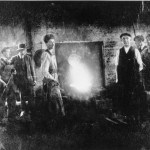 In 1974 a permanent home for the artefacts was needed.  A building that had formed part of the Dorking Foundry was found just behind West Street. The new Museum opened in 1976 and attracted 5000 visitors in its first year. Another building was leased in order to hold the enormous Archive collection of photographs and ephemera. The extended museum opened in 1983.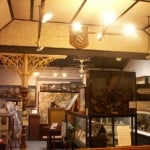 After a few years it was realised there was still insufficient space to display the collections effectively. After extensive restructuring the "new" Museum was opened in June 2001.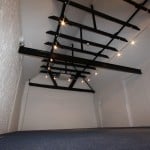 In 2003 Dorking Museum was lucky enough to be left a £500,000 bequest by Owen Russ one of our Museum stewards. This money allowed us to completely renovate both Museum buildings and to create the storage and display conditions that are suitable for our artefacts and archives.
The Museum was closed in 2008 to allow a complete refurbishment. The building was letting in water and our collections were beginning to suffer. The contents of the Museum were put into storage in three locations around Dorking and the building work began.
We practically turned the Museum around. The Archives used to be stored in the brick building and they have now come onto the first floor of the Old Foundry Building. This area is open at the same time as the Museum galleries and we are able to open the Archives on appointment.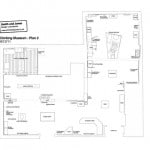 Three rooms on the ground floor of the Museum have been made into one huge area. We were lucky enough to work alongside Museum designer Chris Jones and his brilliant ideas for the space.
All the artefacts have gone through a rigorous quarantine check before they came back into the main building to avoid any nasties such as woodworm or moths being brought into contact with any other artefacts.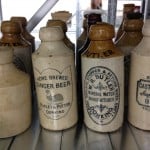 Many beautiful pieces have been given to the Dorking Museum over the years from Daniells Ginger Beer Bottles (found in gardens all over Dorking) to exquisite pieces of Wedgwood that have been donated by the Wedgwood family.
Everyone involved with the Museum worked so hard to get us open again and we are immensely proud of what we have done so far.
The Museum is run entirely by Volunteers and we are always looking for enthusiastic and motivated people. Have a look here at the type of roles we are  searching for.