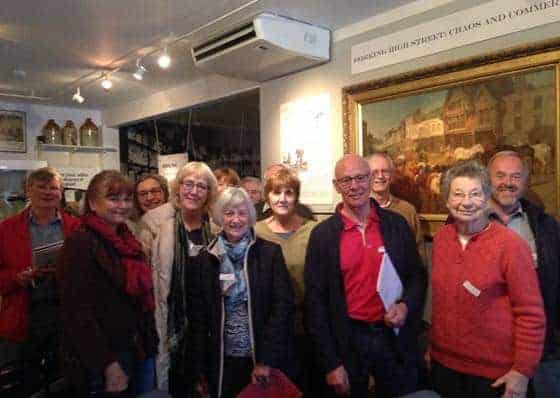 Visitor Assistants
to greet and welcome visitors
to collect information from visitors for marketing purposes
to answer queries from visitors or telephone queries and pass on to the relevant team member
to keep an eye on the security of the museum and its objects
to keep the museum generally tidy and to ensure health and safety
to hand out guides, children's quizzes, large print book where needed.
to sell items from the shop
to generally assist in making visitors' experience a good one
To apply – please fill in our online form.
Visitor Assistant Manager for Dorking Museum
A manager is needed to co-ordinate all the activities of the Visitor Assistants (VAs) at Dorking Museum. We need someone with experience of dealing with teams of people, who would enjoy the challenge of this vital role. The person would be responsible for about 40 volunteers, their Induction training, their ongoing development and the vital interaction between other areas of the museum. We are looking for someone with a passion for good customer service who is computer literate and who can also lead the recruitment of volunteers.
The role is voluntary, part-time and full training will be given. The museum is open 10 – 4 on Thursday to Saturday.
To apply – please fill in our online form.
Volunteer Co-ordinator
The duties of the Volunteer Coordinator include:
to recruit new volunteers for specific appointments
to ensure that all volunteers have a job description that adequately describes the role they have agreed to perform
to arrange induction training for newcomers and more specific training as required.
to maintain a record of all volunteers and how they can be contacted.
The role is voluntary, part-time and full training will be given.
To apply – please fill in our online form.
Events Co-ordinator
We are looking for a friendly and organised volunteer to handle all events held at the Museum.
To investigate the viability of running a series of regular or occasional events in the museum for paying members of the public
to plan those events, and book days and speakers
to arrange ticket sales through the website and front desk, if needed
to liaise with the publicity team for press, web, social media and poster coverage to promote the events
to arrange setting up of the event on the day/evening with a team
to account for profits made
The role is voluntary, part-time and full training will be given.
To apply – please fill in our online form.
Shop Manager
To arrange the sale of Museum books & postcards in as many outlets as possible, in the town and villages.
To facilitate the sale of books, postcards and merchandise at outdoor events.
To compile Audits and Stockcheck reports to the Treasurer on an Event/Monthly/Annual basis.
To research the viability of producing Christmas cards, calendars and ornaments.
To research and order new merchandise lines for the Museum shop.
To keep stock records and to re-order popular stock items when as and when required
To agree pricing structures with the Treasurer.
To manage the attractive display and labelling items in the Museum shop.
To provide price details to the desk team for shop items.
The role is voluntary, part-time and full training will be given.
To apply – please fill in our online form.
Dorking Museum Schools Liaison Post
The schools liaison post carries responsibility for coordinating with schools and teachers, arranging bookings for times the museum is not open to the public, and taking a lead during the taught sessions in the museum, as well as ensuring that the resources needed for each session are to hand and up to date.
The members of the Education Team will look to you to set up for the session, decide how the taught session will be structured and to make sure all roles are filled and properly resourced. Teachers and their helpers often need to be briefed as to their role requirements during the taught session.
As you will be teaching, it is a requirement that you have experience or background in this area. There are a good number of taught sessions already developed which coordinate with National Curriculum requirements. A knowledge of the National Curriculum is helpful as teacher needs will vary, and many of the school bookings are bespoke.
Required skills:
Communication skills. You will need to be able to communicate effectively with other members of the museum team (finance, website, marketing, front of house and so forth) , the Education Team members, teachers, schools, children of nursery to secondary age.
Organisational skills. Taking bookings and coordinating with teachers, making sure the museum is available, making sure enough helpers are available, securing help with the shop if necessary, supplying photos for marketing and ensuring that photo consent forms are obtained.
Teaching skills with children from Nursery to Secondary school. Experience of teaching or working with children in a museum or heritage setting is an advantage.
Ability to develop new taught sessions as they become necessary and to create / provide resources for such sessions.
Knowledge: you will be expected to have a working knowledge of:
Dorking Museum displays and collections
The National Curriculum and how it links to museum displays
The Museum's Health and Safety guidelines
The Museum's Child Protection Policy
Updates to sector safeguarding policies and practice
Good practice in museum education
To apply – please fill in our online form.
Education Team volunteer working with schools and scouts
What sort of person would this suit?
Outgoing & Sociable – you will be working with teachers, group leaders, parents and children and need to be confident in communicating with them
Interested in People – see above!
A Team Player – the Education Manager and Education Volunteers work closely together to develop and deliver our education programme.
Interested in how learning happens – our team comes from a range of backgrounds and we help each other by sharing ideas and supporting one another.
What would I do?
Cooperate in preparing workshops and other materials
Help get workshops ready before groups arrive
Help deliver workshops & presentations
Work with children & adults during Museum sessions
During a typical school or scout visit you will be responsible for setting up, meeting and greeting and initial briefings, delivering and supporting activities and clearing up. You will be given training and support as needed.
What could I gain?
Experience and greater confidence in working with children as individuals and in groups
Experience and greater confidence in working with other adults
Presentation & guidance skills as well as organisational skills
New information about the Museum & its work
New perspectives on education in a semi-formal setting
What would the Museum expect of me?
Flexibility – our bookings are as and when, so we may be either rushed off our feet or have no bookings at all. Also, you may at times be asked to take on other roles, for example helping with shop sales as a part of the group visit.
Punctuality – although schools and other groups are not always on time, we need to be ready for them. Before each visit you will be sent a start time for set up – if you are delayed, you need to be in touch so that others can be sure that setting up will be done in time
Professionalism – this relates to dress (generally smart casual), to speech and interactions and to general communication, particularly where responses are sought in terms of bookings and availability
To apply – please fill in our online form.
School and Youth Visit Volunteers
We are looking for people to help with our after hours visits. These visits happen once or twice a month for a couple of hours. You will always have another Museum volunteer with you and the groups will have their own leaders.
Warm and welcoming individuals who are enthusiastic about the museum & its collections
Individuals who are good at communicating with children and who want to help children to make discoveries about our museum
Individuals who are sensitive to different types of learners, and who are willing to learn themselves
You do not need prior experience or training in education. – this will not be like teaching in a classroom setting