'The sweetest air in England'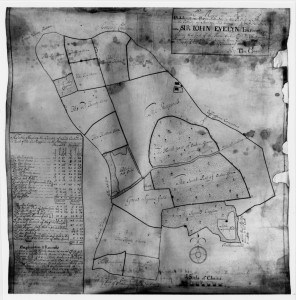 In 1649 the Duke of Norfolk's surveyor remarked on Dorking's 'pleasant hills and… salubrious air'. In 1652 the Duke's son created a small estate at 'Dibden' (Deepdene).
By the 1740s word had spread. Emmanuel Bowen's map proclaimed the air of 'Darking' the sweetest in England.
As travel grew swifter and more comfortable, the new wealthy of London built country residences within coaching distance of their business interests. Farms were incorporated into the estates of merchants and financiers who sought to 'improve' the landscape. Chart Park had hanging gardens, Bury Hill ornamental lakes, and the Deepdene an ornamental ruin. Elements of these naturalistic but artificial park landscapes can still be seen today.