We are pleased to announce the re-opening of the Archives on Thursday 3rd September 2020. Volunteers will be working on Thursdays and Fridays as usual, but we have to restrict visitors to Saturday only, as our space is limited.
Visitors, please email archivesjane@gmail.com with the following details:
State your name and contact details (including email address and phone number, in case we need it for Covid-19 tracking), together with the topic you wish to research, and the Saturday date and time you would hope to arrive.
We will then check that we have data which will help in your research and will contact you.
Booking and payment of the £5.00 fee in advance is essential – and you will be sent a payment request before you visit.
Please note that we have put some measures in place to ensure a safe environment for volunteers and visitors:
Masks must be worn so please bring your own if at all possible. Gloves will be provided.
Please use the hand sanitiser as you come in
Please use pencils only in the Archive.
Photos (no flash), can be taken with permission, but there is a charge for this. Payment for this can be made on a contactless machine as you leave.
We look forward to resuming our services to researchers new and old.
Jane le Cluse
Hon. Archivist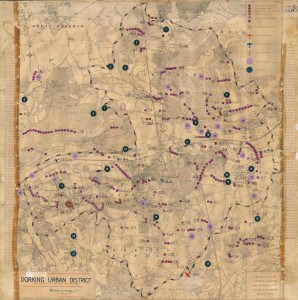 Dorking is an old town with a great amount of history. The Museum holds an extensive and wide ranging archive of documents and photographs dating mainly from the 19th century onwards.
Should you have any old documents, photographs, etc. that you would like to donate to us, please click on the following link and we will email you back. Contact an Archivist
Historians and people interested in local history and buildings will find our collections shed light on the growth of Dorking and the people who lived there. The collections include people, shops, sport, transport, utilities, local politics, education, music especially the Leith Hill Festival and both World Wars. We also have transcripts of some manorial documents, parish registers and burial ground monumental indexes.
Many of our collections are listed on line, and you can see what is available and request copies by clicking the relevant links.
Documents
Click on the link below to download our online catalogue.
Photographs
including the David Knight Collection of black and white photos, and street photographs
Sales Particulars
including the extensive Crow collection
Billheads and Letterheads
collected by David Knight
Newspaper Clippings
If you are unable to come in, we can do research for you for a small fee of £5.00.
Book an appointment to use our research room, by email to: archives@dorkingmuseum.org.uk or by phoning: 01306 876591. As we receive no external funding, we do have to make a small charge for researching in our archives, which is £5.00.
A full list of our charges can be found here.
Museum Library
The Museum library comprises a varied collection which can be of great help with local history and family research. We have extensive sections on the history of Dorking, the surrounding villages and Surrey as a whole, plus a variety of works of memoir and biography and a very useful section of reference books which can be of great help with your research. Our collection of local directories, parish magazines and guidebooks are a vital resource and we also have a complete set of the Surrey Archaeological Collections.