Captain William George Cubitt Chichester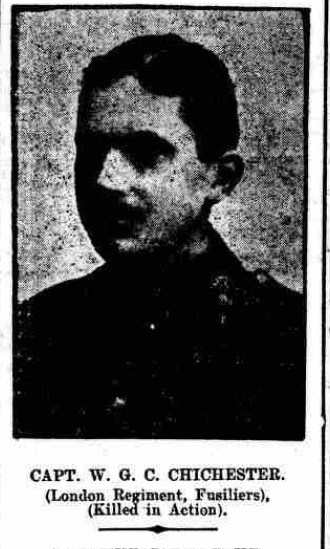 Thank you to Lenka Cathersides for the following research.
William George Cubitt Chichester was born on the 20th of July 1892 in Dorking to the Reverend Canon Edward Arthur Chichester and the Honourable Mrs. Mary Agnes Chichester nee Cubitt. He was baptised on the 10th of August 1892 in Dorking.
At the time of the 1901 Census, the family lived at The Vicarage, Dorking. Edward was Vicar of Dorking and Mary was at home. The household further comprised of their children: Harriet Laura, Arthur O'Neill Cubitt, Mildred Mary and William George Cubitt. The family was looked after by a governess, cook, nurse, parlour maid, housemaid, nursery maid and a kitchen maid. The house had ten rooms.
In 1911, the family were still at the vicarage; the eldest daughter Harriet had moved out, Arthur was at university and William was at boarding school at Wellington Collage in Berkshire.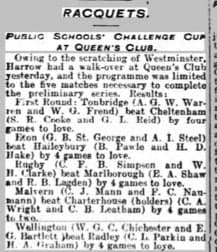 He played for Wellington in the Public School Racquets at Queen's two years. In 1911 William George Cubitt Chichester took part in the Racquets Public School's Challenge Cup at Queen's Club. Wellington (Chichester and Bartlett) beat Radley (Parkin and Graham) by four games to two. (1911 London Daily News). He became a Prefect when in the Sixth Form.
On the 25th of June 1911 he proceeded to Trinity College, Cambridge, and took his degree just before the outbreak of the war in 1914. (1916 Dorking and Leatherhead Advertiser)
After the commencement of the hostilities he volunteered for service.
William enlisted into the 1st (City of London) Battalion, (Royal Fusiliers) [London Regiment]. He was a Lieutenant.
After his commission he went out to Malta. After remaining there some months he went on to Egypt; there he was taken ill and was sent to hospital. His regiment meanwhile went to Sulva Bay, where he subsequently joined them, and took part in the evacuation, and later at the evacuation of Helles. (1916 Dorking and Leatherhead Advertiser)
William disembarked on the 1st of November 1915 in France. He obtained his captaincy in the same year.
Just before the officer's death, Captain Chichester's Quartermaster, wrote: "We went out as a wiring party, Sergeant Watson in charge. We carried on for about half an hour. Suddenly the Germans opened with machine guns, and rifles. Watson immediately sent his party back, and went into the trench to the assistance of Oaklard, who had been hit. Whilst doing so Watson was hit. Captain Chichester came along, heard what was happening, and immediately went out and dragged Oaklard into the trench. Then he went back to Watson, and afterwards came back for a stretcher, and with Mc Kenzie carried Watson into the trench. Three journeys he made, and though the machine guns had slackened somewhat it was a jolly fine thing to do, and we all think the world of him." (1916 Dorking and Leatherhead Advertiser)
William George Cubitt Chichester was killed at High Wood in the Battle of the Somme on the 15th of September 1916 while leading his company to the attack.
He was exhumed and reburied at the Caterpillar Valley Cemetery, Longwall in France. His grave reference number is: WVI. E. 37.
He received the British War and Victory Medals and the 1915 Star. He was also mentioned in dispatches, and was awarded the Croix de Chevalier of the Legion of Honour.
William's father Edward Arthur Chichester, clerk, received £1069, 15s and 9d in the Probate.
At the time of Captain's Chichester death his residence was stated to be The Vicarage in Dorking.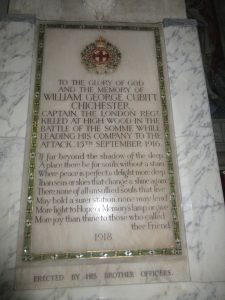 In 1918 mosaic tablets in the chapel of the Dorking Parish Church were erected in memory of Captain Chichester. (1918 Dorking and Leatherhead Advertiser).
He is also remembered on the Trinity College Memorial in Cambridge.
William George Cubitt's parents the Reverend Cannon Edward Arthur Chichester and the Honourable Mrs. Mary Agnes Chichester later lived at Ashley in Dorking.
Chichester Family History
William's father Edward Arthur Chichester was born on the 23rd of February 1849 in Knockantern near Coleraine, Londonderry, Ireland to the Reverend George Vaughan Chichester, born about 1819 in Donegal, Ireland and Harriet Eleanor Lyle, born about 1826 in Derry, Ireland. Harriet was a daughter of Hugh Lyle, Esq. of Knockantern. George and Harriet married on the 26th of August 1847 in Coleraine, Ireland. George died on the 19th of May 1898. Edward was baptised on the 26th of March 1849. Edward Arthur entered St John's College on the 3rd of October 1868. He became priest of Winchester in 1876 and was canon of Farncombe from 1875 to 1877. He was Vicar of Oakwood from 1877 to 1885 and Vicar of Dorking from 1885 to 1921. From 1906 to 1925 he was Hon. Canon of Winchester. Reverend Canon Edward died on the 30th of September 1925 in Dorking. At the time of the 1881 Census, Edward was a lodger of James Cranham at White Hall, Ockley, Dorking. At this time Edward was Vicar of Oakwood.
William's mother Mary Agnes Cubitt was born in the 1st quarter of 1858 in Dorking, Surrey to Privy Councillor George Cubitt, 1st Baron of Ashcombe, born on the 4thof June 1828 in Clapton, Surrey and Laura Joyce, born about 1827 in Hitcham, Buckinghamshire. Laura's father was the Reverend James Joyce, Vicar of Dorking. George Cubitt, 1st Baron of Ashcombe, died on the 26th of February 1917 in London. He was a generous benefactor to Dorking. Mary was baptised on the 10th of January 1858 at St Mary's church in Dorking. At the time of the baptism the family lived in Denbies in Dorking.
Edward and Mary married, by Banns, on the 23rd of April 1884 at St Barnabas' church, Ranmore. At the time of their marriage Edward was the Vicar of Oakwood and he lived in Ockley. Mary lived in Ranmore.
William had three siblings: Harriet Laura born on the 12th of February 1887; Arthur O'Neill born on the 14th of July 1899 and Mildred Mary born on the 17th of December 1890, all in Dorking, Surrey.
Son of                     Rev. Canon Edward Arthur Chichester, Vicar St. Martin's Dorking.and Mary Agnes Cubitt, daughter of 1st Lord Ashcombe
Regiment                 1st London Regiment (Royal Fusiliers)
Number                   4644
Date of Death           15th September 1916
Place of Death          France
Cause of Death         Killed in Action
Age                            24
Cemetery                 Caterpillar Valley Cemetery, Longueval, Somme, France