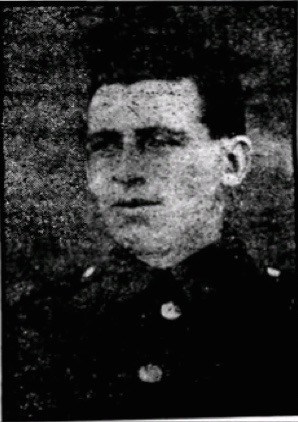 Thank you to Lenka Cathersides for this research.
Charles Alfred Upfold was born either on the 25th or the 29th of May 1892 in Dorking to Elinor Upfold. The mother and the baby lived at the Dorking Union Workhouse. Charles Alfred was baptised on the 2nd of June 1892 at St Martin's church in Dorking.
Charles Alfred Upfold was "fostered" by Louisa Worsfold. Louisa was born about 1842 in Rusper, Sussex.
Dorking British School Admission Register reads that Charles Alfred Upfold was admitted on the 23rd of April 1900, having previously attended the Falkland School. Charles Alfred lived at 28 Orchard Road in Dorking and his mother is stated as Mrs Worsfold. Charles Alfred left the Dorking British School on the 21st of May 1901 for St Martin's Church of England School.
During the 1901 Census, Charles Alfred resided at 28 Orchard Road in Dorking. He was, together with Horace Holden, a nurse child of 59 years old widow and "nurse children's" Louisa Worsfold. Apart from Louisa and two nurse children the household consisted of four lodgers: house painter James Tugwell, bricklayer Walter Mulley, and laundress Eliza Croucher with her grandchild Ernest Croucher.
On the 1st of July 1901, Charles Alfred was admitted to St Martin's Church of England School for boys in Dorking. He lived at 28 Orchard Road and left the school on the 7th of December 1906.
At the time of the 1911 Census, Charles Alfred is stated to be a boarder of his "foster mother" Louisa Worsfold at 28 Orchard Road in Dorking. Louisa is stated to be a boarding house keeper and Charles Alfred was working as a labourer in a timber yard. The household further consisted of foster children Mary and Fred Web and boarders Emily Cox, a needlewoman, and James Tugwell, a labourer. The accommodation had 5 rooms.
Charles Alfred Upfold enlisted in Dorking where he also resided. At this time he was working for Mr Brooker's timber yard. He became part of the 1st/5th Battalion, the Queen's Royal West Surrey Regiment. His regimental number was T/1979 and at the time of his death he was a Lance Sergeant.
Charles Alfred Upfold was sent with the Queen's Territorial's to India. On the 21st of November 1915 he disembarked to the Asiatic Theatre of War. In December 1915 he went to the Persian Gulf.
Charles Alfred Upfold was killed in an action on the 11th of September 1916 in Mesopotamia.
Lieutenant Colonel W.L. Hodges, the Commanding Officer wrote: "Doubtless by this time you have heard the sad news of the death of your friend, Sergt. Upfold. He was killed in action here on the 11th September, when we had to attack an Arab village and destroy it. During the action he had behaved with great coolness with his platoon, and his death is very much regretted by the whole Battalion. I personally had known him for a long number of years; in fact, he had spent all his soldier career with me, so that I am well aware of what a good non-commissioned officer we have lost, and I now desire to offer to you our sincerest sympathy. He gave his life for his country, and I know one could wish for a nobler death than his."
The Chaplain wrote: "Sergt. Upfold was a very popular man with his company and regiment, who deeply mourn their loss."
Charles Albert Upfold was buried at Basra War Cemetery in Iraq. His grave reference number is: V.W.13.
Charles Alfred Upfold was awarded the British War and Victory medals and the 1915 Star.
By 1916 Alfred's "foster mother" Louisa Worsfold lived at 18 Cotmandene Square in Dorking. According to the 1916 Dorking and Leatherhead Advertiser, Charles Alfred Upfold was her adopted son.
Born                           Dorking
Lived                           Dorking
Son of                         Elinor Upfold
Foster Son of              Louisa Worsfold
Enlisted                       Dorking
Regiment                     1st/5th Battalion, The Queen's Royal West Surrey Regiment
Number                       T/1979
Date of Death              11th September 1916
Place of Death             Mesopotamia
Cause of Death           Killed in Action
Age                            25
Cemetery                    Basra War Cemetery, Iraq