Thanks to Simon Jervis and Janet Mata for this research. Thank you to Doris Moore, great niece of Albert for the family photograph.
Albert Reader was born in Dorking on 24th May 1885, the son of Edward and Caroline Reader. The 1891 census shows the family (including Albert and four older siblings) living in "Pixholen Lane"; 1901 census shows the family (the older siblings having moved out) living on the "north side of Leslie Road"; and the 1911 census shows Mr and Mrs Reader living at 39 Leslie Road.
Albert went to St Martin's Church of England School for Boys in Dorking and census returns show him employed as a labourer in a timber yard (1901) and in 1911 he is referred to as a machinist in a timber yard. The Surrey Mirror report says he worked on the railways, at Box Hill Station and at Redhill.
He enlisted in the Queen's Regiment at Guildford on 8th October 1902, and served in South Africa and India before being placed in the Army Reserve. He appears in the regimental defaulters book as a frequent defaulter. Albert Reader was recalled to the colours on the 5th August 1914 and was killed in action on the 21st October near Langemarck in an attack that cost the battalion 1 officer and 13 other ranks killed, 68 wounded and 6 missing.
Albert's body was found in Koekuit GMC and later removed to Oosttaverne Wood Cemetery.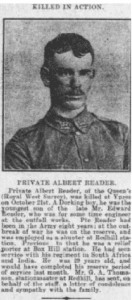 His next of kin was listed as Mrs W J Reader of Yewlands Cottages, Park Road, Banstead, Surrey. His late father, Edward Reader lived at Forester's Cottage, 39 Leslie Road, Dorking. Pte Albert Reader, of the Queen's (Royal West Surrey Regiment), was killed at Ypres on October 21st. A Dorking boy, he was the youngest son of the late Mr Edward Reader, who was for some time engineer at the outfall works. Pte Reader had been in the army eight years; at the outbreak of war he was on the reserve and was employed as a railway shunter at Redhill Station. Previous to that he was a relief porter at Box Hill Station. He had seen service with his regiment in South Africa and India. He was 29 years old, and would have completed his reserve period of service last month. Mr G A Thomason, station master at Redhill has sent, on behalf of the staff, a letter of condolence and sympathy with the family.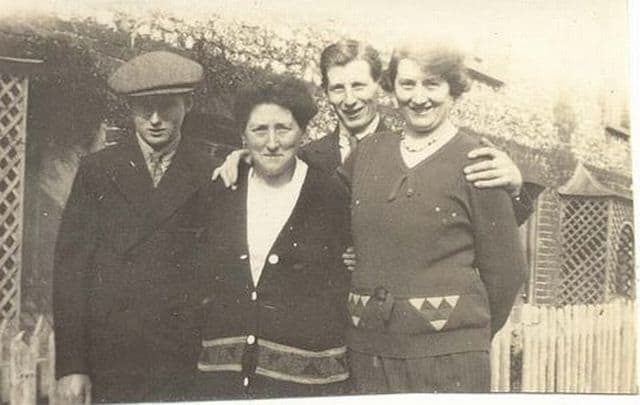 The above photo was sent to us by Albert's great niece; Doris Moore. It shows Albert's brother William, who was a farmer, on the day he took some of his cows to a show. William died the same year that his son was born. William married Jessie White and they lived at 9 Mint Cottages, Banstead. William and Jessie had three children, Florence Margaret (born 1902), William (born 1909) and Jacob Frederick Henry (born 1917).
| | | |
| --- | --- | --- |
| Born | | St. Ninians, Stirlingshire, Scotland |
| Lived | | Banstead, Surrey |
| | | |
| Son of | | Edward and Caroline Reader of 39 Leslie Road, Dorking |
| | | |
| Regiment | | 1st Battalion. The Queen's Royal West Surrey Regiment |
| Number | | L/7212 |
| | | |
| Date of Death | | 21st October 1914 |
| Place of Death | | Ypres, Belgium |
| Cause of Death | | Killed in action |
| | | |
| Age | | 29 |
| | | |
| Cemetery | | Oosttaverne Wood Cemetery, Belgium |