Thank you to Margaret Dennis for this research.
Alfred was born in Dorking in 1881. Alfred was the son of William H. (a maltster) and Amelia J. Sargent. When he was born they lived at St Martin's Place, Dorking.   They later moved to Epsom where Alfred and his father were brickyard labourers in 1901. In 1911 the family lived at 19, Beaconsfield Cottages, Church Rd., Epsom, but Alfred had left home by then.
Devonshire Regiment 8th (Service) Battalion was formed at Exeter on 19 August 1914. They landed at Le Havre 26 July 1915, and 4 August 1915. He was killed in action on 25th September 1915.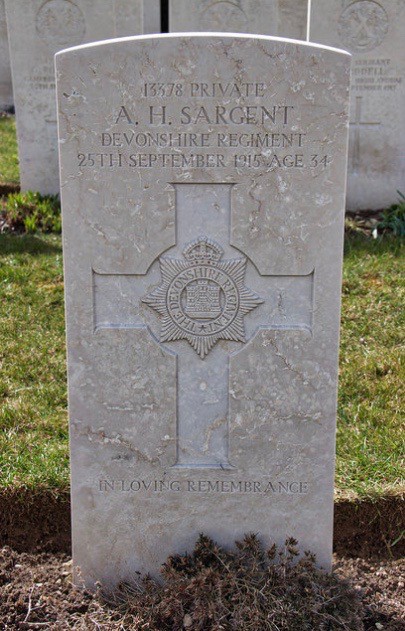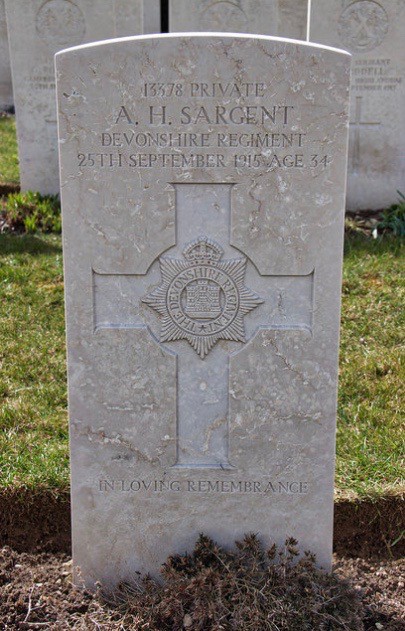 His grave is in Dud Corner Cemetery, Loos, France. Reference VI D4
Born                        Dorking, Surrey
Son of                    William H. and Amelia J. Sargent of St. Martin's Place, Dorking.
Enlisted                   Epsom, Surrey
Regiment                 8th Devonshire (Service) Battalion
Number                   13378
Date of Death          25th September 1915
Place of Death         Loos, France
Cause of Death        Killed in Action
Age                          34
Cemetery                 Dud Corner Cemetery, Loos, France