Thank you to Lenka Cathersides for the following research.
Edwin Charles Church was born on the 29th of July 1878 in Antrim Road, Belfast, Northern Ireland to photographer Edmund Thomas Church and Emma Louisa Church nee Gould.
Edwin's father Edmund Thomas Church was born about 1845 in Chelsea, Middlesex to Buckingham Palace servant, Edmund Church. His mother Emma Louisa Gould was born about 1847 in Marylebone, Middlesex to bootmaker Charles Gould. Edmund married Emma, by Licence, on the 10th of June 1866 at St John's church, Upper Holloway, Middlesex. At the time of their marriage Edmund was working as a photographer and lived at 6 Spencer Road. Emma lived at 16 Upper Brunswick Place. Edwin had two known sisters: Edith Maud Church born on the 14th of August 1880 in Antrim Road, Belfast, Northern Ireland and Mabel Church born in the 2nd quarter of 1882 in Belfast, Northern Ireland.
At the time of the 1901 Census, the family lived at 7 Archway Road, Albert Terrace, Islington, London. Edmund was a photo trade artist and Emma was at home. The household further comprised of their children: cycle maker Edwin, photo retoucher Edith and photo assistant artist Mabel.
Edwin married Florence Duckering on the 4th of September 1909 in Islington, London.
They had two children: Nancie Florence Church born on the 11th of October 1911 in Islington and Edwin Charles Church born on the 13th of May 1916 in Wandsworth.
Florence Duckering was born in the 1st quarter of 1879 in Brixton Road, Kennington, Lambeth, London to French Polisher Thomas Duckering, born about 1839 in Blyton, Lincolnshire and Margaret Duckering, born about 1846 in Littlehampton, Sussex. Florence was baptised on the 1st of May 1887 at St Marks' church, Kennington, Lambeth. At the time of the baptism the family lived at 26 Lucas Road.
At the time of the 1911 Census, the family lived at 62 Archway Road, Upper Holloway, Islington, London. Edwin was working as a taxicab lamp man and Florence was at home. The accommodation had two rooms.
Edwin Church enlisted on the 9th of August 1916 in Kingston-upon-Thames into the 1/6th (Cyclist) Battalion the Norfolk Regiment. He enlisted for duration of the war.
Edwin was a Private. At the time of his enlistment he resided at 14 Belmont Road, Grafton Square, Clapham and was working as a petrol store keeper. Edwin had a mole on the left side of his shoulder blade.
As part of the British Expeditionary Force he embarked on the 22nd of August 1917 from Folkestone, England to France. He disembarked on the same date in Boulogne, France. On the 23rd of August 1917 Edwin arrived at No 17 Infantry Base Depot in Calais. On the 6th of September 1917 he was transferred into the 'A' Company, 10th Battalion the Duke of Wellington's (West Riding Regiment). His regimental number was 25421. He joined the battalion in the field on the 8th of September 1917.
Edwin Charles Church was killed in an action on the 30th of September 1917 in Belgium. His body was never found. He was previously reported wounded.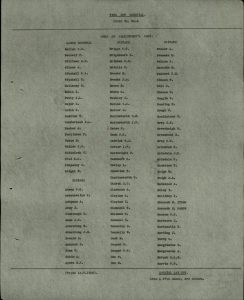 He is commemorated on the Tyne Cot Memorial to the Missing in Belgium, on panels 82 to 85 and 162A.
He was awarded the British War and Victory medals.
Edwin's wife, Florence Church received £2, 7s and 1d on the 20th of March 1918 in Soldier's Effects. On the 25th of March 1918 she also received her husband's personal effects including: a disc, a wallet, photos and cards. At this time she lived at 46 Grafton Square, Clapham. Florence Church was awarded a pension of 22/11 a week for herself and her two children, with effect from the 15th of April 1918.
1918 Surrey, England, Electoral Register reads that Florence Church lived at 9 Church Gardens in Dorking. She died in December 1918 in the Registration District of Dorking.
Edwin's mother Emma Louisa Church received £2 on the 6th of April 1920 in Soldier's Effects.
Edwin's sister in law Mrs Annie D'arey received £2 on the 7th of May 1920 in Soldier's Effects. Mrs D'arey was looking after the one of Edwin's two children. The other child was being brought up by Edwin Church's family.
Born                           Belfast, Northern Ireland
Son of                         Edmund Thomas and Emma Louise (nee Gould) Church
Husband of                 Florence Duckering
Regiment                     A Company. 10th Battalion. The Duke of Wellington's West Riding Regiment
Number                       25421
Date of Death              30th September 1917
Place of Death             Belgium
Cause of Death           Killed in Action
Age                              29
Memorial                     Tyne Cot Memorial. Panels 82 to 85 and 162A.