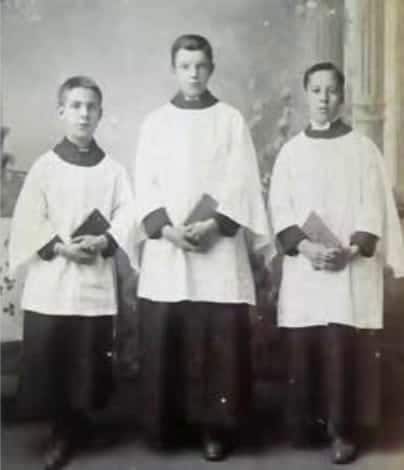 Thank you to Mickleham and Westhumble Local History Group for allowing Dorking Museum to publish their research. Thank you to Jane Anthony from Dorking Museum for additional research.
Oliver Snelling was born in 1879 in Camberwell, the son of Daniel (1839-1905) and Sarah (1853-1905), who were married in Mickleham.
Oliver's mother, Sarah, was Daniel's second wife. In 1857 he had married Lucy Easton with whom he had four children, Edwin Charles Thomas James (born 1857), Daniel Walter (1868-1917), Clara Agnes (born 1870) and William George (born 1874).
The Snelling family lived in Peckham during the 1870s, where Daniel was a shoemaker in Bedford Street. By the time of the 1881 census the family had moved to Ivy Cottages, London Road, Mickleham, where Sarah's family lived.
Oliver was baptised in Mickleham on 17th October 1886. In 1901 the family was still in Mickleham but Oliver was not living at the family home.
Oliver had five brothers and sisters:-
Edwin James (1878-1943)
Alice Beatrice Eugenie (1880-1926)
Ernest (1886-1889)
Cecil (1888-1974)
Emily Agnes Selina (1891-1990)
In 1901, Oliver married Hilda Caroline Church (1879-1966) in Leatherhead. At the time of his marriage Oliver was the butler in the house of a Justice of the Peace in Yate, Gloucestershire.
By 1911 Oliver Snelling was living in 26, Church Gardens, Dorking with his wife Hilda, two children John, aged 8, and George, aged 6, and his mother-in-law. He was working as a decorator.
Oliver Snelling had enlisted in Dorking in October 1914 and served in the Surrey Yeomanry (2284) It is not know when he joined the 1st Battalion of the Warwickshire Regiment.
According to his obituary in the Dorking Advertiser, Oliver served in the Dardanelles, Egypt and Ireland before being sent to the Western Front.
At the end of August 1918 his battalion was occupying the village of Remy close to Arras and on the morning of 30th August received an order to move forward in preparation for an attack. The battalion came under a heavy machine gun and artillery barrage and Oliver was one of 16 men, including two officers, from the battalion who were killed that day with an additional 127 wounded.
The Chaplain wrote to Oliver's widow Hilda that her husband 'died of shell wounds in the chest; he lived about 15 minutes, but was practically unconscious'. He has no known grave but is commemorated on the Vis-en-Artois Memorial screen wall in Pas de Calais in France.
Snelling was 39 at the time of his death. At the time of his death his family had moved to 14 Curtis Road Dorking.
Additional Information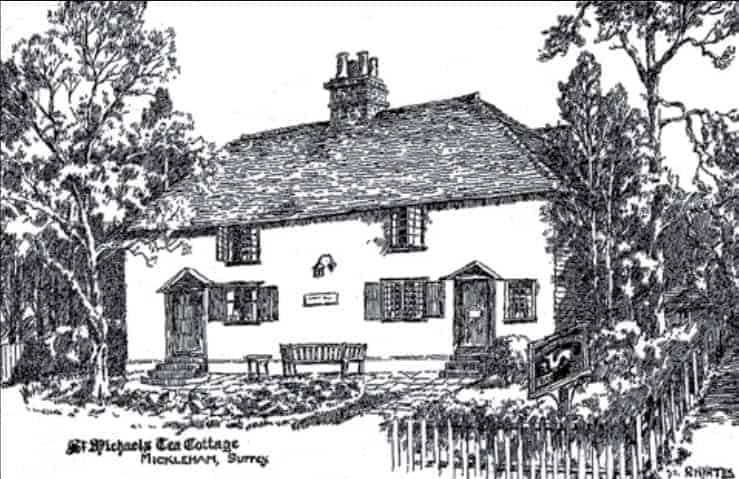 Ivy Cottages, Mickleham became St Michael's Tea Cottage and then St Michael's Restaurant. It is now a private residence.
Oliver's brother, Cecil, emigrated to Canada in 1910 and joined the Canadian Overseas Expeditionary Force in June 1917. He survived the war and later returned to England with his second wife Ada. Both are buried in Bexleyheath cemetery.
Born                           Peckham, London
Lived                          Mickleham, Surrey
Son of                         Daniel and Sarah Snelling
Husband of                 Hilda Caroline Snelling
Enlisted                       Dorking
Regiment                    1st Battalion, the Warwickshire Regiment
Number                      33085
Date of Death              30th August 1918
Place of Death             Remy, France
Cause of Death           Killed in Action
Age                             39
Memorial                     Vis-en-Artois Cemetery, France
Dorking Museum is very grateful to the following members of Mickleham and Westhumble Local History Society for allowing the Museum to publish their research on the WW1 project; Paul Brown; Roger Davis; Caroline Freuler; Judy Kinloch; Judith Long; Phil Randles; Veronica Randles; Sue Tatham and Fiona Taylor. Thank you also to Ben Tatham and Andrew Tatham.