Thank you to Lenka Cathersides for the following research.
Charles Henry Childs was born in 1889 to Charles James Childs and Elizabeth Childs of Little Amwell, Hertfordshire.
Charles Henry´s father was born in November 1857 in Bethnal Green, London to Charles James Childs Senior, a policeman, and Mary Ann Childs, both from Hertfordshire.
In 1871, the family were living in Bethnal Green, London. Charles James the younger was working in the printing industry as a paper ruler.
Charles Henry´s mother, Elizabeth Childs, was born in 1861 in St Johns, Hertfordshire and baptised in the same year in Hertford. Her parents were Robert Childs, a labourer, and Ann Childs, a laundress. In 1871, the family were living at Great Amwell, near Ware in Hertfordshire. Elizabeth had three sisters and two brothers.
At the time of the 1881 Census, Elizabeth was a laundry maid for Philip Wroughton MP, of Wolley Park House, Chaddleworth, Berkshire.
Charles had four known siblings: Robert James, Thomas, George and Helen.
On 31st October 1904, Charles enlisted as a Private in the 3rd (Reserve) Battalion, the Royal Berkshire Regiment at Reading, for the term of 6 years. At the time of his enlistment he was living in Windlesham, Surrey and working as a gardener at Lightwater Grange, Bagshot, with his parents and siblings living nearby.
Charles was 5ft and 6 inches tall and weighed 119lbs. He had a fair complexion, blue eyes and ginger hair. He was a member of the Church of England.
At the time of the 1911 Census, Charles was a Private of the 2nd Battalion, the Royal Berkshire Regiment in Meerut, India.
He later re-enlisted into the 1st Royal Berkshire Regiment in Reading. By the time he re-enlisted, he was living in North Holmwood, Surrey. He disembarked on the 27th of August 1914 into the Western Theatre of War.
In March 1915, he married Maud Emily Salmons, by Licence, at St Anne´s Church in Bagshot. At the time of the marriage, Charles was a Corporal in the Royal Berkshire Regiment and living at Ling Cottage, Lightwater, Bagshot. At the time of the marriage, Maud Emily Salmons lived at 39 Hart Road, Dorking. Charles 's sister, Helen Childs, was the couple´s witness.
Charles Henry and Maud Emily had 2 children: Charles William Childs born in 1916 and Elizabeth Maud Childs born in 1918, both in the Registration District of Dorking, Surrey.
Charles Henry Childs was killed in action on 2nd December 1917 in Belgium. His body was never found. His daughter Elizabeth Maud was born after his death.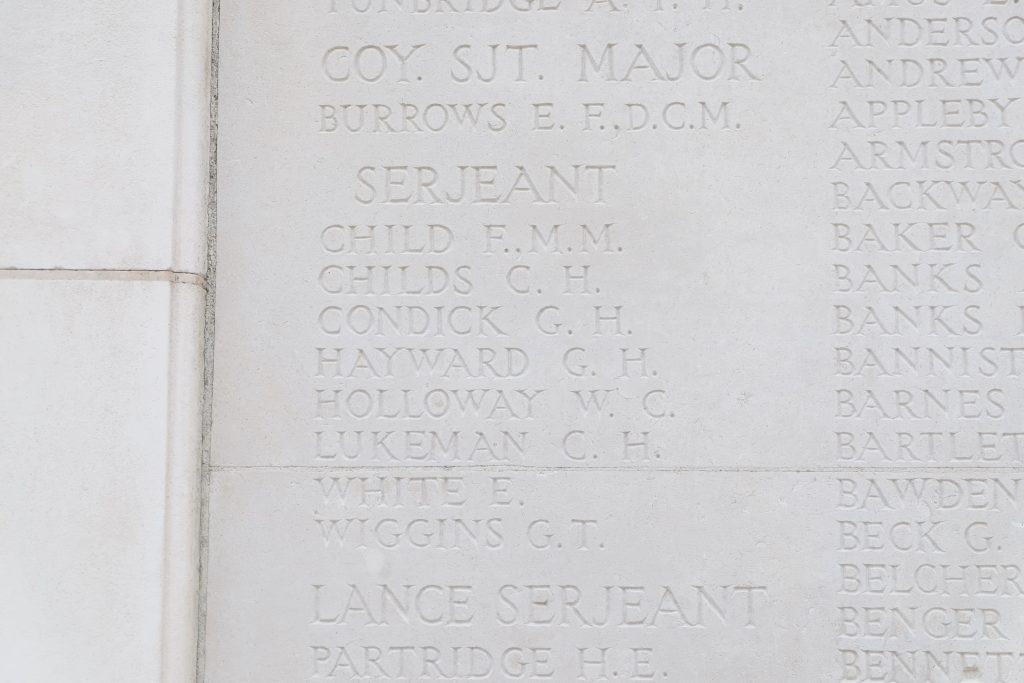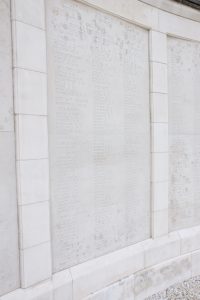 By the time of his death Charles was a Sergeant of the 2nd Battalion, Princess Charlotte of Wales´s (Royal Berkshire) Regiment. He is commemorated on the Tyne Cot Memorial to the Missing, Zonnebeke, Ypres in Belgium on Panel 105 to 106 and 162.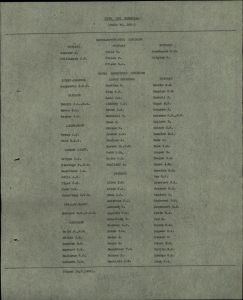 Charles left to his wife Maud £4, 2d on the 8th of April 1918, £4, 9s and 4d on the 11th of May 1918 and a further £22 on the 2nd of February 1920 in Soldier´s Effects.
Charles received the British War and Victory Medals and the 1914 Star.
Charles Henry´s son, Charles William, died in 1923, aged 7 years old, and was buried in the Dorking Municipal Cemetery.
Charles's widow, Maud, continued to live in addresses in North Holmwood and Dorking, and died in 1974.
More details on Charles and his family
Son of                     Charles and Elizabeth Childs, Ling Cottage, Lightwater, Bagshot, Surrey
Husband of           Maud E. Childs of 14 Brooklyn Terrace, North Holmwood, Dorking
Regiment                 2nd Battalion, Royal Berkshire Regiment
Number                   7873
Date of Death            2nd December 1917
Place of Death          Flanders
Cause of Death        Killed in Action
Age                          29
Memorial                 Tyne Cot Memorial, Belgium