Thank you to Lenka Cathersides for the following research.
No connection to Dorking can be found.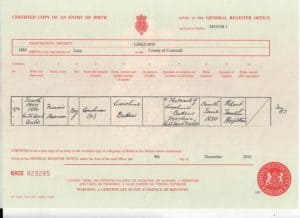 Francis Naham/Naaman May was born on the 10th of May 1880 at Hill Head, Duloe, Cornwall to Caroline May nee Butters and farmer Joseph May.
Francis' father Joseph May was born about 1853 in Talland, Cornwall. His mother Caroline Butters was born about 1859 in Duloe, Cornwall to blacksmith Joseph Butters, born about 1828 in Moroal, Cornwall, and Mary Butters, born about 1824 in West Looe in Cornwall.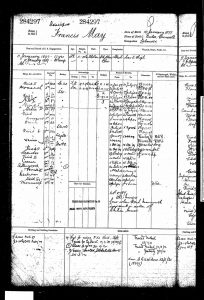 Francis Naham May enlisted into the Royal Navy on the 11th of January 1897 in Devonport for a duration of 12 years. At the time of his enlistment he was working as a labourer. He had dark brown hair, dark blue eyes and a fresh complexion. He had also a scar on his left thigh. The first ship, on which Francis May served aboard was HMS Vivid II, from the 11th of January 1897 to the 30th of July 1897. He was a stoker and his service number was 284297.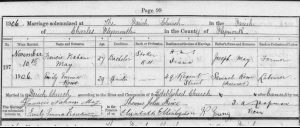 Francis married Emily Emma Rowe, by Banns, on the 10th of November 1906 in the Parish of Charles, Plymouth, Devonshire. At the time of their marriage Francis was a stoker in the Royal Navy and lived aboard HMS Diana. Emily lived at 49 Regent Street.
Francis May was promoted to a Stoker Petty Officer on the 1st of October 1909.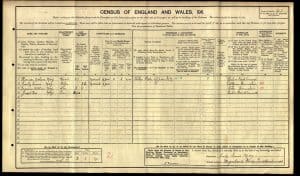 At the time of the 1911 Census, the family lived at Tregarland Bridge, Duloe, Sandplace, Cornwall. Francis was a Stoker Petty Officer in the Royal Navy and Emily was at home looking after their two known children: Francis William May born about 1909 at Stoke, Devonshire and Joseph Fred May born about 1911 at Duloe, Cornwall. The accomodation had three rooms.
The last ship Francis served on was HMS Monmouth.

Frederick May was killed when HMS Monmouth was sunk in a surprise attack during the Battle of Coronel on the 1st of November 1914. The battle took place off the coast of Chile, near the City of Coronel.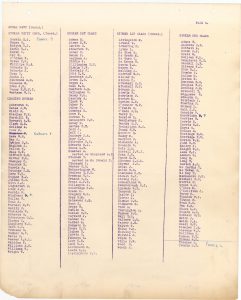 He is commemorated on the Plymouth Naval Memorial on Panel 3.
Born                            Hill Head, Duloe, Cornwall
Son of                         Joseph and Caroline (nee Butters) May
Husband of                  Emily Emma Rowe
Enlisted                       Devonport, Devonport
Regiment                     HMS Monmouth. Royal Navy
Number                       284297
Date of Death              1st November 1914
Place of Death             Off the coast of Chile.
Cause of Death           Killed in Action
Age                             35
Memorial                     Plymouth War Memorial