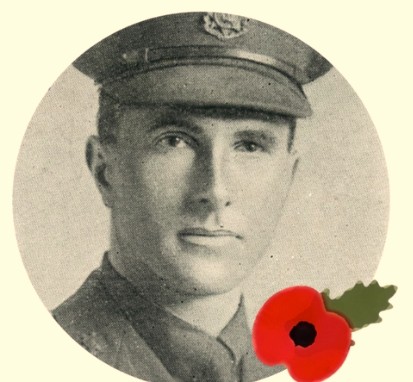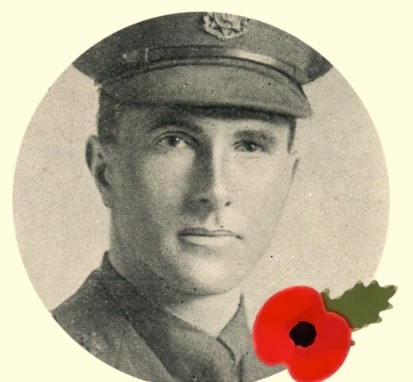 Thank you to Margaret Dennis and Patricia Brazier for the following research. Thank you to Brighton College for allowing us to publish the photograph of Charles.
Charles was born on 6th October 1886 in Marylebone London; he was the youngest of five children born to Henry William Burt, a Solicitor, and his wife Fanny Henrietta (nee Hodson).
His father died soon after Charles was born and his family moved to Brighton, where he attended Brighton College from 1895 until 1899. In the 1901 census he is a pupil at Fettes College in Edinburgh.
When the 1911 Census was taken Charles is working as a Shipping Clerk and living with his sister Brenda in Marylebone.
In 1916 he joined the County of London Yeomanry, and served with them in the United Kingdom throughout the war. He was stationed in Curragh in Ireland, when he was admitted to George V hospital in Dublin suffering from Pneumonia; he died there on the 27th October 1918.  He was 31 years old. His body was repatriated to England and he is buried in Dorking Cemetery. His sisters, Eva and Brenda were living in Orchard Cottage, Capel.
Charles is commemorated on the Reigate War Memorial in Reigate Town Hall, The memorial cross in St Marks Church in Reigate and a memorial in the chapel of Brighton College.
In 1918 his next of kin was his eldest sister Eva Burt of Orchard Cottage, Capel, Surey.   Eva and her sister Brenda shared probate for Charles' estate valued at  £2243.00
Charles' sisters continued to live in Capel; Brenda married Lionel Lidderdale Atherton in Capel in 1923.
| | | |
| --- | --- | --- |
| Born | | Marylebone, London |
| | | |
| Son of | | Henry William and Fanny Henrietta (nee Hodson) |
| | | |
| Regiment | | 3rd Battalion. County of London Yeomanry (Sharpshooters) |
| Number | | 7203 |
| | | |
| Date of Death | | 27th October 1918 |
| Place of Death | | George V Hospital, Dublin |
| Cause of Death | | Died of Pneumonia |
| | | |
| Age | | 31 |
| | | |
| Cemetery | | Dorking Cemetery, Dorking |