Thank you to John Callcut for letting us reproduce the following information, taken from his book: A Village at War. Newdigate in World War One.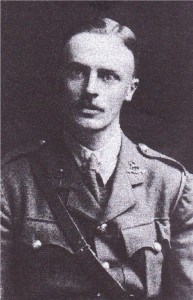 Gerard Theodore Bray was born in 1885 in Kensington. As a young boy he lived with his brothers and sisters in some opulence at 18 Cottesmore Gardens in Kensington. His father was a barrister who was later to become His Honour Judge Sir Edward Bray, and was descended from the Bray family of Shere in Surrey, whilst his mother Edith was the daughter of the Rev. Thomas Hubbard who was vicar of St. John's in Newbury. Gerard was educated at Charterhouse and later took a position as Engineer on the Great Northern Railway. He emigrated to Vancouver and there he  married Evelyn Joan Broadwood (known as Joan) on the 28th November 1911. They had two daughters, Madeleine and Audrey. At the outbreak of the war he enlisted as a private in the 2nd Canadian Contingent  but decided to return to England. He, his wife and two daughters then aged 2 and 1, together with their nannie, Elsa Vants, left their home in Burquitlam, New Westminster and travelled overland to New York where they boarded the Atlantic Transport Line's 'Minnehaha'. (Built by Harland & Wolff in 1901 and torpedoed and sunk off Fastnet on the 7th September 1917 with the loss of 43 lives).
The Minnehaha docked at London on the 15th December 1914. Upon his return to England Gerard was given a commission in the 5th Battalion, the Queen's which became the 2/4th. He settled his family in with his sister-in-law, Audrey Innes, at their home at the The Greenings, a large house on the road between Newdigate and Charlwood. In the  May, the Hon. Sir Henry Cubitt, C.R. Lord Lieutenant of Surrey, motored to Jesus College Close in Cambridge to inspect the Queen's (Composite) Battalion which had been formed from the 2/4th and 2/5th Battalions of the Queen's Regiment. Upon alighting from his car he was met by the Commanding Officer, Col. Frank Watney. This was the first Territorial Battalion from Surrey to be selected for active service and amongst the officers taking part in the inspection was 2nd Lt. G. T. Bray.
The battalion entrained to Devonport, and at 8.00am, on the 17th July, the S.S. Ulysses left Devonport en route for Gallipoli and Lt. Bray waved farewell to England for the last time. The Commander-in-Chief, sensing that the men were not as buoyant as the group involved in the original landings in April, tried to raise morale by saying, 'As to you, soldiers of the new formations, you are privileged indeed to have the chance vouchsafed you of playing a decisive part in events which may herald the birth of a new and happier world. You stand for the great cause of freedom. In the hour of trial remember this, and the faith that is in you will bring you victoriously through.'
The 2nd/4th became part of the 53rd Division and landed on 'C' Beach at Suvla Bay on 9th August where they were immediately thrown piecemeal into action along the British line. The landing was hazardous and when the beach was finally reached there was general chaos due to the lack of maps and briefing. This was coupled with the curses of heat, thirst, exhaustion and flies. Orders were immediately given to proceed to a line south-west of Chocolate Hill. They crossed the dry salt lake and as they were going up a hill they came under fire chiefly from Turkish snipers. It was here that Lt. Bray was mortally wounded, less than twenty-four hours after landing.
Joan Bray received news and cabled her sister Audrey from Charlwood on the 23rd August – 'Gerard reported wounded please ask War Office for information and how to information and wire here'. Evelyn Broadwood wrote to his sister Audrey from Taylors in Capel on the 11th September:
'Dearest A,
I am sorry to say that Joan has just received a wire from Mrs. Bray: 'Wire from Alexandria to War Office wounded and missing.' Aunt Helen and Aunt Mary arrived for a day or two this evening before this news arrived. Joan went up to her room at once and I have not seen her since. I hope that something definite will come to light. Since writing this Joan has appeared and seems to take it very well so that's a good thing.
Your loving, E.H.T. Broadwood.'
Joan used the family influence in an attempt to obtain more definite information. During the month of September, Lucy Broadwood recorded in her diary that they had enlisted the help of Lord Shuttleworth (a former Liberal MP and Lord Lieutenant of Lancashire) who had made enquiries through the American Embassy concerning prisoners of war in Turkey. Lucy Broadwood wrote on the 26th September,
'Wrote to Joan Bray in answer to her letter enclosing a copy of a letter to her from 2nd Lieut. Ball who saw Gerard Bray apparently only slightly wounded in the leg near Chocolate Hill, Dardenelles and supposed he must be taken prisoner as he is not traced in hospitals. Two other accounts from privates told Joan that believed Gerard was wounded in the foot or low down in the leg and thought our men had taken him on a stretcher. Another (I hope mistaken) account came through the Colonel of Gerard's regiment. This they have not repeated to Joan viz that amongst the colonel's wounded men, one in hospital in Eastbourne gave a circumstantial account of Gerard's death, how he was carrying a wounded soldier and was shot through the heart, dying a brave man's death. The soldier says that he crawled up to him and found him dead.'
On the 3rd October, John Innes wrote,
'My dear Joan,
Audrey writes me that there is now very little hope of Gerard having survived the battle in Gallipoli and I write to say how sorry I am. If what Mrs. Bray has heard is unfortunately true, he must have died quite painlessly doing a very brave action and could not have known what happened to him.
We shall miss him very much and Audrey and I will be only too pleased to help you and the children as far as possible both now and in the future.
Yours affectionately, John Innes
Joan did not give up hope especially after she received a report from a Private Pink dated the 11th October 1915. Pink was in Lt. Bray's company but not his platoon.
'We got orders to land at 1.30am Sunday morning. Ashore we were given a ration of bully beef. While eating it we had orders to advance. We crossed the dry lake. We were going up a hill on the other side when we came under fire. About six am we rested where we were, then advanced again under more fire, could see no Turks. The fire chiefly from snipers. I saw Lieut. Bray hit, on the outside of the thigh. I bound up his leg with a handkerchief. Lieut. Bray gave them the range of some Turks, some small figures going up a hill at some distance off. A retirement was made. The men asked Lieut. Bray to retire, he said, "No, never mind me".
He seemed to have more pluck than anyone else there. There was a light trench cover from rifle fire on the shore. Colonel Watney was there when the men got back. Someone reported Lieut. Bray as having been taken to the dressing station on Chocolate Hill, a station established there two days before. An officer said, that makes the number of all our officers. The ground where Lieut. Bray was hit was only some four hundred yards from the landing point. It remained in our hands and the Turks were never there. The ground where the crops were burnt away was to the left. The men were astonished to hear that Lieut. Bray was missing.'
Joan continued to use contacts in high places all to no avail. As late as August 1916 she received a card from Major H.A. Brett, himself a prisoner of war – through the Croissant-Rouge Ottoman, a Swiss agency for prisoners of war – stating 'In reply to your letter via the Red Cross re: 2nd Lt. G. T. Bray, I am afraid there is no hope. I have met, I believe, all the officers taken on the Dardenelles fronts, if he had been made a prisoner I certainly would have heard of him.' In November she received a similar reply from the Bureau Zuricois pour la Recherché des Disparus.
Finally, a Pte. A. Stanford reported Lieut. Bray's death having been shown photographs of him. The Surrey Advertiser of the 16th December 1916 published the details:
'We were advancing to take the Turk's position beyond Chocolate Hill. Losing my company, I got mixed up up with Lieut. Bray's platoon. We were under heavy rifle and machine-gun fire, a lot of our fellows getting hit, so Lieut. Bray gave us the order to retire while he was attending to a wounded man. We had to retire across an open corn field. While going across this, I was wounded, and as I was lying wounded I saw Lieut. Bray coming across carrying a wounded man. As he was passing me, I called out to him that I was hit, and he replied that he would come back for me if I waited. Immediately after, Lieut. Bray was hit and fell. I crawled over to him, but I found that he was dead. I did not look to see where he was hit, but I think it was through the heart. I must say he died a brave man.'
45000 Allied soldiers fell during those August battles for, as a general put it, 'five hundred acres of bad grazing ground'.
The official citation for Lt. Bray states that his death took place on Scimitar Hill though Joan wrote to the War Graves Commission in 1927 asking for the words to be substituted with, 'whilst carrying a wounded man on the slope towards Anafarta village, Suvla.' This amendment presumably never happened.
Gerard Bray's name is remembered on the Helles Memorial at Gallipoli and the Charterhouse Roll of Honour. Joan Bray never remarried and she lived the rest of her life in the locality. She died in 1972 and a memorial in Rusper church states 'Mother, Grandmother, Great Grandmother. Daughter of James H.T. Broadwood of Lyne and married to Gerard Theodore Bray of Shere.' His name is spelt as 'Gerald' on the Newdigate War Memorial but, since the error was found, his name is always recounted correctly on Remembrance Day.
| | | |
| --- | --- | --- |
| Born | | Kensington, London |
| Lived | | Vancouver, Canada |
| | | |
| Son of | | His Honour Judge Sir Edward and Lady Edith Bray |
| Husband of | | Evelyn Joan Broadwood (known as Joan) |
| Father of | | Madeleine and Audrey Bray |
| | | |
| Regiment | | D. Coy. 2nd/4th Battalion. The Queen's Royal West Surrey Regiment |
| | | |
| Date of Death | | 9th August 1915 |
| Place of Death | | Gallipoli, Turkey |
| Cause of Death | | Killed in action |
| | | |
| Age | | 30 |
| | | |
| Memorial | | Helles Memorial, Gallipoli, Turkey |