Thank you to Patricia Brazier for the following research. Thank you to Tony Greatwood for the photographs of Harold Payne's clock.
Harold was born in Bromley, Kent in the June quarter of 1889. His parents are Douglas and Margaret (nee Morley).
In the 1891 census Harry's family are living in High Street, Bromley. Harry has four sisters; Maude, Kate, Beatrice and Lucy, and one brother; Morley. His father, Douglas is a building contractor.
In 1901, the family are still living on the High Street, Bromley. Harry is at school.
In 1911, Harry is lodging with Mary English and her daughters in Gillingham. His occupation is bank clerk.
Harry then moved to Dorking and worked as a ledger clerk in the Dorking Branch of the London County and Westminster Bank.
He volunteered at the outbreak of the war and joined the Royal East Kent Mounted Rifles. He served with the East Kent Mounted Rifles in Gallipoli and Egypt and then returned to England with the rank of Sergeant. Whilst in England he attended a Cadet Corps and obtained a commission, he then joined the Royal Field Artillery as 2nd Lieutenant. He then went to Northern France where he was killed in action on 30th November 1917 aged 28.
He is buried in Ruyaulcourt Military Cemetery, Pas de Calais. His mother requested that "A silent chord on memory's harp is gently touched today" be inscribed on his headstone. His name also appears on a Memorial in St. Martin's recreation ground in Bromley, Kent.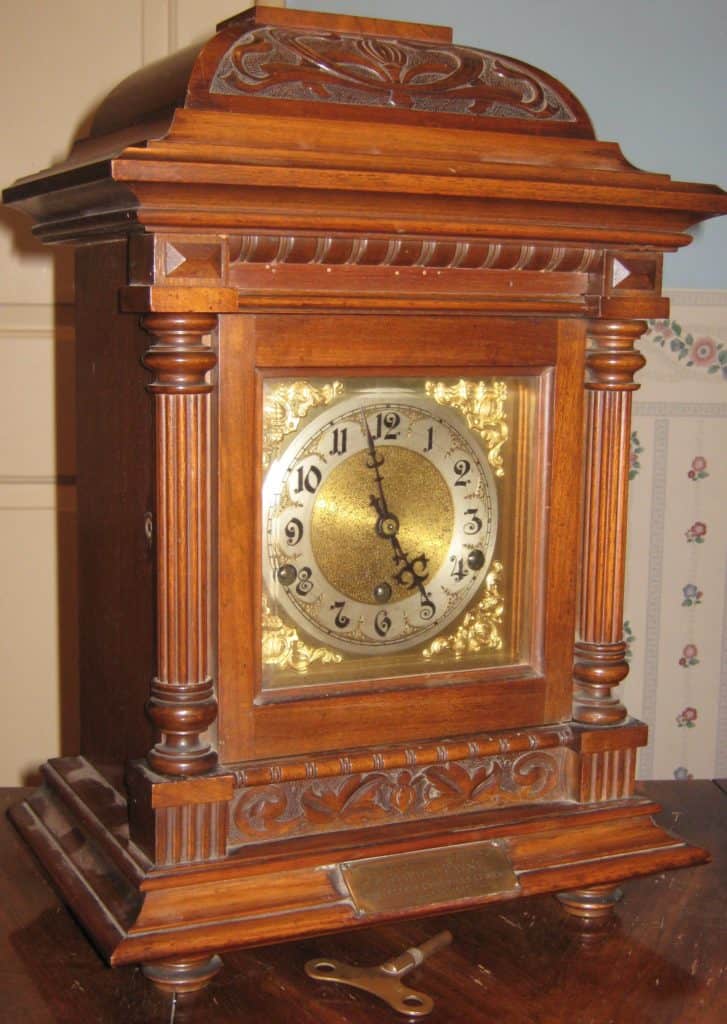 In May 2021, we received a mail from Tony Greatwood in Perth, Western Australia.
"We have an ornate carved wooden English Full Westminster Chime mantel Clock (in good working order) bearing a brass plaque engraved "Wedding Congratulations to Mr. Harold Payne from Fellow Employees and Friends ~ 1st August 1915 ~", suggesting he married while working at the LD&W Bank just prior to enlisting.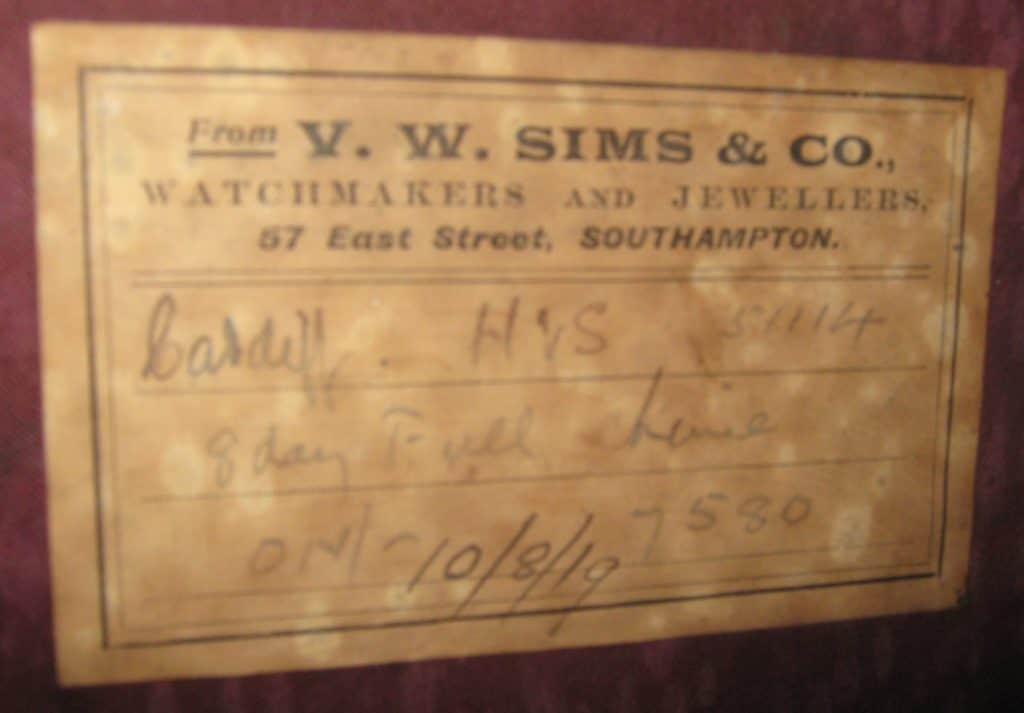 Stuck on the inside of the hinged back panel is a paper docket from V.W. Sims & Co. – Watchmakers and Jewellers of 57 East Street, Southampton, with some hand-written notes in blue ink "Cardiff  HvS 51114", "8 Day Full Chime", "D/N 7580", "10/8/19″ suggesting they may have obtained the clock from his estate at the end of WW1. We purchased it from an auction house in Perth in the mid 1980's, but we have no idea how or when it managed to travel halfway around the world to be there.  We like it and use it every year at our family Christmas gatherings to maintain our English heritage."

| | | |
| --- | --- | --- |
| Born | | Bromley, Kent |
| Lived | | Dorking, Surrey |
| | | |
| Son of | | Douglas and Margaret (nee Morley) |
| | | |
| Regiment | | 93rd Army Brigade, "C" Battery, Royal Field Artillery |
| | | |
| Date of Death | | 30th November 1917 |
| Place of Death | | Northern France |
| Cause of Death | | Killed in Action |
| | | |
| Age | | 28 |
| | | |
| Cemetery | | Ruyaulcourt Military Cemetery, Pas de Calais |