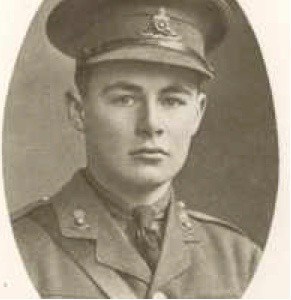 Thank you to Patricia Brazier for the following research.
Henry was born on 26th April 1897 and baptised at the parish church of South Holmwood. His father Charles was the Vicar of Holmwood, from 1895 until 1900.
In the 1901 census, his family are in Weekewithin in Hampshire; Henry now has two sisters Kathleen and Marion. They were both born in Holmwood.
Henry attended Winchester College from 1910 until 1915. He joined the Royal Artillery in February 1916 and went to the front in France in June 1916.
He died from gas poisoning on 15th April 1917, during the battle of Arras. Henry would have been 20 years old on 26th April. He is buried in the Aubigny Communal Cemetery, Near Arras.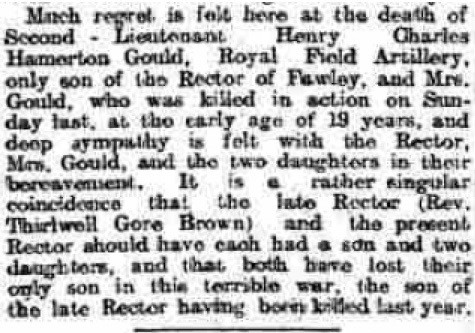 Much regard is felt here at the death of Second Lieutenant Henry Charles Hammerton Gould, Royal Field Artillery, only son of the Rector of Fawley and Mrs Gould, who was killed in action on Sunday last at the early age of 19 years, and deep sympathy is felt with the Rector, Mrs. Gould and the two daughters in their bereavement. It is a rather singular coincidence that the late Rector (Rev. Thirwell Gore Brown) and the present Rector should each had a son and two daughters, and that both have lost their only son in this terrible war, the son of the late Rector having been killed last year.
Henry Charles Hamerton Gould Death Notice. Hampshire Advertiser 21st April 1917. Courtesy of findmypast.co.uk.
Henry's British and Victory Medals were sent to his father, The Reverend C.H. Gould at The Rectory, Fawley, in Hampshire.
Henry is remembered on a memorial plaque on the Wall of All Saints Church in Fawley and in St. Paul's church in Winchester.
| | | |
| --- | --- | --- |
| Born | South Holmwood, Surrey | |
| | | |
| Son of | Charles Gould | |
| | | |
| Regiment | 27th Battery. Royal Field Artillery | |
| | | |
| Date of Death | 15th April 1917 | |
| Place of Death | Arras, France | |
| Cause of Death | Died from gas poisoning | |
| | | |
| Age | 19 | |
| | | |
| Cemetery | Aubigny Communal Cemetery, near Arras, France | |